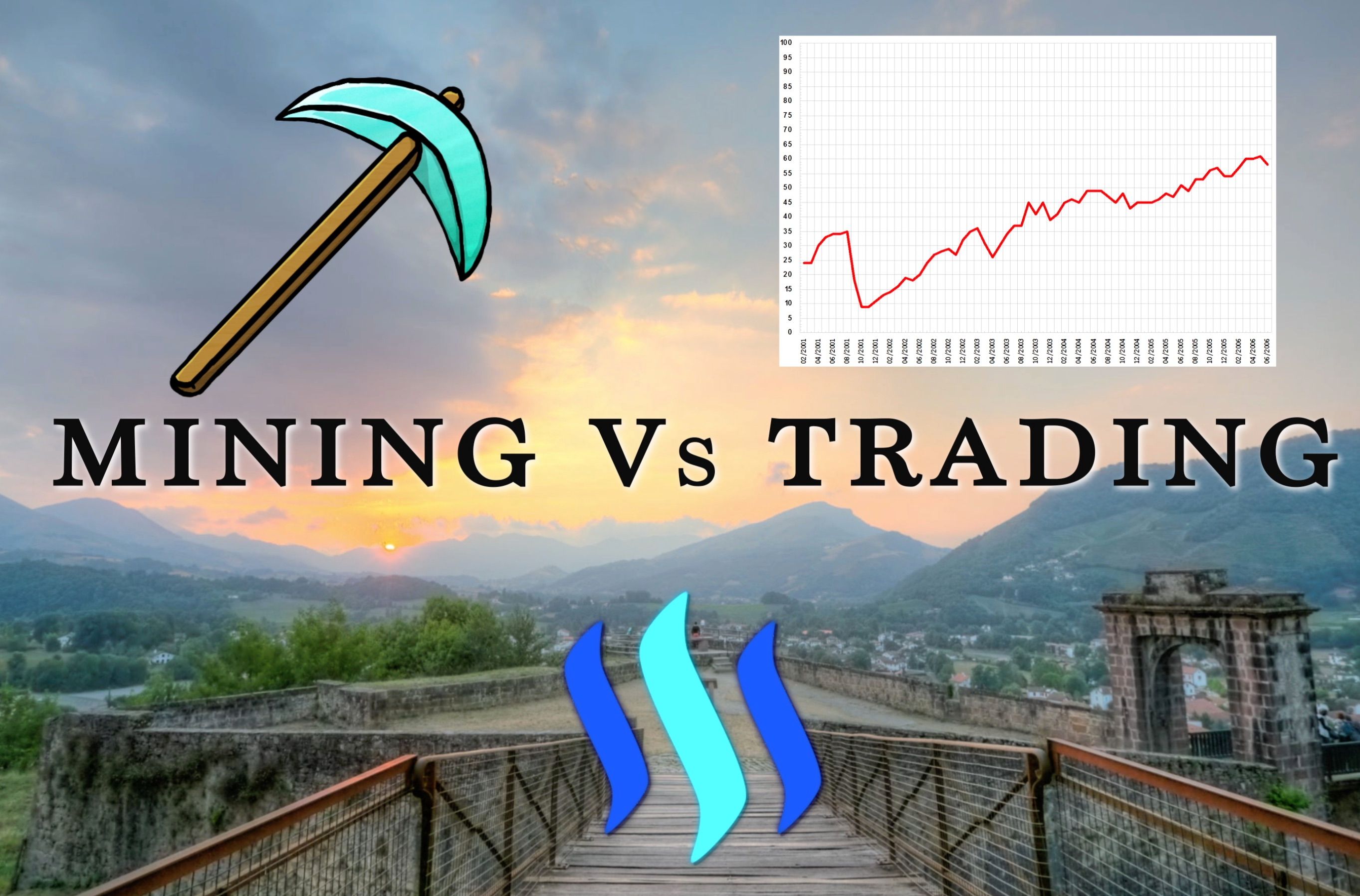 Inspired by the many articles detailing these subjects here on steemit, I have been cloud mining & trading for a month now and have learned many things about both.
---
Trading
Not for the faint hearted, the crypto markets are fast paced and volatile but if you watch carefully you will be able to see the peaks and troughs as they develop. Each coin does appear to have a pattern of its own and for obvious reasons it is better to invest in a coin which has an overall upward movement. Of course there are always going to be external influences which throw the pattern off its usual course.
Some people compare crypto trading to gambling, but I like to think there is some skill involved too, and I have done pretty well in my first month by sticking to one simple rule:
NEVER SELL AT A LOSS! If something dips below buy price, hold and be patient.
It is possible to earn money quickly here if you stay focused on the movement of many coins at the same time and keep moving your investment around.
For example, four days ago I had $100 worth of Bitcoin ripe for investment. The 'usual suspects' of the market appeared to be on a level so I looked around at the others and found a coin called Nxt which I have never invested in before but the coinmarketcap graph line indicated to me that it was on its way up. 24 hours later it had increased by 40% at which point it appeared to level out. So I moved it into Stratis which also appearing to be climbing. Stratis increased by around 40% over two days and then dropped a little yesterday, at which point I moved half into Litecoin and half into Dash which were both on their way up. After a growth of around 20% from both, I moved it back into Bitcoin which has since then grown by around 2.5%.
A most enjoyable ride of successful exchanges. And clear proof that money can be made quickly.
Cloud Mining
Ultimately, mining is a long term investment. You pay for your hash rate in your chosen coin, then sit back and watch a small amount come back to you each day. The number fluctuates from day to day but you can be certain that you will earn something every day.
I am currently mining four different coins and have invested a total $330. Each day I see a total return of between $0.80 and $1.60. Which is paid to me daily in Bitcoin. If these figures don't change too much, I will see my investment paid off within a year and the second year will be pure profit. My Bitcoin mining contracts are lifetime, whilst the others (Dash, Litecoin & Ether) are for 2 years.
So, I feel pretty confident that I will double my initial investment within two years. I have a Bitcoin wallet dedicated exclusively to my daily mining payments. This way I can monitor my progress without any confusion.
The growth of Bitcoin is assured, so the total value of this wallet will continue to rise over the next two years, meaning that my initial investment of $330 will be worth a whole lot more two years from now, giving the kind of return no bank in the world can possibly offer.
In Conclusion
There are risks in trading. Coins can unexpectedly plunge as Dash has demonstrated in the last few weeks. And lesser known coins may plunge, never to return. But there are risks too in mining, because the more people who invest into mining, the less of a return you will see. But counter this with improvements in technology, the rising number of miners may not affect your daily return at all.
Both mining & trading appear to work well as long term investments.
As a trader I struggle to hold a coin if it has risen above 20% and is sitting on a level whilst others are busy rising.
So for me the difference between mining and trading is that with mining you have NO CHOICE but to hold long. Which contrasts my trading practices nicely :)
---
I am trading on poloniex & bittrex and I am mining with genesis-mining.com
If this is something you choose to enter into, please use my affiliate code for a 3% discount on your contract purchases: wzrAS4
---
Thanks for your time. Hope you learned something.
And please leave a comment if there is something you would like to teach me. I am still just a beginner and very keen to learn as much as I can, as quickly as I can.