Check Out LiveTrader - A Fully Automated Crypto Trading Platform

---
Anyone who has ever manually traded cryptocurrencies, knows how time-consuming it can be to create and execute profitable strategies. If you're new to trading, it can be quite a daunting task to learn everything from scratch and more often than not, you'll end up losing a lot of money during your first learning experiences.
This is where LiveTrader can offer you a better, faster and more streamlined experience, no matter if you're a beginning or professional crypto trader. Their fully automated crypto trading platform allows you to set up a wide range of trading strategies & execute them automatically, using the parameters you've selected.
I'm definitely not an expert on trading, but despite that I could very easily create a fully automated trading bot on LiveTrader and test out different strategies with no risk at all. It's easy to create a free trial account and see for yourself!
In terms of pricing, they have some of the most competitive prices I've seen. In the past I avoided purchasing other trading bots, because they were way too expensive. I mean, I had a hard time to justify spending hundreds of dollars on a single trading bot while I didn't even know whether I'd actually make any money with it. With LiveTrader, you can get access to their platform starting from $15 per month & they allow for paper-trading* to test your strategies at no risk whatsoever.
Keep in mind that LiveTraders does not charge any additional trading fees, so the overall cost is incredibly low.
* Paper-trading = Trading simulation under real-world conditions
---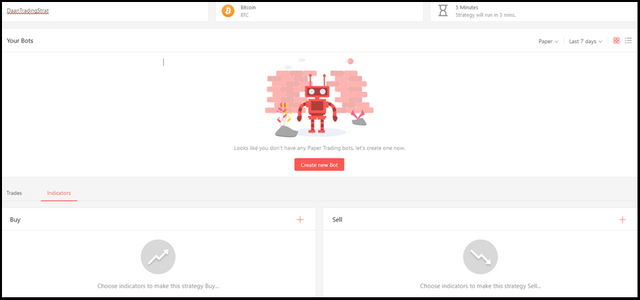 ---
What Makes LiveTrader Special?
One of the key features of LiveTrader is the ease at which you can execute highly technical trading algorithms. LiveTrader offers you an easy point-and-click system to create automated trading bots, which will trade according to the technical indicators you've set up.
Some common indicators include:
Relative Strength Index (RSI)
Money Flow Index (MFI)
Rate of Change (ROC)
Stochastic (STOCH)
Percentage Price Oscillator (PPO)
If you're not a TA expert, you can also buy ready-made strategies from the LiveTrader Marketplace, where other traders can share their tested strategies. You will be able to view the performance history of all strategies offered on the LiveTrader Marketplace.
Records are kept of each trade made by the trading bots, so you can review your trading history afterwards. If you encounter any problems whatsoever, LiveTrader has a dedicated support team that will help you alleviate any issues you may encounter.
Before you ask: Yes it is possible to automatically trade STEEM/BTC via LiveTrader, this was one of the first trading pairs I tried out for myself.
---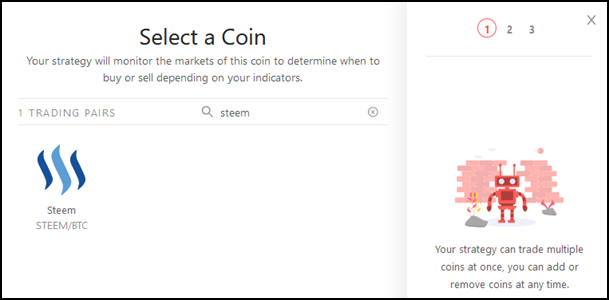 ---
Backtesting Strategies
LiveTrader has a handy backtesting feature that lets you run your trading strategies against historical market data. This way, you can see how your strategy would have performed against certain market conditions of the past.
---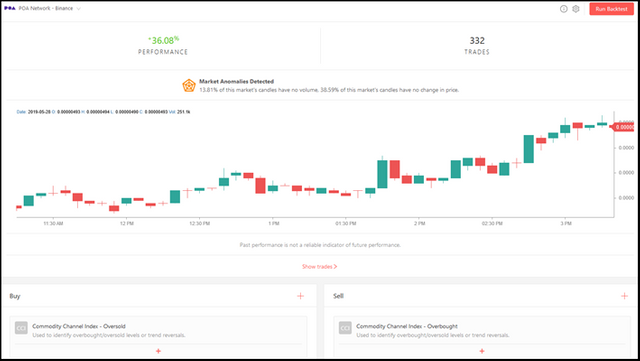 ---
Keep in mind that previous market conditions do not give any indication of future market conditions. Backtesting should be used to try out your trading strategies in specific market conditions that have already occurred. You can then get a true test of how your trading strategies would perform under similar market conditions in the future.
---
Conclusion
It's definitely worth it to at least create a free trial account on LiveTrader, just so you can try out different strategies and get a feel for running your own trading bot. I'm personally going to test out their service, by opting in for a 1 month membership, just because I'm interested in seeing how my personal trading algorithm would perform over the course of a month.
I've always been interested in learning more about technical analysis and LiveTraders gives me a great opportunity to immediately try out what I've learned.