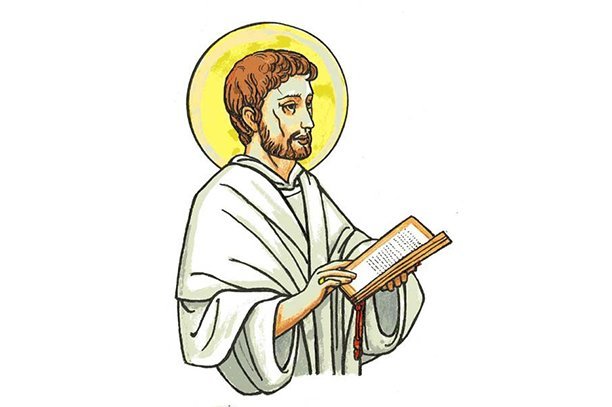 Augustinus Orta çağın karanlık, çalkantılı dönemlerinde felsefe, din, retorik alanlarında çok önemli bir konuma sahip olmuştur. Şüphesiz bu konuma erişmesinde hayatının bir döneminde mucizevi bir aydınlanma yaşaması sebep olmuştur.
Augustinus gençlik dönemlerinde eğlenceye, alkole ve kadınlara düşkün olması sebebiyle zamanın çoğunu bu bedensel hazlar ile geçirmiştir. Birlikte olduğu sayısız kadınların birinden çocuk sahibi olmuş ve bu kadınla 13 yıl beraber yaşamıştır. Derme çatma evini geçindirmek içinse retorik (söz sanatları) dersleri vermiştir. Sessiz ve huzurlu yaşamı annesinin oğlu için düşündüğü planlar ile bozulmuştur. Augustinus otuz yaşına geldiğinde annesi onun daha saygın bir kadınla evlenmesini istemiştir. Yani oğlunun evlilik dışı bir ilişkiden çocuk sahibi olan bir kadınla yaşamasını istememişti. Birlikte yaşadığı kadın –ki Augustinus onu hayatının aşkı olarak görüyordu- Augustinus'un ısrarı üzerine oğlunu dahi bırakarak evini ve kenti terk etmiştir. Augustinus kendi rızası dışındaki ayrılığa maruz kalmasından dolayı çok üzülmüş fakat annesinin sözlerinden çıkmamıştır.
Ardından annesi Augustinus'a saygın bir evlilik yapması için birini bulmuş fakat bulduğu kız sadece 10 yaşındadır. Yaşı evlenmeye müsait olmayacağı için Augustinus bir süre bekleyecektir. Bu süre zarfında bir kadının yoldaşlığına duyduğu ihtiyacı dindirmek için birçok metres edinmiştir. Müstakbel nişanlısı evlenilecek yaşa gelmeden önce ve bir yandan Augustinus hazların peşinden koştuğu sırada hayatı ilahi bir müdahaleyle bambaşka bir yöne doğru değişmiştir.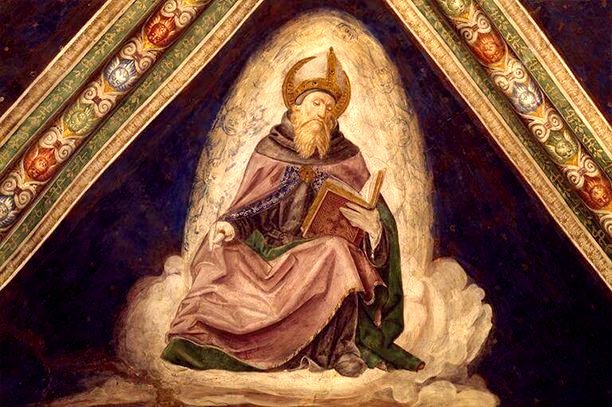 Bir gün kafasının içinde gizemli bir ses belirmişti. "Augustinus! İncil'i al ve oku!" Bunun üzerine incili eline alıp rastgele açtığı sayfayı okumaya başlar: "Çılgınca eğlencelere ve sarhoşluğa, cinsel ahlaksızlığa ve sefahate, çekişmeye ve kıskançlığa kapılmayalım. Günışığında olduğu gibi saygın bir yaşam sürelim. Rab İsa Mesih'i kuşanın. Doğal benliğinizin tutkularına uymayı düşünmeyin."
Bu pasajı okuduktan sonra Augustinus hayatını ebedi bekarlığa adayarak, nişanlısını ve diğer metreslerini terk etmiştir. Daha sonra Katolik inancını benimseyerek dünyevi servetinden vazgeçip bir papaz ve din adamı olarak hayatını sürdürmüştür. Geçmişteki şehvet düşkünlüğü ile İtiraflar adlı otobiyografisinde hesaplaşmıştır. Bu eserde Augustinus'un cinsel deneyimlerini açık yüreklilikle anlatması zamanın devrimci bir üslubu olarak görülmüştür. Ancak hayatının utanç duyduğu kısımlarını yazmasındaki asıl gayesini Augustinus şöyle açıklamıştır: "Tanrım, geçmişteki budalalıklarımı ve dünyevi şeylerle nasıl baştan çıktığımı onları sevdiğim için değil, seni sevebilmek için kendime hatırlatıyorum."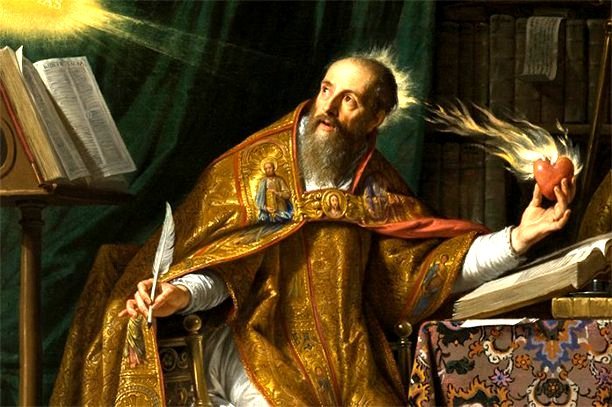 ENGLISH VERSION
Augustinus had a very important position in the fields of philosophy, religion and rhetoric in the dark and turbulent times of the Middle Ages. Undoubtedly, miraculous enlightenment has been caused to reach him that position.
When Augustinus was a young, he spent most of his time with physical pleasures because he was fond of entertainment, alcohol and women. He has had a child of one of the countless women he has been with and has been lived with this woman for 13 years. He gave rhetoric lessons to support his house. His silent and peaceful life got broken because his mother had plans for him. When Augustinus was thirty his mother wants him to marry with more respectful woman. In other words, she did not want his son to live with a woman who had a child who had an extramarital relationship. The woman who Augustinus saw her as the love of her life, lived with Augustinus left her house and city and even left her because of Augustinus' insist. Augustinus was very sad because he was exposed to separation outside his own consent, but he did not leave his mother's point.
Then her mother found a girl to Augustinus to be a respectable marriage, but she is only 10 years old. Augustinus will wait a while for her age to not be able to get married. During this time, he has had many mistresses to relieve the need for the companionship of a woman. His life was changed in a different direction by a divine intervention, before the future fiancee reaching the age of marriage and on the one hand pursuing the pleasures of Augustinus.
One day there was a mysterious voice in his head. "Augustinus, take the Bible and read it!" Then he takes the bible hand and reads the page which he randomly opens: "Do not get into crazy fun and drunkenness, sexual immorality and debauchery, contempt and jealousy. Live a respectable life like daylight. Embrace the God Jesus Christ. Do not think to obey the passions of your natural self."
After reading this passage, Augustinus abandoned his fiancée and other mistresses, dedicating his life to eternal bachelorhood. Later, by embracing Catholic belief, he gave up his worldly wealth and continued his life as a priest and clergyman. He settles up with the lustfulness of his past in his autobiography called Confessions. It was seen as a revolutionary style of time that Augustinus was able to express his sexual experiences with open heart. However, Augustinus explains his real gripe about writing parts of his life ashamed: "My God, I remind myself how to seduce my past foolishness and worldly things, not to love them, but to love you."