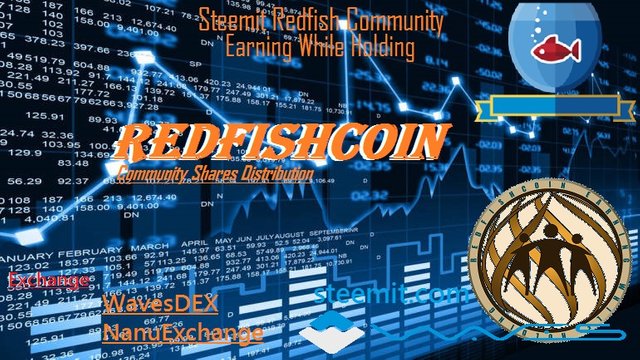 Redfishcoin is a verified Waves Assets of Steemit Redfish Community. Monthly Steemit shares is the way of giving back to the community rewarding the Redfish Stockholders since 2017
---
Redfish Stockholders Benefits
-hold minimum of 100 Redfish to earn 3% monthly Shares
-hold minimum of 500 Redfish to earn 5% monthly Shares!
-Hold minimum of 1000 Redfish to earn 7–10% monthly Shares!
-Buy Back Program
-Awesome Bonus token
-Royalty Rewards
-PoP Steemit Promotion
-1 Million Total Supply
The day has arrived for the 2019 first month of Monthly Shares Payment Distribution. Now, we just sent an amount of $428.00 or 713 Redfish to the Eligible Redfishcoin Stockholders. see image below
Redfish Monthly Shares New Features
For the request of many, we just lowered the Redfishcoin holdings to participate and avail the benefits in holding our Community Assets. We are glad to Officially Announced that Starting January 25 2019 to December 25 2019, you can receive 3% Monthly shares by holding Minimum of 50 Redfish.
Upon holding this low numbers, this unable you to receive the following bonus (Royalty rewards an others), as this was reserve to the 100 Minimum Redfish holdings and above.
Also Please be reminded, Redfish that are held in External Exchange will not receive the Monthly Shares!


source: https://www.coingecko.com/en/price_charts/redfishcoin/usd
Today, Redfishcoin Value is at $0.60 each and Holding minimum 50 Redfish will cost you $30.00 only.
Please be reminded: 2019 Monthly Shares percentage shares distribution is Limited and cover for the year 2019. Funds used to this campaign may change year after year! Be reassured that we allocated enough funds for this year and Percentage allocation will cover 2019 only
Redfishcoin can be trade on NanuExchange
source: https://nanu.exchange/exchange#btc_redfish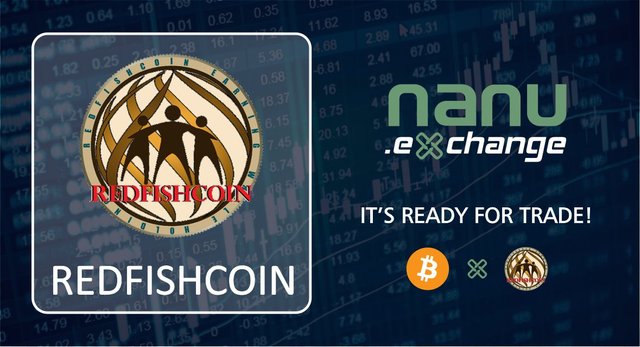 Redfishcoin (REDFISH) is ready for trading. BTC/REDFISH WAVES/REDFISH NNC/REDFISH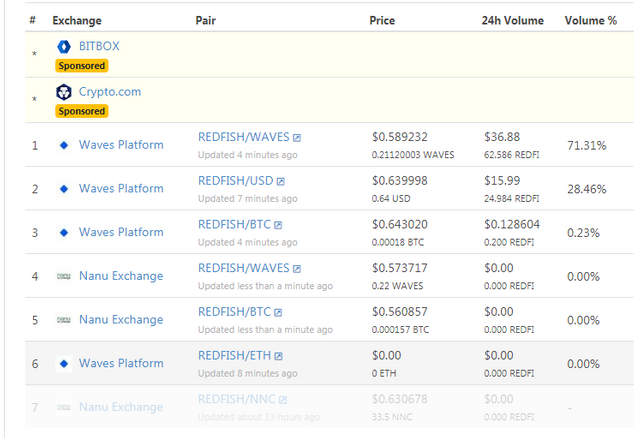 Royalty Rewards Token
MNW or Minnow coin is designed for Redfish stockholders Royalty Rewards. This coin is created for rewards only and only to those 100 minimum holdings in their wallet. You can sell/buy/trade MNW at WavesDEX. There is on 1 MNW Total supply with 6 decimal. Very limited Assets with High value, 1 MNW is worth currently 160,000.00 WAVES. see image below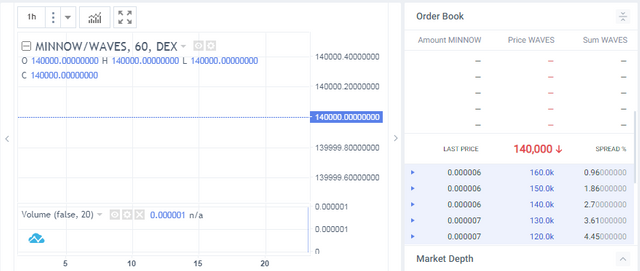 Bitcoin Satoshis
At the moment we distributed a very few bitcoin satoshis to eligible holders. We will add the funds for bitcoin satoshis next distribution.
Isn't it amazing that more and more coins you get just by HOLDING?
We welcome NEW REDFISH Stockholders!
HODL Patiently and get your rewards until next Payout!