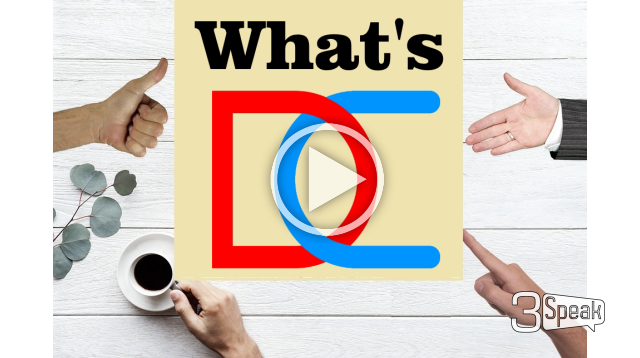 ---
In this video I explained what's @dcooperation and how it wokrs.
So, DCooperation is a decentralized collaboration.
When I created it I was interviewing steemians and I interviewed more than 100 people.
Then I tried to collaborate with other communities in steem and I was running a show called ''Our Steem''.
In @dcooperation itself I was always welcoming and helping the newcomers to grow and improve in steem.
We have also an interesting curation system and that's the following :
To get guaranteed upvotes from @dcooperation you can delegate :
---
Now I'm voting only with 50% voting power because we also support quality in steem to earn some curation rewards and we power up everything we earn.
You can use this tool to delegate : https://steembottracker.com/delegation.html
All the upvotes are manual by me. All curation rewards and any rewards from con tent created there is going to power up the account. I will never power down that account. I'm doing that almost 1 year and half.
---
I'm delegating now 2000 steem power to the account and we have in total 13000 steem power.
Our upvote is about $0.2.
---
Those are all the delegators :
@calisthenicsdrop @emsonic @sp-group @robertandrew @behelen @blessed-girl @holgerwerner @bobaphet @soufiani @theonlyway @romafedorov @ireenchew @eftnow @rehan12 @mamun123456 @iamjadeline @freecrypto @thecrytotrader @marfonso @camuel @mrchef111 @jeronimorubio @clicked @jgvinstl @dmilliz @ilazramusic
@zekepickleman @madushanka @steemitbaby @indigoocean @cryptospa @mjtravel @yangyanje @rem-steem
@alexshumsky @alokkumar121 @amar15 @mediumjack @fruitdaddy
Most of them are active steemians, so if you want to support them all, you can delegate some power if you want.
They are all upvoted and I'm doing my best to make it fair, you can check the report here : http://www.steemreports.com/outgoing-votes-info/?account=dcooperation&days=14
In case I miss anyone, we have also a discord server where delegators remind me to upvote by sending their links in a special channel, you can join here : https://discord.gg/uj2AF5Y
My goal now is to have 100,000 steem power and after 1 million, why not. lol
In the video I said more, you can watch it if you want.
Thanks for your attention. ☺
Check my GIVEAWAY of 100 STEEM
Join ''Mission possible'' - The big movement to promote steem
---
▶️ 3Speak