Dig Down - Steem Exclusive Music Video
---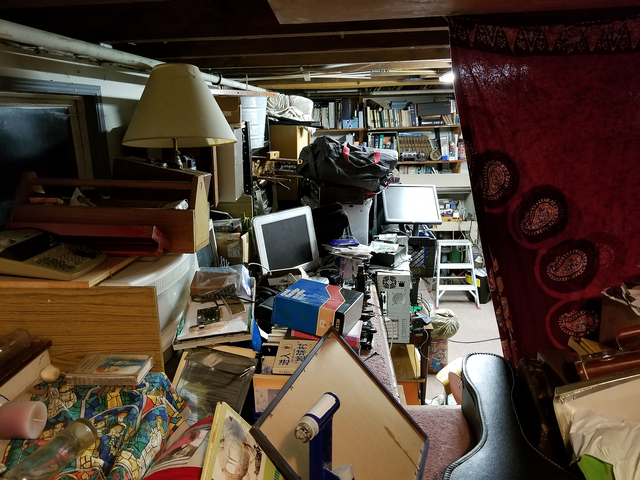 There is a sleeping nook with a mattress and curtain in the corner, which is being swallowed by the encroaching stuff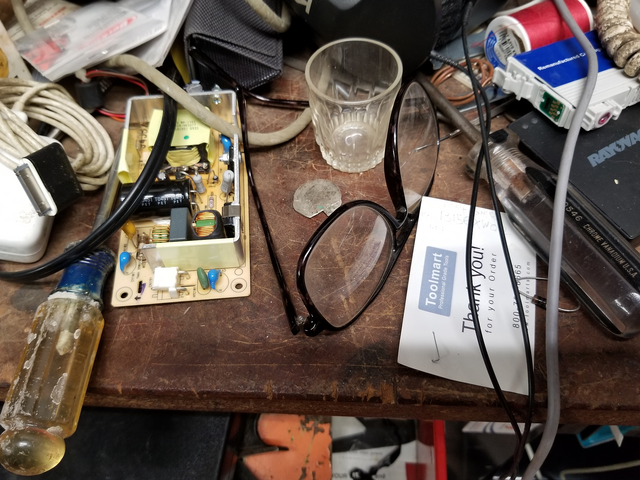 Mid-process in some kind of electronics repair

Honest-to-goodness floppy disks. You know, for computers :) Modeled by @dillemma
Although this is the second time I have posted this music video for my song "Dig Down" to the Steem blockchain, it might as well be the first... because I originally uploaded the video to DTube and of course it has long since been deleted from the DTube servers, leaving me with an empty shell of a post. So in the spirit of @nonameslefttouse's thingy, this is a Sunday showcase of probably my favorite Steem exclusive music video I have uploaded. This video is not published anywhere else online and the pictures I added have never been published previously. Lyrics at the bottom of the post.
I wrote and recorded this song in my parents' basement on the first night of my summer 2018 vacation back to my hometown of Haines, Alaska. Despite traveling literally all day to get there, and with two young children to boot, I was full of energy and wide awake the first night of our stay. After everyone else fell asleep I took a long walk in the late Alaskan twilight down on the beach that I used to play on as a child. When I got back to my parents' house I picked up my old guitar (my first guitar, which now lives in my parents' basement) and wrote this tune.
I helped dig that basement by hand, with pick and shovel, filling up 5 gallon buckets of dirt to send up a make-shift conveyor belt to my dad's old dump truck. Of course my parents finished the basement the year that I left for college, so I never really reaped the fruits of my labor.
Now, the basement is jam packed full of the collections of objects needed to be a fix-it guy who can fix anything. That is my dad. He can fix almost any kind of mechanical or electrical device you can think of, and he has probably saved all the parts needed and knows just where they are in the chaos. The basement is also where all of my old stuff and the accumulated stuff of my siblings ended up. Old school folders, coin and rock collections, toys, baseball cards... all crammed into shelves and stacked in alcoves and teetering in piles.
Dig Down - lyrics
I want to dig down, down to the bedrock
I want to dig down, down to the bottom
I want to take shovels and picks to the rocks and the dirt
I want to fill buckets and buckets and truckloads of earth
I want to go down, down to the basement
I want to go back, back where it started
I need to remind my brain - because these cells aren't the same
I want to drink straight from the tap of the unfiltered batch
I want to do gown, down to the water
I want to do down, down to the beach
Sometimes it's just out of reach
It's on the tip of the tongue
It's a sound in the dark
and the memories spark
I want to slow down, and savor this moment
I wand to slow down, pause and rewind it
But the hours must pass, neither slower nor fast
and regrets of the future must echo in the past
But the hours must pass, neither slower nor fast
and regrets of the future must echo in the past
---
▶️ 3Speak