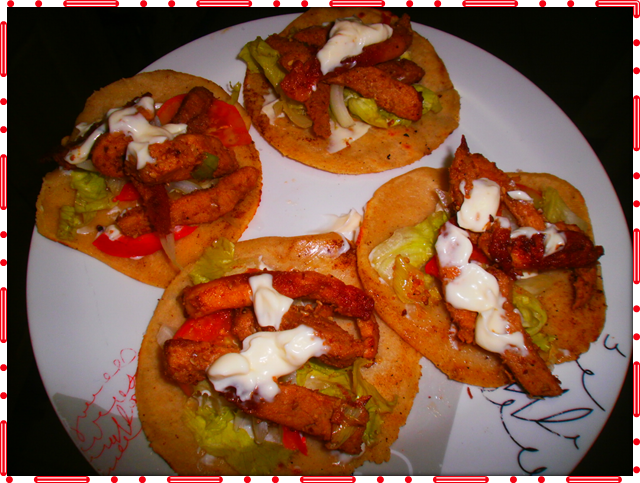 I said it, I love to enjoy homemade food and although I'm vegetarian, I wanted to surprise my husband with something different. This recipe has very few ingredients, but the idea is to adjust it to your taste ...!
Ingredients for the dough:
MASECA (corn flour, gluten-free - Mexican product)
Wheat Flour (omit if necessary)
Salt
Water
Integrate all the ingredients until you obtain a soft but firm dough, to make small balls and at the same time form thin tortillas; place in a hot pan with a little oil (to avoid sticking), brown on both sides and set aside.
Preparing the Protein:
Pernil (you can use any protein: chicken, meat, lamb)
Vinegar
Garlic
Soy sauce
Cumin
Spices
Salt and pepper
Oil
Sesame
Ciboulette
Cut the pork into strips and wash with vinegar, rinse and place a finely chopped clove of garlic, add the soy sauce, cumin, spices, salt and pepper to taste, let stand to integrate the ingredients. Sauté the pork until golden on a low heat, once cooked, place sesame seeds and finely chopped ciboullet.
Assemble the toasts:
Corn tortillas
Lettuce
Tomato
Onion
Mayonnaise
to taste: cheese, scrambled eggs, black bean cream, avocado, tomato sauce, mustard, etc.
Place the corn tortilla, add lettuce, tomato and onions on wheels (continue adding ingredients to taste), finally the pork leg (or alternating protein) and mayonnaise.
... And to enjoy a delicious meal
If you want to make the recipe, take a picture and place it in the comments...!
This post is dedicated to all of you and especially at the request of @bookeyclaudia
See you in the next post...!
Autor: @leticiapereira
Camera: Olympus Fe