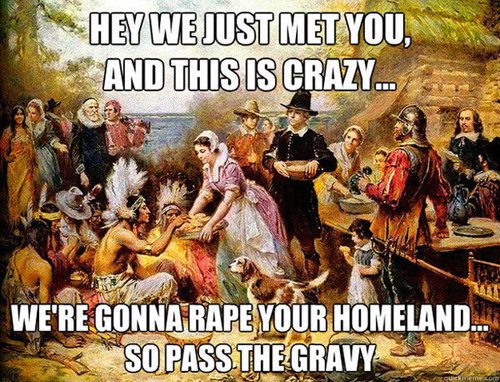 If you're an American, Thanksgiving is looming large in your mind right now. It's probably one of the most heinous of holidays, considering how it's a commemoration of the beginning of the end of Native American civilization at the hands of white imperialist colonizers; between Thanksgiving and Columbus Day, the two holidays are lovely bookends to the whole "wholesale slaughter of indigeonous peoples" theme that the New World was founded on.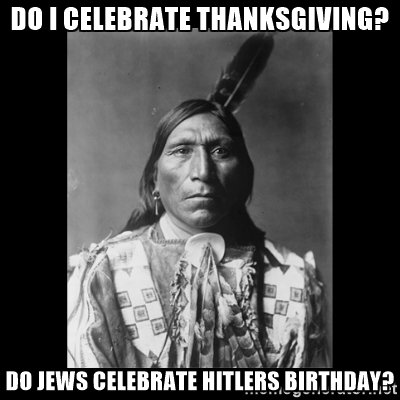 Just Asking For It
Of course stating such can get you branded as a pariah in some circles, especially statist ones. Those American flag-sniffing "patriots" start crying whenever you disrespect This Great Nation, after all, and voicing anything that doesn't fit in the American national narrative can subject you to all sorts of harassment. "If you don't like it here, leave," is my favorite. Especially since it implies that once you do leave the country, you'll end up somewhere that would now be subject to America's foreign policy. No, I think I'll stay right where I am, thank you very much.
The worst part about Thanksgiving is that abominable tradition of the roast turkey. I fucking hate turkey, man. It's just a giant chicken that's impossible to cook right. Plus, Americans have turned wild turkeys into a deplorable shadow of their former selves thanks to our domestication and breeding efforts. To ensure there's enough turkey to go around, the birds have been bred - over-bred, really - within an inch of their lives. Many turkey farms have bred their birds to have so much breast meat that they need to be artificially inseminated to reproduce. You read that right: your turkey is too fat to fuck.
Not that wild turkeys are so fantastic, either. They're vicious, mean-spirited assholes, and they travel in packs. Their only true reason for living is to get lodged in car radiators and/or chase you through the woods until you inevitably turn and give one a good punt to the wattle.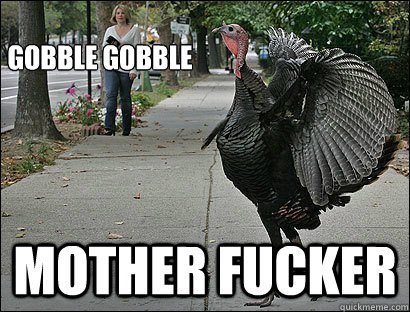 Literally Nothing Good About Them
There's not much that's endearing about turkeys besides the fact that they're essentially ugly peacocks. The little scrotum-faced bastards are revered as high cuisine around Thanksgiving, and it makes me twitch about how firmly entrenched they've become as part of the American Narrative. Eat your turkey on Thanksgiving day, you fat fuck, and then go spend money you can't afford on Friday. Because a good American means being a better consumer.
That's why I was rolling in the aisles when I read how the Zapotec people of Oaxaca had been domesticating turkeys as early as 400-500 CE. This is great. Not only were Native Americans eating domesticated turkey a good thousand years before the first asshole white "settler" showed up here with bottles of booze and smallpox blankets, indigenous people were having their own Thanksgiving dinners whenever they wanted. The best part is that they're not even North American Indians either - they're Mesoamericans. Too late to build that wall, assholes!
Seriously, fuck Thanksgiving.