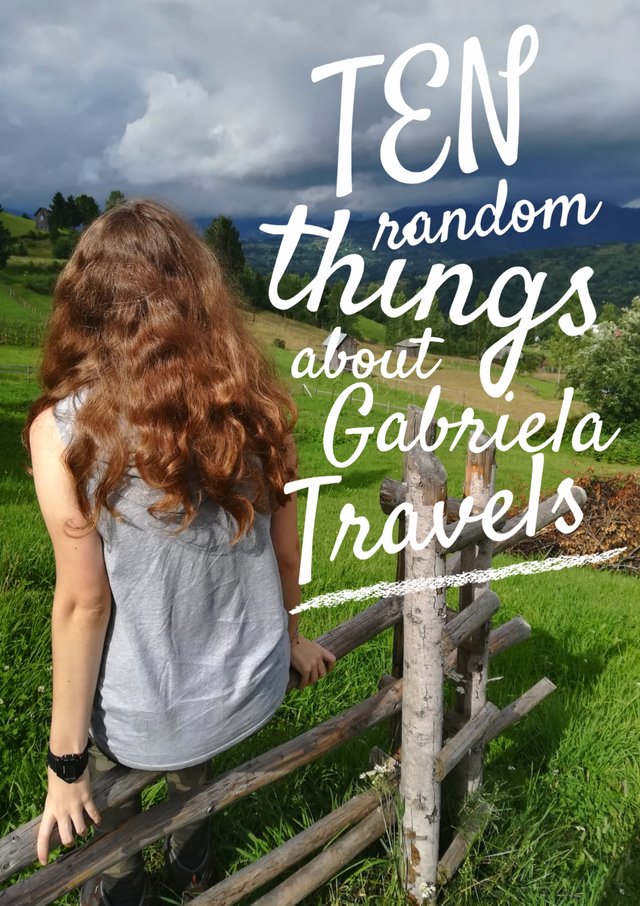 So a week ago I've been nominated by @mrprofessor and encouraged by @frejafri to give a try to this challenge, and being a lover for trying new things but also to all kind of challenges I said why not?
Because in this way we get to know a little bit more things about the person which is behind a nickname.
And I really love meeting new people.
---
The challenge was created by @twodorks and you literally need to write down at least 10 random things about you and nominate a few more persons but not before asking them a question to whom they have to answer in the comments.
But more about it you can read HERE.
---
So let's start this, even if some of the things I will tell you about me are not so unknown by a few of you who follow my posts. :)

1. I'm a TWIN
Probably one of the most known things actually, because in most of my travel articles I also post at least one picture with us, but there we are, with another picture with me and my twin on one of the adventures I will write in a few weeks. (just a sneak-peak)
So yep, having a twin is something really fascinating and unique - I could call it a miracle because life is fairly different to us especially when you notice all the funny faces people make when they start looking from one to another wondering if they see double. The connection is also different than it is between any other siblings, and let me tell you that all those stories you've heard about twins like if one of them gets hurt, the other one feels the pain too - are kind of true. Of course, this doesn't happen every single time but there were enough moments when my sister got hurt and the next day I was the one wearing the bruise and she didn't have anything on her body, or when I felt sick, she felt too. There are pretty many interesting things about twins which may sound weird but they actually show the real connection between us.

2. I wore dresses ONLY 2 times in my life
I've never been a girlish person, so wearing a dress was definitely not something that I will pick, no matter what the event would be.
First time when I decided to wear a dress was a few years ago when I graduated the high school and I was kind of forced because all my classmates were doing it so I didn't want to look like an alien to the party.
After that moment, I was sure that this won't happen again too soon, but I was wrong.
A few months ago I was attending to a happy moment in my family when my cousin married so I said to myself that I really need to make an effort and wear a dress again because it's a special event.
Of course, using make-up or wearing high heels were also not on my list.
But that may be the effect of having only boy friends when I was a kid.
All my neighbours and friends were guys, we were even playing football so I've never been into girls stuffs.
I am actually owning a bow ties collection, because this is how I used to dress myself on special events, far away from dresses or whatever any normal girl does.
P.S.: I am on the right. :D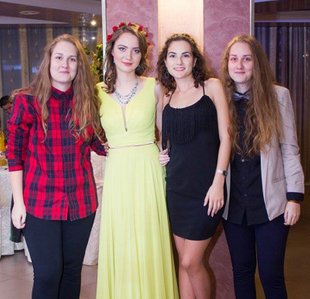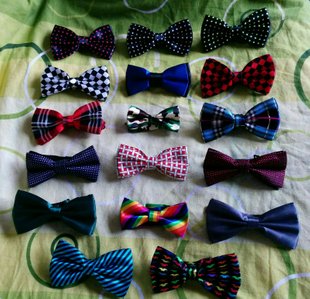 3. Travel addict without a passport?
Yep, even if I started travelling many years ago, I've never been abroad so I'm still discovering every single corner of my country.
Funny or not, I still don't own a passport because I know my possibilities of discovering other countries are pretty weak for now, so I never thought about it.
But I've always been used to take out only the good part in every situation so there we go - I've been blessed to be born into a beautiful country which is ready to offer a lot of things to us, the travel lovers.
That's how I know I won't spend the chances of seeing everything in my country too soon.
Because even though Romania has many defects if we look up at things like education, government and so on, the good part is that this country has a lot of potential being very rich in touristic destinations, so my "job" on here won't finish betimes.
And when this will happen, I will make sure to dig deeper and bring out some places which are really not known by anyone else.

4. I'm a girl gamer
I know that many people believe this is a "sport" for guys and not also for women but gaming was one of my first passions.
I can't really say what's my favourite genre because I jump from shooters to story games, from MMORPG to MOBA, from racing to online/co-op/multiplayer games, from simulators to horror kind, and so on. It all depends on my mood, I guess.
Lately, I've been playing a lot ETS2 because it has this impact on me to stress-free, and spending 1-2 hours driving before I head to sleep, with some loud music turned in the background - is perfect!
And to be honest is one of the things that helps me escape of reality pretty easily. And we all need that from time to time. More or less.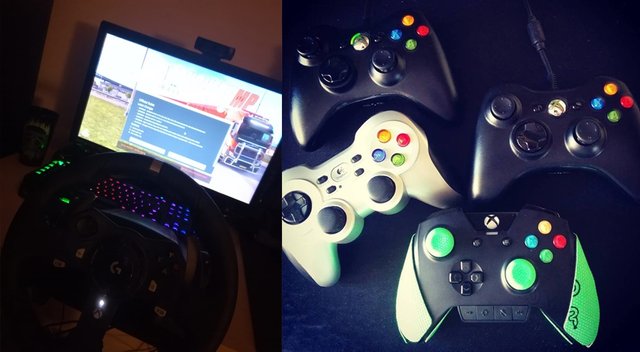 5. I lost 15kg in only 3 weeks
I've always been a person who's weight is pretty balanced. Actually, it's been like a few years since I haven't gained any kilos. Except 3 years ago.
I know that we all get through a lot of ups and downs in our lives and it all depends on us how we manage to deal with it. And I've always considered myself a pretty strong person, but 3 years ago was one of those moments when you feel so freaking exhausted, mentally more than physically, but still damn tired.
I won't get into details about what happened but I lost 15kg in just 3 weeks. And the first 10 kg were lost in ONLY ONE week. So imagine how huge the change was. Not only for me but for both my family and everyone who saw me like one week ago and then you could literally number the bones through my skin.
I've had to buy new clothes and everything, because absolutely nothing was good for me, anymore. I was looking like I was wearing the clothes of my bigger brother. Now after 3 years since then, I barely got 5 kg back from the 15 that I lost.

6. I love ART
Drawing was my first passion.
Then I've slowly moved into editing pictures - graphic design - web design and all kind of things related to art.. and now I've finally decided to focus on creating video content. Travel content.
Until I fall in love again with another kind of art...
That's how I used to make all kind of sketches which then made no sense but if I would focus on it, today I would probably do something else.
I've been working with Photoshop and After Effects for around 10 and 7 years. And a few months ago I got into Premiere Pro trying to get even better on editing my videos.
Now you may wonder why I didn't follow any courses about art or any of those passions. That's a good question.
Well, the cruel truth is that architecture..and art, is something not so appreciated in Romania. I mean you really need to be lucky to make it a lifestyle and actually live the life you've imagined because most of the people who become artists on here, need to move to other countries where this passion is more supported.
Anyway, the first picture I attached is just an example of how I used to create the interfaces of websites.
But the biggest achievement I've earned into this domain was when I've participated in a Logitech G contest.
So they were sharing with us their logo and we were supposed to do something with it and their motto.
And this is what resulted from my work which took me only 15 mins.
To be honest, I've had no hope that I will win because there were many people way better than me, but it happened to be one of the two winners and now I still smile every single time I see the message from Logitech G sticked on the wall.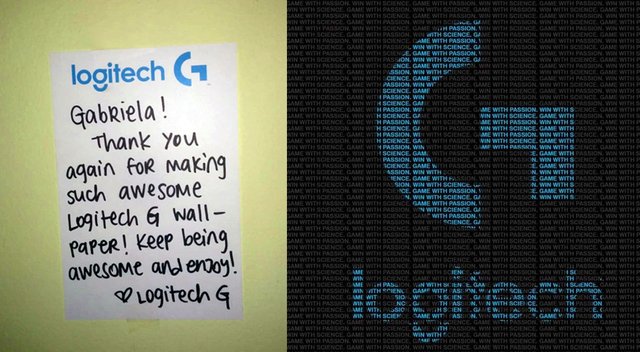 7. I love wolves
I know each one of us rediscovers itself into an animal. And that's not random because each animal has its attributes. But to me, the most significant animal and the one that I love the most is wolf. Because I consider it a very strong animal and actually is the only one that has so many things in common with a woman.
To me, it's not just an animal but actually, the inner me because the only place where I feel wild and free is in nature - just like the wolves are. I know many people are scared of them but you would be surprised to figure out what good company wolves are, for both people and other animals, because they take care of their families just like us - the humans; fighting to protect their loved ones until the last moment comes by.
Anyway, in the picture attached you will see a few personal things with wolves - two t-shirts, a necklace and a psychological book about the many connections that exist between women and wolves. Oh, almost forgot about it but my dream is to have a real wolf as a pet, one day. :)

8. My eyes change their colour
And it all depends on my mood.
My eyes get from blue to dark green and from grey to light green depending on how I feel, what I feel and what the season is.
Usually, my eyes get blue on cold seasons and when it's hot outside they are kind of green. But when I am really happy, they become grey which even though is not really a colour, my eyes seems to like it.
In the picture attached my eyes were both blue and green, probably the moment when they started changing the colours, but it also happened to have one eye blue and the other one green. And that was on a picnic when I was feeling so happy and relaxed like I had the world at my toes. Actually, that was the only moment when my eyes had different colours.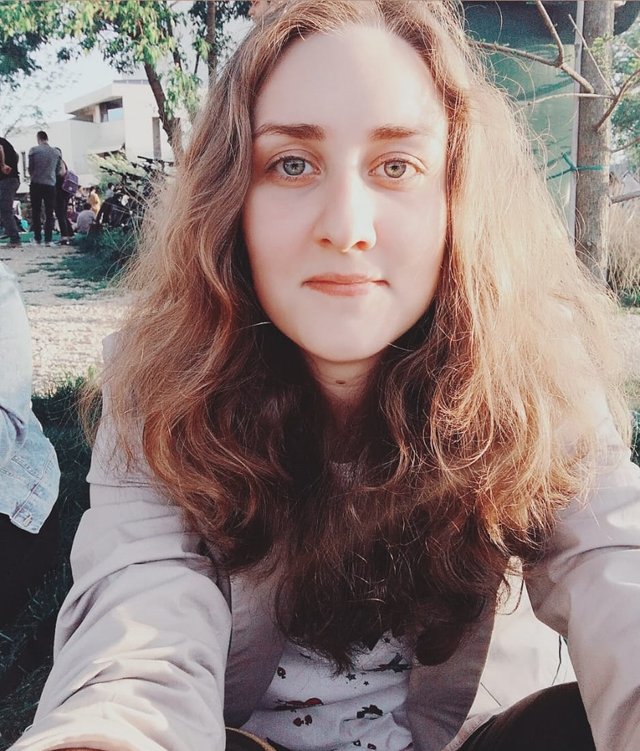 9. I want tattoos
And not just because is cool and most of the people have at least one, but because I have a few things which I truly love and means way more than I can express in words, to me.
I know that there are people against this kind of art, and I am too for those who get their entire body inked without having at least a few stories about the tattoos their skin is wearing.
So I'm dreaming to that day when I will finally make this step. There would be at least 2 tattoos that I really wish to have, one of them being related to wolves, of course - just to remember how strong I am and I need to remain this way; and the other one about my biggest passion and actually the only thing that makes me feel alive.
Camping, hiking, climbing, exploring, mountaineering, a campfire, a few stars, the moon, trees, hammocks, guitar, are just a few of the elements that I want to be included on a heart.
I'm actually thinking that I could mix the ideas of the 2 tattoos and make only one but definitely way bigger so the many details that I want to be included, to be noticed.
Being an introvert is really hard to talk about myself or express myself into words, so whenever someone will ask what my story is and what I love doing, I could just show this tattoo which will talk for me.

10. I'm a funny person
Even though I'm an introvert and is really hard to socialize with new people, I'm always the one who's job is to make lots of jokes and create the atmosphere into a group.
I love seeing people smile or laugh because of me - no matter if my jokes are good or bad, if I look stupid or not, if they smile because of me, it's like completing a new mission.
Because my soul feeds with their laughter and smiles.
So is really impossible to ask for me to act normal when we hang out because I wouldn't be me.
And it's sad to realize that I'm probably having a double personality because when I'm back at home, hiding behind a book or a monitor I may look like the most depressed person on the world, which is the opposite of how I was when we were spending time together.
But by time I've got used with that, and who knows the real me, they understand both of my moods and that I can be a funny kid at the same time with being an adult who likes giving advice and helping you with whatever you need.

Because I love helping people as much as I can.
I love giving advice.
And I love every human being.

And now that I am done sharing some random things about me and you know me better, I would like to also nominate a few friends or people that I'm sure they are very interesting and I would love to find out more about you, but not before asking "What animal represents you the most, and why?"
@alexdory @anomadsoul @o07 @for91days @vladcraciun @macchiata @nickyhavey @missdeli @ruth-elise

All rights reserved.

You can find me on:
↪ DTube: https://d.tube/#!/c/gabrielatravels (soon..)
↪ Steemit Blog: https://steemit.com/@gabrielatravels
↪ Discord: GabrielaTravels#0104
↪ Facebook: https://www.facebook.com/gabrielaistraveling/
↪ YouTube: https://www.youtube.com/gabiivdesign
↪ Instagram: https://www.instagram.com/gabriela.tv/
↪ PayPal/Contact: gabriela.valceanu19@gmail.com