What is quantum computing in Laymen's terms?
I really enjoy writing posts to assist to technology challenged to understand more of the technical world. I am not saying everybody in the world can become super programmers , but I do believe that the non-technical world can have conversations with the technical at a specific level. e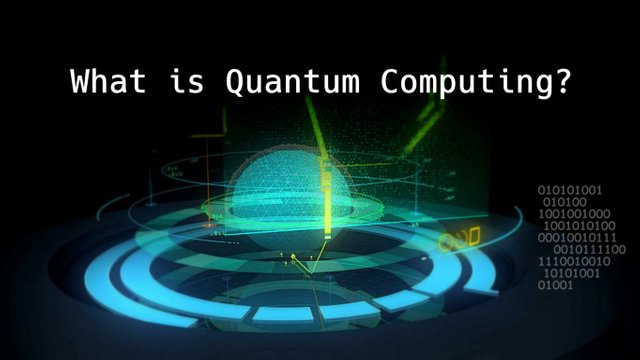 Image Credit
Let's chat quantum computing.
It's a qualitatively new form of computing, which would exploit quantum mechanics: a generalization of the laws of probability themselves, to involve negative and even complex numbers, which has been the basis of physics since 1926
Content Source
The statement above immediately made me think of @lemouth, a good friend, Particle physicist and professor in physics. @lemouth is one of those people that did not think the earth will explode when they started CERN where they accelerate particles and crash them to each other. Please follow him as he writes on very interesting subjects :) @lemouth time to visit us in South Africa again.
Anyway, the statement above is exactly what I do not want to write, as not many will understand :)
To understand what Quantum computing is, we first need to understand conventional computing.
What is conventional computing?


Image Source
Computers can basically do two things. They can store numbers in memory, (image above) and they can process these stored numbers with the basic mathematical equations. You can obviously do much more by doing a sequence of events. Everything in computers is managed by switches that is either switched on or switched off. Just like the light switch in your houses. When the switch is on, it is reflected as a 1 and when it is off it is reflected by a zero, and this is where Binary comes in. These switches combine into a binary code for anything in a computer. For example here is A B C in Binary A = 01000001, B = 01000010, C = 01000011.
Each of the zero's or one's is called binary digit or a bit, which might sound familiar to some of the Non-Techies. With a string of 8 bits, you cans store 255 characters…that is now A-Z or 0-9 or whatever symbol you want to store. 1 Byte = 8 bits. Through a combination of these Bits and Bytes, computers do their thing.
I will write another post to go into morm There detail at a later stage as I want to get, to the reason of the post and that is What is Quantum Computing?
Some of the content sourced here
Quantum Computing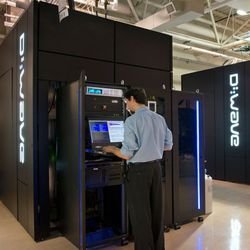 Image Source
Quantum theory and @lemouth please correct me if I am wrong deals with a world of atoms, and the smaller particles inside them. Apparently the when you go smaller and smaller, things starts to behave differently. According to a well-known physicist Richard Feynman:
Things on a very small scale behave like nothing you have any direct experience about... or like anything that you have ever seen.
[Content Source](http://www.explainthatstuff.com/quantum-computing.html]
Moore's Law
A dude from the Intel Corporation once noticed way back in 1965, that the number of circuit transistors i.e. Switches per square inch has doubled every year since the invention of the circuit board. He then predicted that it will carry on for a long time. So we are basically doubling the speed computers can process at every year whilst everything is becoming smaller.
So now :
Quantum + Computing = Quantum Computing
As I explained in the Conventional Computing section above the switches can either be off or on, i.e. 0 and 1 and these are stored either as a 0 or a 1 in a Bit.
Well you have to read a bit about Schroedinger's cat, which is a thought experiment devised a by Eric Schroedinger, way back in 1935, where he illustrates what he ees as a problem with Quantum Mechanics. The bottom line of the story is that he described a scario where the cat can be dead and alive at the same time. Sounds freaky and impossible, but he did it and this is what is called quantum superposition.
In Quantum computing we use qubits, which is the bits of the quantum world.
Where a bit can store either a zero or a 1, a qubit can store a zero, a one, both zero and one, or an infinite number of values in between—and be in multiple states (store multiple values) at the same time! If that sounds confusing, but Schrödinger's cat is alive and dead at the same time.
Content Source
I really hope that I am helping some of you Non-Technical people to understan a bit more of the technical world. I will do some more very soon.
Some of my other in Laymen's Terms Post.
Some of these posts have been written more than 10 Months ago :)
Artificial Intelligence in Laymen's terms
Blockchain and Digital Signatures - In Laymen's Terms
Trustless - What does it mean in laymen's terms?
Cyber Attacks explained in laymen's terms
Machine Learning - In laymen's terms
Internet of things and what it is in laymen's terms
Big data - What is it really about - In laymen's terms
Happy Steeming!
---