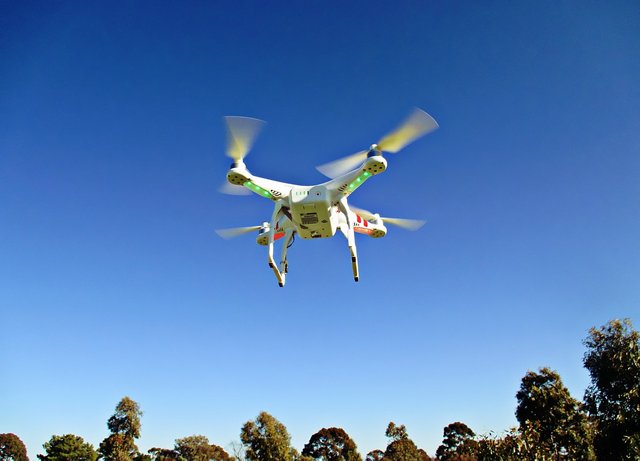 Google's parent company Alphabet just recently announced some details about their new software stemming from their drone delivery project--Project Wing, that's attempting to design a drone-tracking system. They expect that within a few years the skies will be filled with many more UAS (unmanned aircraft systems) and the project when fully realized is expected to help authorities to track those devices and help to prevent collisions in the sky.
Project Wing has engaged in a variety of experiments with the NASA and FAA, in an effort to test the concept and software. They assessed a variety of delivery drones, with multiple tests that were conducted in various locations around the nation.
When it comes to flying drones in the US, regulations have softened a bit recently thanks to the recent ruling against the FAA; affirming that those flying drones for non-commercial purposes don't need to register their devices. But that decision might not stick as they still have the chance to appeal.
We can expect to see many more drones flying around in the future, whether it's assisting with firefighting, policing, or farming, delivering mail packages or pizza, it's clear that many companies are looking to make the most out of drones in order to boost efficiency of their delivery services.
Project Wing admits that their team has already been successful in being able to monitor the flight paths of a number of different drones, using just one single platform. With this system utilized, the drones had automatically steered away from one another; it didn't require the help from any manual operator.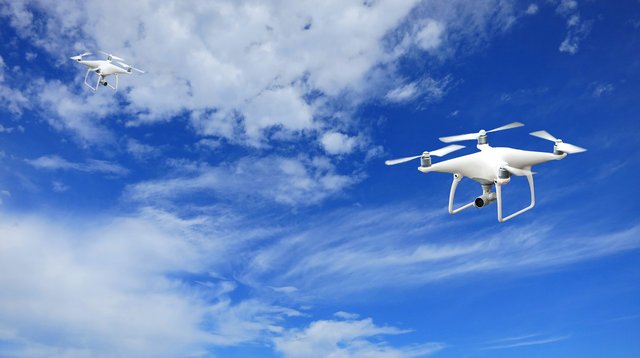 Competition ..
They aren't the only ones looking to develop this sort of system to be used for tracking drones around the US. Other competitors in this space are said to be companies like Airmap, Uber, GoPro, and Amazon.
Aside from Project Wing running the tests using Wing aircraft, they also used DJI machines and some from Intel. And they say that their areas of focus for the near future are going to be: real-time route planning, notifications that prompt operators about avoiding no-fly zones, and alerts that warn about any unexpected changes to the route.
They believe that transporting goods, be it mail, pizza, or doughnuts, is going to be a much more inexpensive, environmentally-friendly, and overall more efficient method of doing business and making deliveries.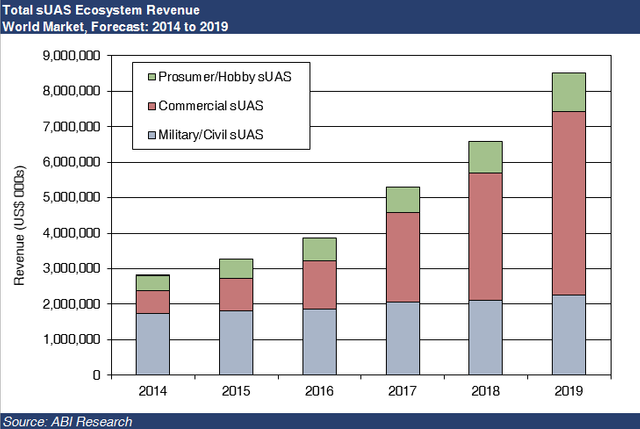 and if that proves to not be the case? ...
then we can expect that another direction will be employed. Just because certain technology comes around and gains popularity, doesn't mean it will stick around forever. And if after drones become much more prevalent in the sky and the public overwhelmingly aren't in support of it, then we can expect that the market will react accordingly.
When consumers vote with their dollars and they vote by not supporting drones or drone delivery initiatives, then they will not have the support that they need in order to succeed.
Drones have already made their way into dozens of different occupations and it's hard to imagine the market losing interest in them anytime soon. At the moment, the global consumer drone market generates hundreds of millions of dollars. And by 2021, drone sales are expected to surpass $12 billion.


banner thanks to @son-of-satire
Pics:
Pixabay
ABI Research via hdronelife.com/2016/01/14/will-china-dominate-the-drone-market/
Sources:
http://www.bizjournals.com/sanjose/news/2017/06/07/google-project-wing-drone-management.html
https://www.recode.net/2017/6/7/15749994/alphabet-project-wing-autonomous-drone-tracking-faa-nasa
http://www.businessinsider.com/project-wing-update-future-google-drone-delivery-project-2017-6
https://www.digitaltrends.com/cool-tech/alphabet-drone-management-system/
http://www.marketwatch.com/story/consumer-drone-market-to-grow-at-234-cagr-to-2020-2016-11-10-7203312
Related Posts:
Amazon Successfully Makes Drone Delivery In Palm Springs
https://steemit.com/technology/@doitvoluntarily/amazon-successfully-makes-drone-delivery-in-palm-springs
Drones Are Ready To Join The UPS Fleet
https://steemit.com/technology/@doitvoluntarily/drones-are-ready-to-join-the-ups-fleet
Big Changes For Drone Registration: Court Rules Against The FAA
https://steemit.com/drones/@doitvoluntarily/big-changes-for-drone-registration-court-rules-against-the-faa
FAA Testing Drone Detection System
https://steemit.com/drones/@doitvoluntarily/faa-testing-drone-detection-system
5 Different Ways Drones Are Used To Benefit Humanity
https://steemit.com/drones/@doitvoluntarily/5-different-ways-drones-are-used-to-benefit-humanity
Many U.S. Fire Departments Now Using Drones To Help Them Fight Fires
https://steemit.com/drones/@doitvoluntarily/many-u-s-fire-departments-now-using-drones-to-help-them-fight-fires