Crypto and Blockchain technical words explained in laymen's terms
I am writing a series of articles, to assist non-technical users and newbies to the world of Crypto to understand more technical concepts. My main goal is to enable the non-technical audience to have conversations with the more technical audience.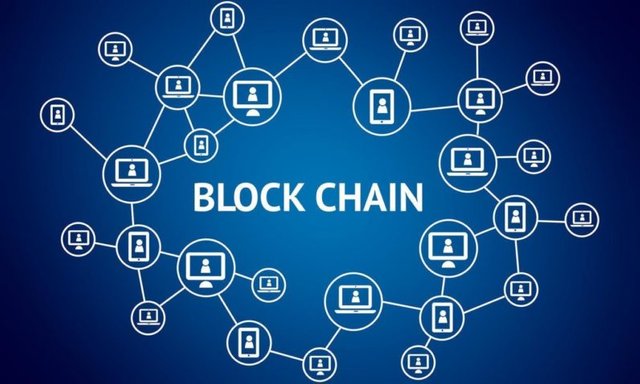 Image Credit
In one of my earlier articles - Some Technical Words explained in laymen's terms I had a request in te comment section to do some crypto words in laymen's terms. So here goes.
Some Crypto and Blockchain Technical words in Laymen's terms"
As a start, here is a nice infographic about how a Blockchain works: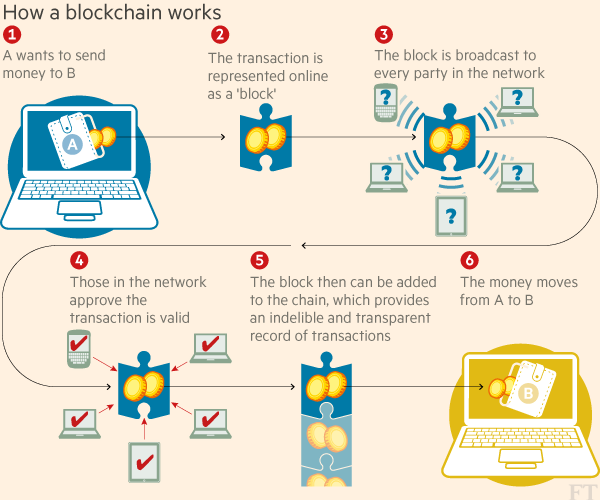 Image Credit
Token Sale or ICO : A way of raising Bitcoin or alternative crypto currency to kick start a project. I have written a Laymen's terms explanation here
AltCoin : This is any digital cryptocurrency, which is not Bitcoin, hence the reference to "Alternative" to Bitcoin.
Cryptography : A very secure encrypted method, to communicate. It is actually a science to encrypt and decrypt messages.
Blockchain : A blockchain is nothing else as a digital ledger that keeps an detailed audit trail of all transactions.
Github : Github is a repository or a place to store code, documentation, or anything you would like to make public in a secure and organised manner.
Mining : The process in which blockchain transactions are verified and added to the blocks in a chain. This is done by solving cryptographic algorithms which in turn creates cryptocurrencies.
Trustless : The ultimate state of trust, in other words, you do not have to even think of trusting something. I have written a post about trustless in laymen's terms
Smart Contracts : These are contracts that are created with computer code, and execute things in a specific sequence. When this happens do that . I have written a laymen's terms article about Smart Contracts](https://steemit.com/technology/@jacor/smart-contracts-in-laymen-s-terms) should you want to understand in more detail.
Transaction Block : These are a list of transactions that are grouped together in order to add it to the next block for confirmation and consensus.
Consensus : When we mine crypto currency, there are a group of miners all around the world involved. They all try to solve a specific algorithm. When the algorithm are solved by any miner, all the other miners need to confirm that the answer to the algorithm is correct. When a certain percentage of the miners agree that the answer is correct, they reach consensus, and the block is created.
Block Reward : Miners are actually in a race to solve the algorithms explained above. Each time when a block is created a percentage of the crypto in the block is awarded to the miner that won the race.
Block Height : The number of blocks are connected together refers to the block height. Height 0 will be the first block in a blockchain.
Genesis Block : The first block which is created in a blockchain.
Halving : There will only be a specific amount of Bitcoin created during the mining process, 21 Million Bitcoin to be exact. Every four years, the number of Bitcoin which is created in a block is halved. SO there are less and less coming into existence, making Bitcoin very scarce. The final halving will take place in 2140. In my opinion, it will be worth a fortune at this stage.
I hope these explanations help somebody out there. Please let me know if you have a specific technical topic or specific word / term. which you want explained in Laymen's terms.
Some of my other in Laymen's Terms Post.
ICO's or tokensales in Laymen's terms
Crypto Wallets in Laymen's terms
Smart Contracts in Laymen's terms
Artificial Intelligence in Laymen's terms
Blockchain and Digital Signatures - In Laymen's Terms
Trustless - What does it mean in laymen's terms?
Cyber Attacks explained in laymen's terms
Machine Learning - In laymen's terms
Internet of things and what it is in laymen's terms
Big data - What is it really about - In laymen's terms
Some Technical Words explained in laymen's terms
Happy Steeming!
---