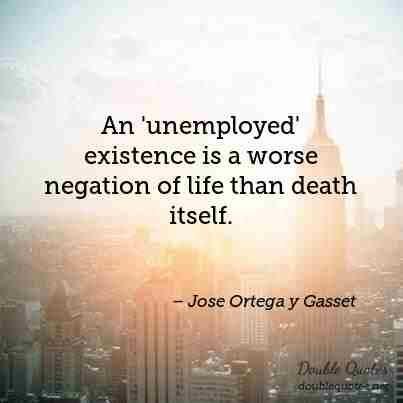 doublequotes.net
So, I have been unemployed for 4 months now and I swear, it sucks! I can't do anything to earn a good amount of money or even, a stable amount of money every month. And, it is just so boring staying in the house and you cannot even go out to get food to eat if you want to have snacks because you don't have money. That is just the worst thing in my life, I could say.
---
The Story Behind Being Unemployed
I wasn't really unemployed before. So, what happened is that, when I graduated college, a week after that, I already went to Davao to find a job and luckily, I found a job 4 days after my stay in Davao. It was in a call center and I worked as a call center agent for a year. But then, January of this year, after I passed the Licensure Examination for Teachers, my dad wanted me to quit in the call center and apply to the Department of Education to be a teacher. And, that was what I did. I quit and I applied in DepEd. And right now, I am just like a little boat stuck in the middle of the ocean without a gasoline - can't do anything and just waiting for rescue people to pick me up and bring me back to the shore.
---
What Did I Do to be Employed?
While I am waiting for the results of my application in DepEd, I have been applying online jobs but it wasn't as easy as I thought it will be. I applied for an online teaching job and luckily, I got hired. :) But, I haven't started yet since I am still waiting for them to tell me what to do. It is my first time to be in an online teaching job and it seems like I am lost in the wilderness and do not know my way back. Hopefully everything will go well with the online teaching. And also, I have Steemit. :) But, it is also difficult to start up here. It will take time for one to be able to earn a good amount of money. Sometime, I would just even want to cry thinking about it.
---
Why it is important for me to earn money?
Admit it, in the world we are at right now, money is just the most important thing that it can even buy your happiness. I have a lot of things that I want to do. I have a lot of things that I want to achieve. I want to help my mom in sending my younger siblings to school. I want to help them buy a new house because our house is not finished, it doesn't have walls. We only have walls in the rooms. And, our house is on top of a mountain and you still need to climb up to a high stairs in order for you to reach our house. It is okay for me that our house is at the top. But, I know, it is not for my dad. I admit, they are not getting younger as the days goes by. My dad is physically disabled (but, I can't afford to call him that since he can still do the things people can do and I am proud of him). He can hardly walk and he cannot go anywhere without his crutches. And thinking about that really saddens me because one of these days, he might not be able to climb up in the stairs anymore. :( And also, I want to go to America to be able to meet my boyfriend. We have been together for almost 2 years now but still, we haven't met each other in person. I know, it may sound too impractical for all of you. I understand. But, both of us are willing to meet each other it's just that, we do not have enough money to do so. But one day, we will. :) :)
---
Indeed I can say, the struggle of being unemployed is REAL. :( Especially because I am the eldest in the family. When the world seem to stop, my tears will just all of a sudden fall and I could just think to myself, "I hope I can be like those other people. Happy, they can buy what they need and want. They can travel and live life to the fullest. And, I just keep on telling myself,
"Go on, self. Don't ever give up. You can do it!"
And I am just also holding to the saying that, "Best things in the world takes time." :) I will just trust the Lord because I know, He has planned something marvelous for me. :)
And that is also what I want to say to all the unemployed out there like me.. :) :)