THERE MUST BE OPPOSITION IN ALL THINGS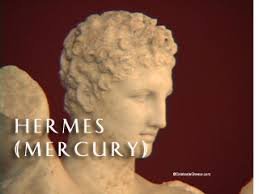 Hermes Trismegistus is the fabled master of spiritual, material and energetic alchemy who lived thousands of years ago in the early days of the Egyptian Empires, or perhaps during the ancient Sumerian Empire. Some historians suggest he was the ancient Hebrew prophet Enoch. Many nations in the Middle East claim him as there own but no one knows for certain what his nationality was, or even when he lived, or what his actual name was, but some of what he established as fundamental theories and concepts of the nature of the cosmos, medicine, wisdom and even ancient alphabets are attributed to him and have come down through the ages to us. The Greeks considered him so venerable that he became associated with their God Hermes which the Romans later named Mercury. In ancient Egypt Hermes was associated with the God Thoth.
The last name "Trismegistus" identifies him as 'thrice-great". So apparently he was a Master of Masters in wisdom, knowledge, and divine inspiration. Plato claimed that in the temple of Neith there were secret libraries containing writings of Hermes Trismegistus over 9,000 years old! That would put Hermes on the earth some 11,000 years ago!
Apparently Hermes penned 42 sacred writings that were used to train Egyptian Priests of antiquity. One of the most singular principles he established and wrote about was that of opposites. We can state it thus: There must be opposition in all things.
A rather simple statement it seems. Most people who read this might casually shrug their shoulders and say, "meh... so?" Ah, but they are woefully uninformed for this principle is fundamental to our understanding of the Cosmos, physics and even consciousness. Indeed, some consider it to be one of the greatest principles of knowledge there is. First a curious note: a country lad from the early 1800's, Joseph Smith, penned the exact wording to this principle in the scriptures of the Mormon Church. Perhaps Smith accessed an etherial bank of information established ages ago by Trismegistus himself!
THE PRINCIPLE OF OPPOSITES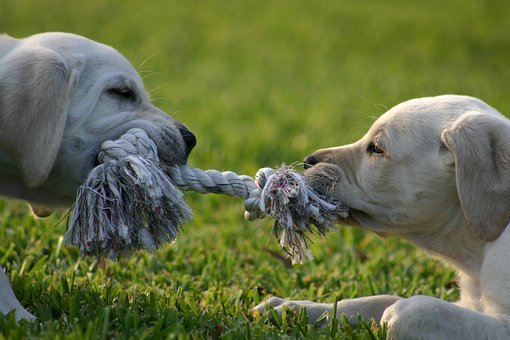 Why did Trismegistus consider this to be a fundamental principle? Simple. He recognized that the very existence of the Cosmos is dependent upon polarity - opposites. There must be positive and negative, light and dark, fear and love, cold and heat. There must be opposition in all things. No other principle can supersede it.
Most of us, when considering this principle, look "out there" in the world or cosmos beyond ourselves. However, the principle says, "...opposition in all things." All things would include us. You'll note that humans have the capacity to be dark, evil, and destructive, while at the same time have the capacity to be saintly, filled with light and love and powerfully creative. This principle then is fundamental to free will. We embody polarity and must choose which pole will draw us.
We can see this illustrated with the emblem of yin/yang we are all familiar with.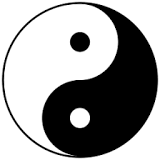 You will note that this symbol integrates the polarity. In other words all opposites are the same only differing in degree. A good example is heat and cold. One can measure extreme cold and gradually going up the scale can come to extreme heat. Interesting concept but perhaps contestable. But, nevertheless, the cosmos is made of opposites as is every atom in our bodies and in all things that make our earth and everything in it.
Ah, but here is a fascinating question: does this principle apply to consciousness? Indeed, it does. On one end of the scale of consciousness among humans we might find a very dark and evil person, while on the other end we would find a light-filled saint, a personage so brilliant in knowledge and wisdom, love an light that it would be difficult not to fall on our knees and worship such and individual.
Here is another fascinating thing to consider in regards to consciousness: vibration/frequency. The evil person would have a very slow vibration while the enlightened one would be vibrating at a frequency in opposition. We'll get into this phenomenon in another post soon but it seems there is an accurate scale or measurement of ones consciousness! We could say, if we had such a scale (and we do, but thats for later) that the evil one might calibrate as a -1000, whereas an enlightened one would be a + 1000. Makes sense does it not? That said, where on the scale do you and I calibrate? I would suspect that you and I would be somewhere between 300-400.
It is said that Hermes Trismegistus had the ability to change his own polarity. Such a bold claim! Ah, but I've got you there. You and I can too. We change our minds don't we? We can change our moods from sour to joyous, from pissed to happy, from despondent to hopeful. We do it all the time. Think of a time when you were angry and the phone rang. You glance at the screen and see the caller is someone whom you want to empress with your good vibes...didn't you change from anger to happy in a matter of moments. And these good vibrations that we make, didn't the Beach Boys even sing about them?
So you see, you are familiar with good vibrations, and bad. Consider, for instance a modern Rapper singing of killing cops and "white mother F...r's ". Quite the opposite of the Beach Boys wouldn't you say?
Just one last note on opposites: mindfulness training, or mindfulness meditation is simply a means of becoming sensitive to energies of all kinds, both within our bodies and without. One can become quite sensitive to vibrations and can become quite adept at sensing good VS evil vibrations, truth and lies, darkness and light. If this is so, and it is, could we not say slavery is in opposition to freedom? Isn't freedom a higher law, a higher vibe? If that is so, any government that reduces freedom is going toward slavery. Right? Indeed, it is so.
One last note: Isn't it fascinating to observe the principle of polarity on Steemit. One day we might be overwhelmed with negative energy and rumors of terrible things that may occur, while the very next day we come across someone like @taskmaster4450 who does not seem to have a negative vibe in his mind at all. Can't you sense the lower and higher vibrations?
I invite you to read my next post on the coming generation of children now being born that will be very well versed in all of this and will be the ones who actually transform humanity from ignorance and submission to abusive governments to a New Era of freedom and personal responsibility. A New Age. What shall we call these children who vibrate at a level of consciousness far beyond the norm we experience today?
Anyway the principle of opposites is a very powerful concept. Except it is much more than a concept. It is the reality of vibration and frequency. If you come to understand this principle in totality you can then become a Master of your own destiny. You can do more than change your voice and mood when answering the phone, you can become adept at mastering vibrations of health, abundance, love, consciousness and much more. Would not that be grand?
Many blessings and much love,
Mister Mercury