Welcome to Team Girl Powa | Bringing Intersectional Feminism to the Blockchain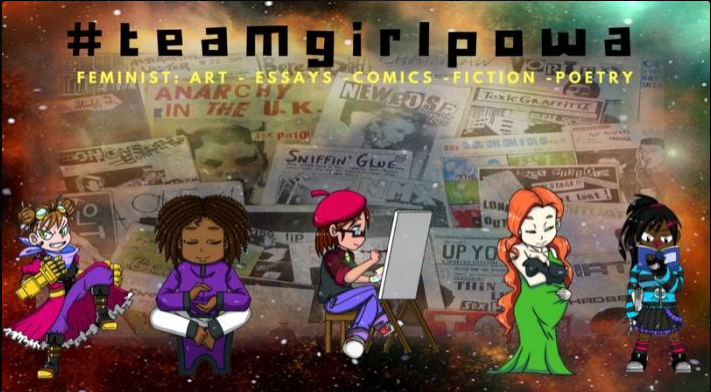 Hello, and a warm welcome to Team Girl Powa! 
You must be wondering, what are we all about? It is pretty simple, we are here to empower women and other marginalized communities on the blockchain and in real life. That is what we are all about, Girl Powa! 
Our community is very diverse and everyone has their own opinion, but the baseline for everyone without exception is the empowerment of women and other marginalized groups. 
Many of us identify as inter-sectional feminists, meaning that we recognize the previous white washing of feminism in the past and strive to overcome that. We believe that it is important to continue challenging ourselves to stay learning, step back, and step up; to uplift the voices of people of color, the lgbt+ community and other marginalized groups. By doing so we will enrich our lives and our communities and will further our non-violent resistance against all systems of white patriarchal control.
We are here first and foremost to support self-identified women and the men who respect them on Steemit. We encourage the efforts of both men and women to blur the lines of gender roles and question the societal status quo, and we encourage them to continue challenging themselves and their own belief systems and societal dogmas as well.
Secondly we aim to encourage discussion of gender, sexuality, and the sociological phenomenon that is related to both in a respectful and open-minded way. We want to encourage open-minded conversations in the community in a healthy and respectful environment while still breaking down those societal boundaries that hold us back. 
Lastly, and perhaps most importantly, we are a group that recognizes the importance of highlighting the needs and voices of women (and other marginalized communities) and specifically those living in economically-challenged countries. Too often these strong voices are disregarded, and we want to change that! 
Team Girl Powa values include boldness, authenticity, integrity, respect, creativity, justice, growth, diversity and compassion!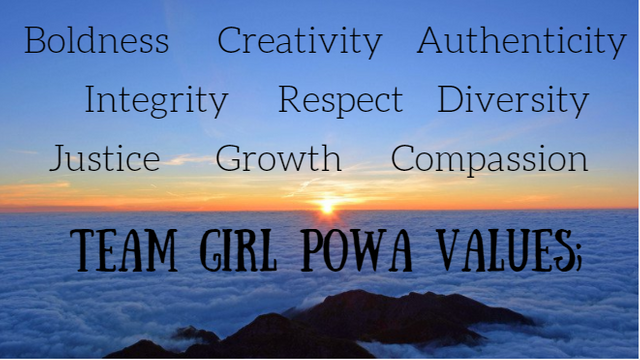 There is a whole lot to be done to reach our goals and to empower the marginalized communities we focus on, and there are so many reasons why we need Team Girl Powa on the Steemit platform. Specifically, these are some things we hope to achieve and create here on the blockchain:
To create a space for women and men seeking empowerment and freedom from oppression under systems of patriarchal control with special emphasis on uplifting people of color, disabled or mentally/physically challenged people and the lgbt+ spectrum on the internet.
To also encourage these groups to speak about their lives, struggles and ideas without the threat of abuse, hate and misogyny.
To promote healthy feminism on the interwebs, especially on Steemit, by promoting healthy discussions on the topic, supporting inter-sectional feminists and the like as well as supporting feminist authors and their contributions in spite of anti feminist rhetoric.
To create more equal chance for women (and other marginalized communities) on steemit, with women headed curation groups, organizations and more female witnesses!
As you can see, we are a pretty ambitious group with a lot of work to get done! We have a lot of ideas on how to accomplish our goals and how to promote opportunity for women (and other marginalized communities) on the blockchain. We want to see positive change for the #feminism tag and we  are not afraid of being feminists and standing up for what is right! 

The humans behind the movement do a lot of work for our group, and we are pleased to introduce to you the human beings behind Team Girl Powa and our Discord group chat that connects us all! These guys and gals (and cat-girls and non-binary peeps etc etc) are what powers our team, gives it substance and makes the wheels go around! 
Honoring The Work of Non-Active Supporters (AKA people who only pop in occasionally but whom have helped the server grow and who offer their support!):
Our very important community volunteers that make our server run smooth and who undertake important roles within our community! These are the active volunteers here on our lovely server (plus more!):
And, we cannot forget the powerful woman who began Team Girl Powa and who works tirelessly to make everything keep going around,
@limabeing aka Captain Girl Powa!
Lastly, we would like to thank every single one of our Team Girl Powa members and supporters for contributing to our community, making change and for embodying Girl Powa! You are the ones that really make our community a community and there would be no Team Girl Powa without you, so thank you dearly. <3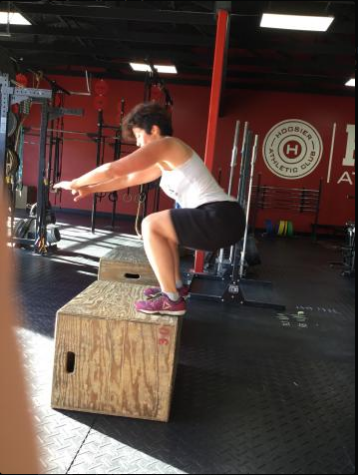 @shawnamawna: Here I am being awesome. True story: I couldn't jump off the floor when I started CrossFit. That's me jumping on a 20" box repeatedly after having my core patched back together post-hernia. Image courtesy of Hoosier Athletic Club. 

So now you know the Whys and the Whos of Team Girl Powa, but what about HOW, the most important part? How can YOU engage and empower woman and marginalized groups on Steemit and get involved with Team Girl Powa?
Good news for you if you feel like being a part, we are a very active group and there are plenty of ways to get involved! Pick something and take action, there are no shortage of opportunities. Here are some suggestions on how to get involved!:
You can post positive, uplifting and quality content in the #feminism, #womanpower or #teamgirlpowa tags to add your voice, make some Steem currency and connect with others in the movement!
We are in full support of @steemsugars, @ladiesofsteemit and @feminism and invite you to do the same. We also support female witnesses and developers, and other woman led groups (as well as those empowering cross-cultural and lgbt+ groups out there, etc.) and if you have such a group or project going on please do let us know so that we all can support your efforts. 
Join in on our main hub of activity, the Discord channel Team Girl Powa (https://discord.gg/5DD7rmW) where we have supportive conversations on tons of topics and where we also have team meetings. There are so many awesome things going on on our discord, they could not all be named here in such a short space. Come check it out for youself!
You can delegate Steem Power to our page (@teamgirlpowa) so that we can better reward and encourage feminism and woman power on Steemit! Alternatively, you can follow our curation trail on SteemAuto to add an extra boost to our upvotes if you do not have Steem Power to spare. 
You can simply be an empowered woman or support and empower women in your community! Speak out about women's rights, read feminist articles or magazines and learn something, and otherwise take ACTION towards a more equal world where females and other marginalized groups have opportunity and a voice! And, blog about it!
You can engage with our community by becoming a guest author for our page! See below for details on what sort of submissions we are looking to accept and our guidelines. You get half of the SBD made from the post and the other half and the SP goes to growing Team Girl Powa! Win-win-win! We want your voice to be heard and we want #feminism to grow strong!
Guest Author Guidelines, Submissions that TGP is currently interested in:
Artworks featuring women in empowered and/or non-traditional roles.
We will accept all sorts of works, such as fiction, podcasts and videos, and well-researched articles. 
Comedic rants/blogs by women or in support/respect of women.
Must include two or more of the following: 
~ *for creative works such as art, videos or fiction:*
✔*Strong female lead* (the protagonist or host)
✔️all female/cast of characters/guests
 ✔️ protagonist of color and diverse backgrounds
✔️women in non-traditional roles
✔️ women embracing inner rebel/child,
✔️ men embracing feminism or traditionally female roles
~ *for related research articles/essays (Using a combination of statistical and anecdotal information) these are the kinds of topics we are looking for*
✔️*Gender as a social construct*
✔️Female Sexuality or Male sexuality from a non-traditional perspective esp in reference to consent, courting rituals, and social expectations
✔️ Women (broad, we know) 
✔️Familial Traditions - as in reference to how one forms self-awareness and esteem
✔️Women in Business, Women in Tech etc
We have the right to reject any submission at any time for any reason. However, we will consider almost anything that is **not** misogynistic, racist, homophobic or otherwise degrading a particular group; from an author of any gender.

And also importantly, WHAT can you expect from Team Girl Powa in the future? Well, a whole lot! We have lots of short term goals and long term goals in the works, but for now we will keep it short and let you know what we will be doing in the short term future:
We will be curating and supporting feminists across the Steemverse and from within Team Girl Powa as well. We want to create our own original works and also host guest authors to bring awareness to our group and movement! So, expect some awesome Girl Powa stuff from the @teamgirlpowa curation page, which will become the girlpowazine! This will include a weekly curation digest sooner then later where we can highlight some of the best articles we found that week, as well as resteems of awesome works found in the #womanpower #feminism and #teamgirlpowa tags, among others. 
We will be working on and publishing our Girl Powa Manifesto, basically outlining our groups philosophies as well as long term goals in more detail. This is still very much in the works, because we want to make sure we include all of the important stuff in our manifesto!
Be on the look out for contests! We have many contest ideas and it may be a monthly occurance. First and foremost will be our Women's History contest the last week of March! We aim to wrap up Women's History month with a positive and informative contest on everything from ancient to modern Women's History that anybody can join in on.
We plan on growing our community and recruiting more feminists to our homebase, Discord! On Discord we are nearly always having conversations on many many topics, including feminism, empowerment, and other unrelated topics that we enjoy. The highlight of our Discord is probably Girl Powa Radio where we listen to music, chit-chat and most importantly have weekly Team Meetings!

There are no shortages of ideas and inspirations around here, because we want to make real change in real time. We are all striving to embody the Team Girl Powa values and to support each other as best we can in many diverse ways.
We hope that the message of Team Girl Powa can spread far and wide, enlightening and inspiring the blockchain to the awesomeness of the feminine spirit and the incredibly diversity that exists on this platform and in our physical worlds. If you are into empowering the marginalized and the feminine as well as dismantling the patriarchy then you will fit right in, however you go about doing it. 
We are sure to have more projects in the works, opportunities for community engagement as well as more and more activity here on the Steemverse, so please do stay tuned for more Girl Powa! From non-conformist baddassary, to intellectual prowess, to active patriarchal resistance using the power of cute, change comes in many forms!  
Thank you for your time, engagement and support here on Steemit.  We hope to inspire YOU to empower women and other marginalized groups here on Steemit and in real life from across the globe.
From those of us at Team Girl Powa, thank you for being rad and see you around!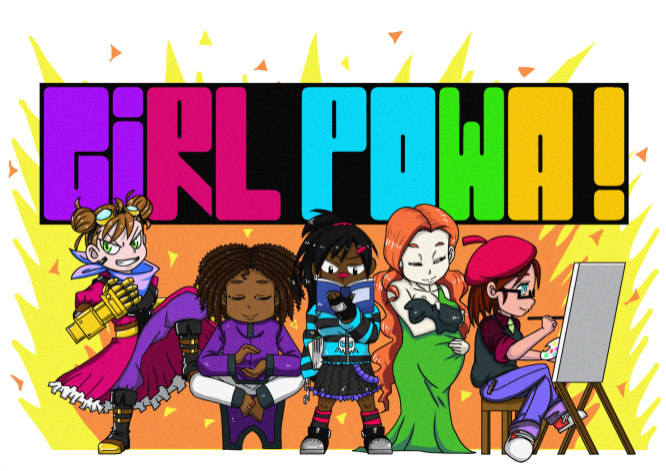 (the TGP mascots were designed and created by @akmalbastamam, and the banners and images all came from members of TPG or from Pixabay)