#TeamGirlPowa Poetry Contest: Feminist Fire!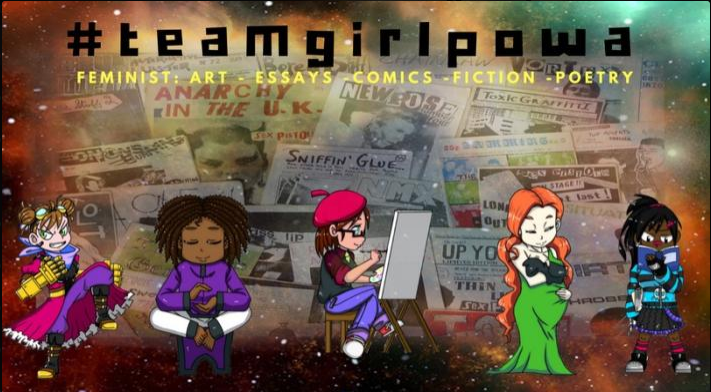 Hello, everyone, and welcome to @teamgirlpowa's latest contest: poetry!
We've had great responses to our last two contests—thanks to everyone who has supported us and participated in our contests. This time will be a little different: we feel really strongly about this theme, and we want to explain why. The theme for this poetry contest is:
Feminist Fire!
What does that mean? @teamgirlpowa is a rad space, dedicated to supporting women and femmes on Steemit. We are a feminist space, even though not all of us feel like we fully own the label feminist. As feminists, we are well aware of the ways that women and femmes are silenced in the world. We use our Steemit blogs and our Discord server to reclaim our voices, and to make space for others to reclaim their own.
One of the most insidious ways women and femmes are silenced is by denying them the right to anger. We are not allowed to be angry. We are told that expressing anger allows our words to be dismissed. We are told that showing anger makes us irrational, and that we will never win equality if we cannot argue calmly and rationally for it. When we are assertive, when we state our desires and our needs in firm ways, when we demand our rights be respected, we are accused of being angry, and we are ignored. We are told to be polite, to smile, to thank our oppressors for the scraps of their approval, or else to cry prettily and beg them to stop hurting us. We are told to suffer quietly, and to never make anyone else uncomfortable by showing the raw realness of our anger.
At @teamgirlpowa, we say that's bunk. Denying the existence of our emotions strangles the life out of us. Humans are not beings of pure rational thought: our thoughts and experiences shape our emotions, and are shaped by them. Pretending those emotions don't exist is a kind of slow poison—it will kill us, and we won't even realize we're dying until it's too late.
Feminist Fire is about strength. It's about an unflinching look at our feelings. It's about not denying our own emotions, but using them instead, using them to change the world. To change minds, to affirm ourselves and our sisters, to speak into the universe this truth: "I am here." Feminist fire is a tribute to women's power. It announces that we are done lying to ourselves and each other, that we will express ourselves however we damn well please. Feminist fire is about sharing our truth, no matter how messy it is. It is about unapologetic women and passionate women and women who own their realities. It is about women who reclaim their power, and it is about the beauty and fire of a woman's spirit, and it is about speaking aloud what must be spoken in order for us all to be free.
So, please: show us your poetry. Speak your words to us. Join us in celebrating the power and strength of women and femmes.

The Rules:
Write a poem expressing the theme feminist fire. Any form of poetry is fine: blank verse, free verse, villanelle, sonnet, rhyming, no rhymes—whatever you like
Open to people of all genders
Poems must be your original work!
Include an artist's statement, explaining your interpretation of the theme—a paragraph (4-5 sentences) is fine, though you may write more if you wish
Link to this post in your entry
Use the #teamgirlpowa tag
Post a link to your entry in the comments below
Entries will be accepted until 26 April 2018 at 11:00pm EDT
The Prizes:
1st Place will receive 10 STEEM
2nd Place will receive 5 STEEM
3rd Place will receive 3 STEEM
There will be also be a Wild Card/Honorable Mention winner, who will be chosen by the #teamgirlpowa community and receive 2 STEEM.
All prizes donated by @teamgirlpowa.
The Judges:
The judges will be @shawnamawna, @limabeing, @rachelhanson10, and @tessaradudley. They'll be judging on the following:
Subject Matter/Theme (How feminist is the piece? Does it follow the theme?)
Rhyme, Rhythm, and Sound (How does it sound?)
Imagery and Language (Is it poetic? What images are used?)
Structure and Form (What kind of poem is it? What poetic devices does it include?)
Artist Statement (What does the author have to say about the poem?)
That's it! Thanks for reading. Please upvote and resteem to help others see this post, and encourage people you know to enter their poems. We look forward to reading your wonderful words!

We are working to build our Steemit account and Discord community. If you want to help @teamgirlpowa grow our community, support our wonderful artists, and keep bringing you rad content by, for, and about women on the blockchain, you can donate STEEM, delegate SP, or follow our curation trail.
If you would like to delegate to @teamgirlpowa, you can do so by clicking the following links: 10 SP, 20 SP, 50 SP, 100 SP. If you prefer to set your own amount, just visit this link, enter your Steemit name in the top box, teamgirlpowa in the second box, and enter the amount of SP to delegate in the third box.
To follow our curation trail on steemauto, click here.
STEEM donations will be used to increase our SP and provide prizes for future contests, so we can keep promoting great feminist content here on Steemit.
Whether you donate or delegate, please upvote, comment, and resteem this post. Our journalists/judges/curators receive half the proceeds of every post they create and the rest is powered up or used for contests. A vote for one of us is a vote for all of us. We appreciate your support.
"I have come to believe over and over again that what is most important to me must be spoken, made verbal and shared, even at the risk of having it bruised or misunderstood…for it is not difference which immobilizes us, but silence." – Audre Lorde

Click the banner to join our Discord server!
Post created by @tessaragabrielle