TacoCat's TrEats #44: Tempting Tempura 🦐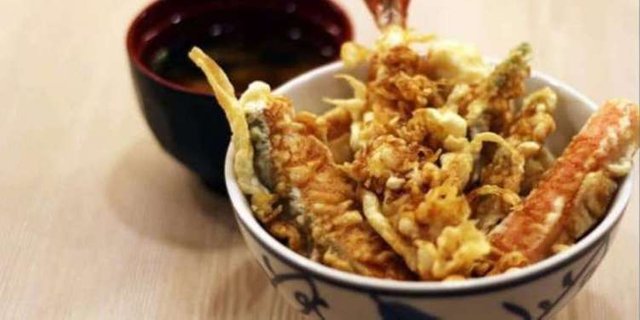 Cover image source: zomato.com
Hey Steemit!
Yay we're back again with another "Made in Japan" contest! Oh man I can't believe it's been over 2 months since my last "Made in Japan" post. I always love writing for these because Japan is my favourite travel destination and the food there is absolutely amazing!
The restaurant I want to share today is this chain called Tendon Tenya, which serves delicious and affordable tempura rice bowls!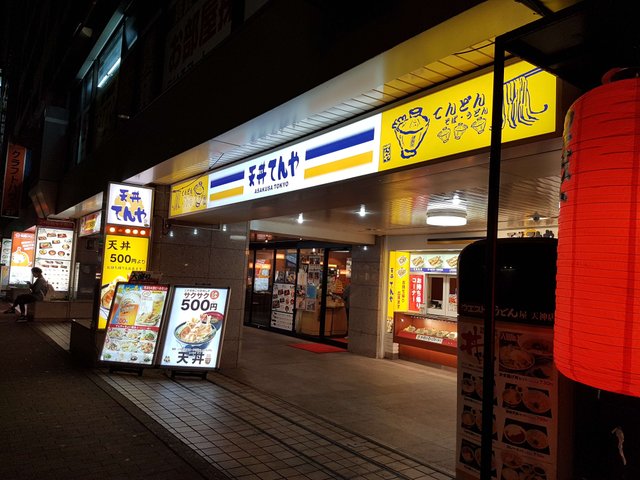 Tendon Tenya specialises in tendon, which is is an abbreviation for Tempura Donburi, where seafood and/or vegetables are deep fried in batter and served on a bed of rice in a bowl with a drizzle of special sauce. It's a great dish to enjoy the perfect combination of crispy tempura, rice and sweet soya sauce. Various kinds of tempura can be enjoyed in a tendon, the most common ingredients being prawns, fish and vegetables such as lotus root and green beans.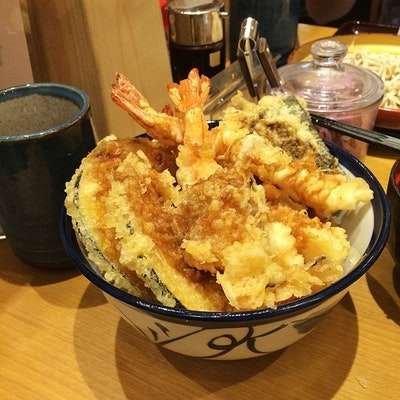 Source: burpple.com
The first time I patronised a Tendon Tenya was on our second trip to Tokyo back in Aug 2016! I was craving something crispy and yummy and Sean brought me to try it.
The interior of Tenya is pretty much like any other Japanese "fast food" rice bowl place, with regular tables, booths or counter seats. But it's cozy and comfortable all the same.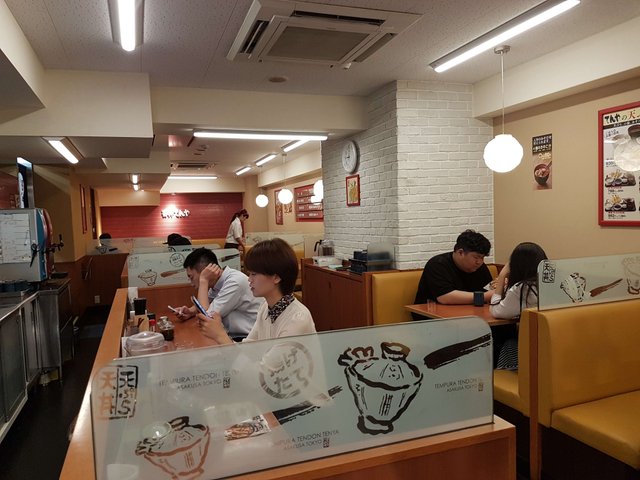 They're very tourist-friendly, with English menus so you don't have to worry about language difficulties. I think the smaller outlets have an automated ordering machine like Sukiya and Matsuya, while the slighter larger ones have waiters come to take your order. There are buttons to call them though, so no worries there.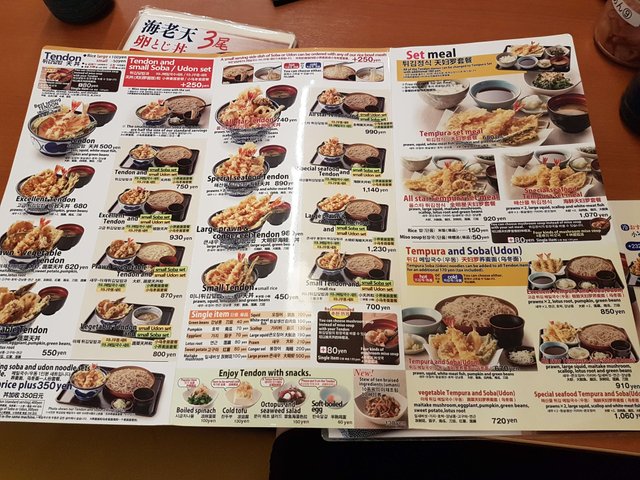 You can order the regular tendon sets from the menu, or customise it with extra toppings/sauces, etc. We ordered one of their basic set meals, which included 1 tempura prawn and a few vegetables on top of rice, and a bowl of miso soup.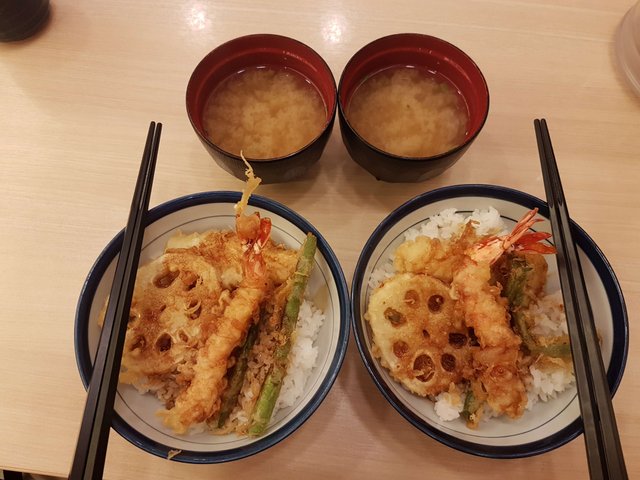 The tendon was soo good! The prawns are fresh, the sweet sauce provides a nice contrast to the slightly salty and crispy batter of the tempura, and you can add some seasoning to the rice like sesame or chili powder to give it a little more spice and it becomes so flavourful! 😋
Tempura is one of the most traditional Japanese dishes, and like sushi and ramen, it has a similarly long history! I read that the dish was influenced by fritter-cooking techniques introduced by the Portuguese residing in Nagasaki in the 16th century! The name "tempura" originates from the Latin phrase quatuor anni tempora, which refers to the Ember Days, during which no meat is consumed. It's actually quite fitting with Japanese culture because the majority of Japanese used to be vegetarians back in the day when Shintoism and Buddhism didn't allow the consumption of meat.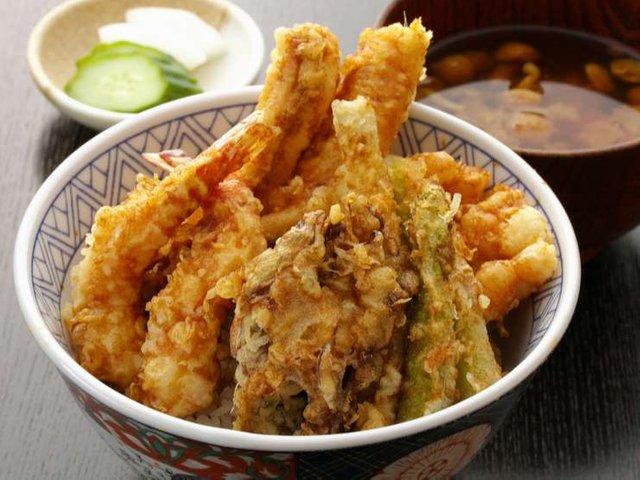 Source: helpdesk.tokyo
Tendon Tenya is probably the most famous tempura chain in Japan, with a history since 1989 and now more than 230 stores all over the country! Their basic philosophy is "a restaurant business is a human business", and they want every customer who visits them to be satisfied and impressed not only by the deliciousness of the products offered, but also by the atmosphere and hospitality of the store.
I have to say they're doing a phenomenal job. Tendon Tenya has become my go-to place for tempura; it's cheap, good and convenient - what more can you ask for?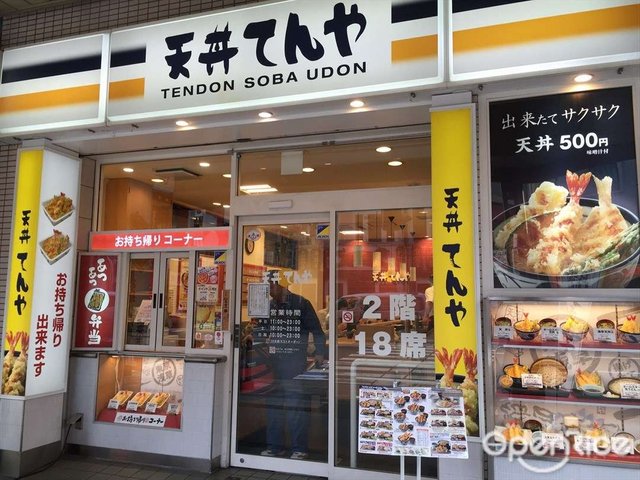 Source: jp.openrice.com
Since that first time in 2016, we've eaten at Tendon Tenya 4 other times in different outlets and we're never disappointed!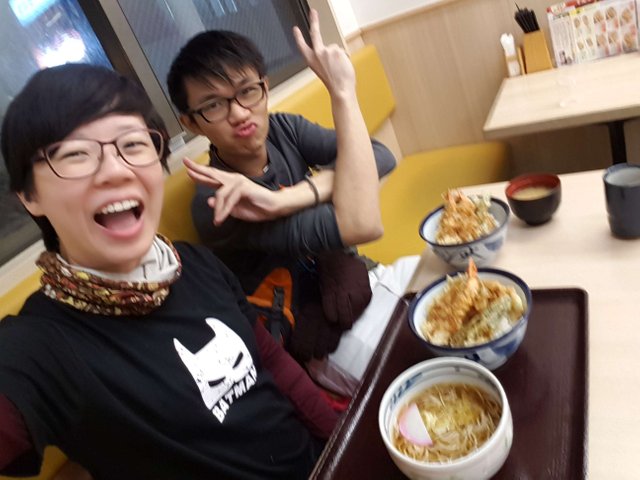 I think my default order has grown to include a bowl of soba alongside my tendon since their noodles are pretty good too, and since I can't decide whether to get rice or noodles why not both?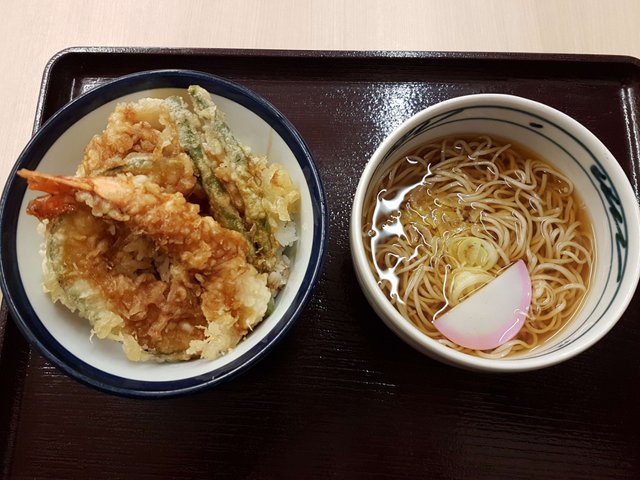 On our recent trip we tried their special summer seasonal menu, which included an Oedo-style tendon and a simmered beef tendon!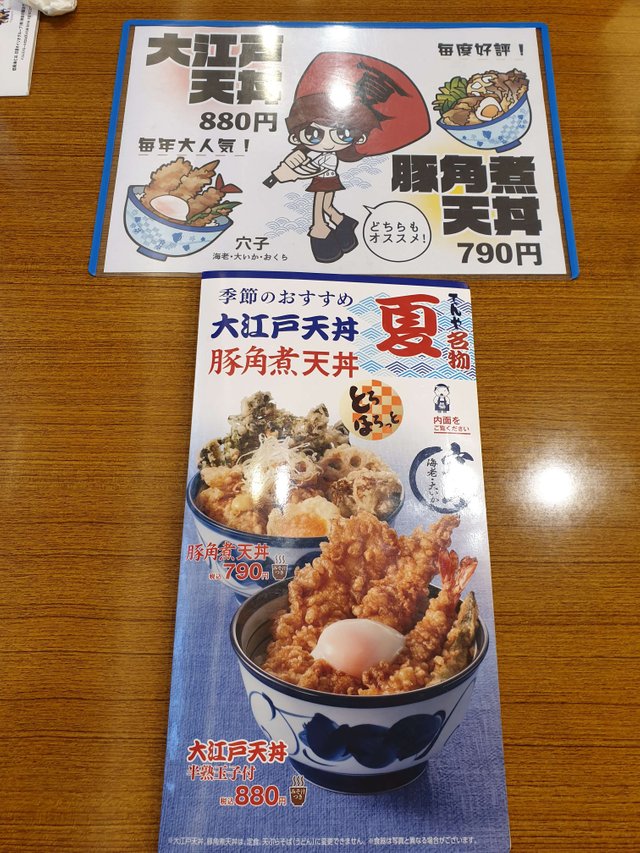 I was quite excited to try the tempura egg so I ordered the beef one.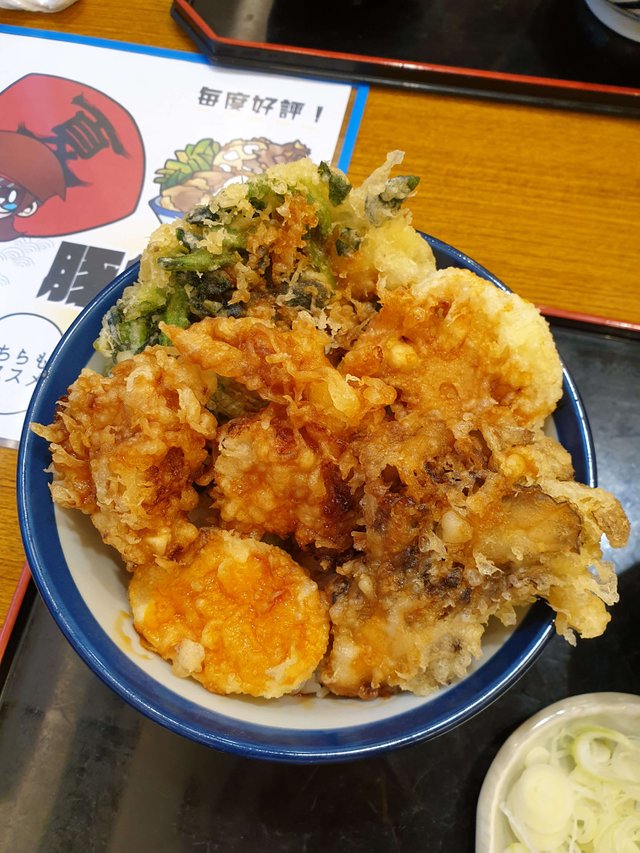 It was really good! The egg was especially interesting, since it was soft-boiled so the yolk was still a little runny but the outside was deep fried so it was crispy!
It was really yummy and filling too! I remember being absolutely stuffed when I (just barely) finished it.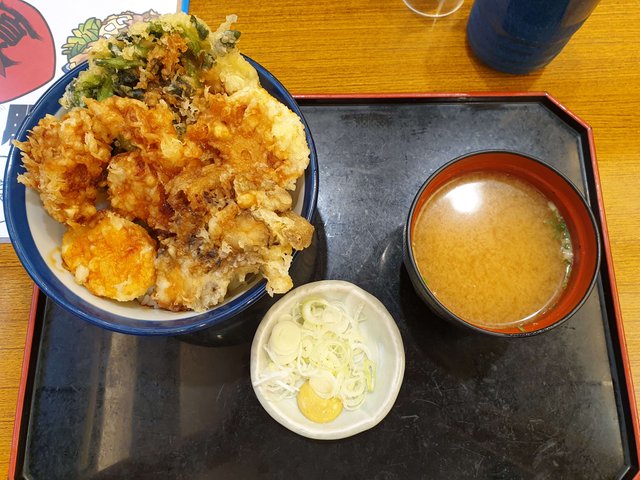 Tendon Tenya is definitely the place to go for cheap and good tempura. Do check it out if you haven't already! I can't wait to go back and eat it again!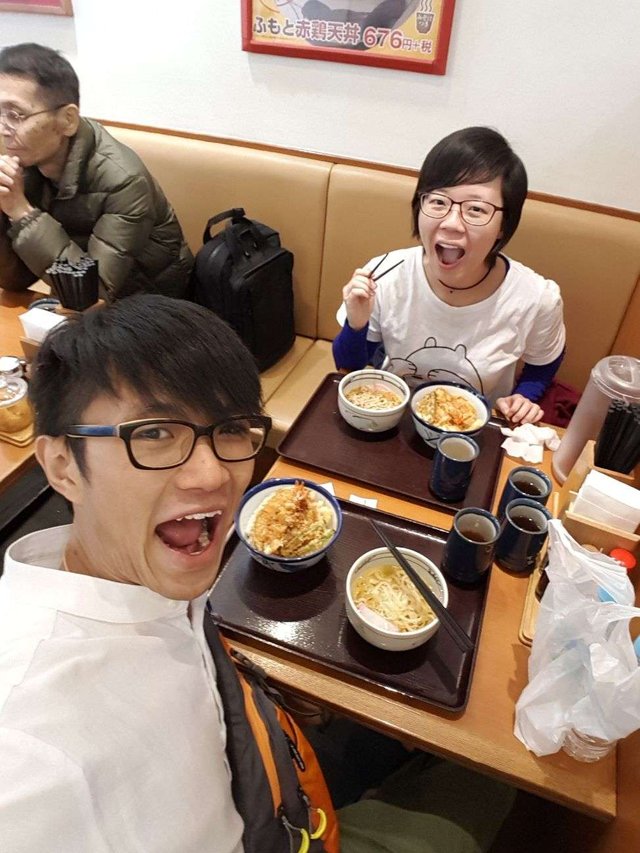 Thanks so much for reading!


To find out more about me, check out my intro post here!
---
Restaurant Information

Tendon Tenya



Japan, 〒104-0061 Tōkyō-to, Chuo City, Ginza, 3-chōme−9−4 草野ビル
---
TacoCat's TrEats #44: Tempting Tempura 🦐
This post participated in the Tasteem contest Made in Japan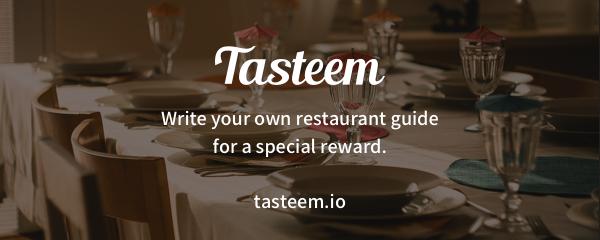 [//]:# (!steemitworldmap 35.701651 lat 139.771916 long d3scr)
Check out my previous post in this series!
TacoCat's TrEats #43: Teatime at L'Usine ☕