My first Steemit post!
Hello Steemians! I haven't done a blog in a long time so this might take some getting used to.
Anyway, I think an introduction is in order yea?
My real name is Sarah but I go by TacoCat on most SNS and online platforms & games. I'm 22 years old and I'm from Singapore!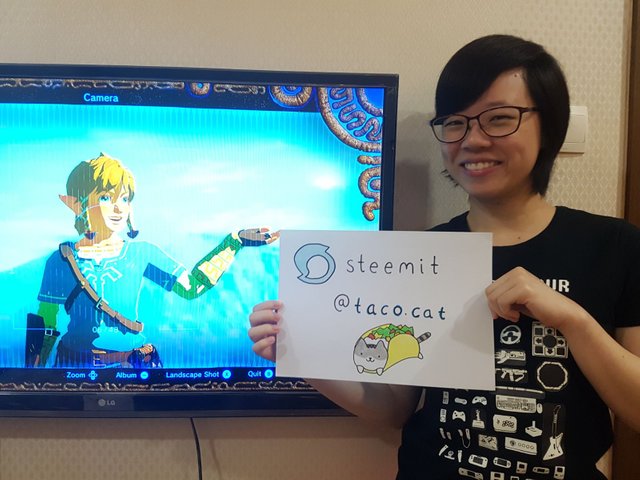 My interests lie in a few different areas:
Games and Music
I've played games from most genres (is that the right word?); mmorpgs, rpgs, racing, fighting/combat, platformers, puzzle, rts, hack and slash, fps, etc. But I personally enjoy platformers the most. I grew up playing Nintendo games like most people so platformers are like my bread and butter.
The reason I put games and music together is because I'm crazy about video game music! It's so underrated how GOOD they can sound, and how much work goes into them because they're in the background of the games. My friends always laugh at me or think I'm weird for listening to OSTs but its okay. I used to play in an orchestra and I love listening to all the different instruments and sounds whenever I'm playing a game, or just watching Let's Plays.
Side note, OSTs are also very good music to study to. Or sleep.
Travel
I like exploring new cities, and getting away from the Singapore heat, so traveling is a big plus for me. Out of all the countries I've been to, I personally like Japan the most even though it can be quite expensive. The food is awesome, the arcades are amazing, and the scenery there is beyond beautiful. It's my go-to travel destination always.
Food
I'm a small girl but I love to eat! And I was really lucky to be born in Singapore because there's sooo many different kinds of food here! Hawker centres are my default option whenever I'm out painting the town.
TV shows
Sitcoms and mockumentaries are my favourite! Although I watch the newer sitcoms like The Big Bang Theory, I do prefer the classics like Seinfeld, Frasier, ELR and Friends. HIMYM is good too.
I love The Office! If youre a fan as well I suggest following The Office Memes on Facebook and subscribing to The Office US on Youtube. They're always posting funny memes and clips respectively.
I also like improv shows like Whose Line is it Anyway!
Pilates and swimming
I subbed to Blogilates on Youtube and have been doing Pilates for about 2 years now. I didnt take any progress photos but I feel a lot stronger, and it has become my main workout routine. I also swim on and off for extra cardio. It's my preferred sport because I don't sweat in the pool.
Other things about me:
I'm a nightowl, so most of my posts will be written and posted at night/early morning. Since I'm somewhat of a perfectionist they might take a while to write (also I'm a procrastinator but we can discuss that another time hehe see what I did thar).
I also like watching videos of doggos, corgos and kitties! :D
I hope Steemit will be a place where I can find people with similar interests as me, and allow me to rant/vent/gush about all sorts of things. Anyone is welcome to share their opinions on my posts so feel free! Hopefully I will be able to stay on track with this blog this time!
It's nice to meet you and thanks for reading!