Announcement of Tasteem Supporter Recruitment - Check the result!!!
Tasteem now is trying to complete the last steps to launch Vietnamese version. As a manager of Tasteem Vietnam, I'm glad to be here to announce the new team who will work with me to help Vietnamese Tasteemer in the up-coming days.
There are quite a lot of people applying for this supporter position. It means that people here are really caring and interesting in Tasteem's work. It was really hard for me to pick up just 03 people to be supporter of Tasteem Vietnam.
---
The requirements
As we know that the main duties of Supporter are finding a high quality post, reporting abuser and communicating with people. I depend on requirements of these main duties to decide who will be the best ones for this position.
Firstly, you must have good reputation, not just in how big the number next to your account name is, but in how much well-known you are in vietnamese community and how people respect you.
Secondly, it also depends significantly on how active you are, how you have contributed for our community and how you become an brilliant example for people.
Last but not least, you with me will be representatives of Tasteem Vietnam to talk to Tasteem Team, so you, of course, need to really understand how Tasteem works and communicate well in english with whole team.
---
The chosen ones
Congratulation for two new supporters of Tasteem Vietnam: @Carlpei, @ngocbich and @nguyenthanh
@carlpei is one of managers of Team Vietnam's discord channel on Steemit. He has great ability that is proved by his position now in utopian project, by his way of managing our discord channel and dealling with people. All of us know that.
@ngocbich is just new one if comparing to so many well-known steemians in our community. But she has been showing us that the shortest way to get success is working siriously and passionately. I think there is no one who deserves the position of finding good content more than the one who always contributes high quality content.
@nguyenthanh was one of the first joinning in Steemit in Vietnam. He has helped vietnamese community getting bigger and bigger by calling a lot of people come to Steemit. He is also the one that understands how Tasteem works the most as we can see he has won Tasteem contest most of times.
All of them are in the list recommended by @tasteem.
---
The Team
So now Tasteem Vietnam Team consists of members as follows:
Please be aware that anyone, any position (manager, supporter,...) can be changed if they are not able to do the great work. So better is showing that you deserve. Hope we can see your contribution to Tasteem Vietnam.
Congratulation!
---
Join Tasteem's discord channel here
---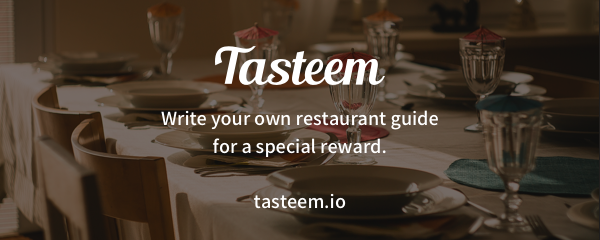 ---
By: @hanggggbeeee - Tasteem Vietnam