Chulia Street(牛干冬-Gu Kan Tang) - Revisit !!!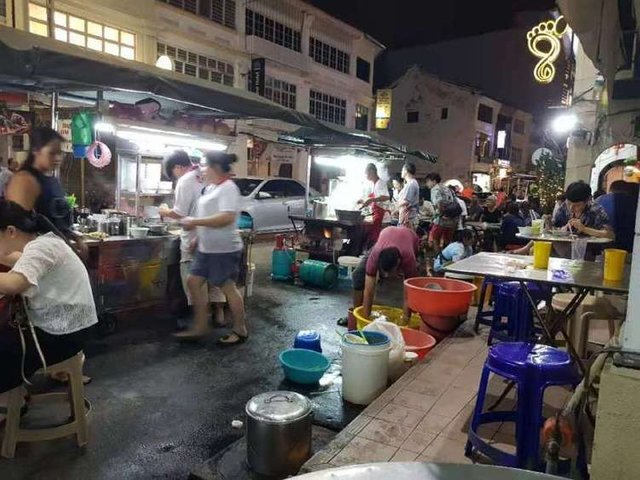 Penang is one of the place known pretty well for the British colonial status, and the whole George Town has been named under the protection of UNESCO due to many pre-war buildings in the Island. Oh wait, aren't we #tasteem restaurant review? My answer to you is, yes, the street is our restaurant. I will have to introduce you the "restaurant" first so you have a better idea of how precious this is, and probably not much time left to experience this kind of "streeteatable" lifestyle no more.

I guess, Chulia Street is one of the remaining "street food" operable under strict city council that has banned all street foot over the past few years. This, probably is the last and soon to be gone I believe. Take note if you are driving, because some of these street need to pay for parking 24 hours.

If you're not sure whether can you park or you can't find the parking coupon, drive to the end of the street, there are several open air car park, or justdrop the damn car at the hotel vallet. It may be slightly expansive, rather then you car gotten towed away and you'll be serious trouble trying to get the car back from the city council if it got impounded. Me? Don't worry about it, because I'm a hero. Nobody dare to park here, the car should be fine since there's yellow line. If it has to be a ticket, that will be RM150 only, but if parked at the vallet, immediately will have to fork out RM15. So, if no ticket, saved up RM15. Yeah... it's not even my car. LOL!

Along the whole Chulia Street, you can expect to see different type of restaurants and street food hawker stall, cars are passing by pedastrian and it is farily dangerous. If you have kids together, I'd advice you to "hand carry" instead of going with the pram. Let's not waste more time and proceed straight to Gu Kan Tang.

Technically, Gu Kan Tang is not Cantonese. It's a pronunciation of Southern China, Fujian dialect. Gu refers to cow, Kan refers to dry, Tang refers to cold or winter. But again, this has to trace back to many years ago, this T junction street is a place where people vallet their cows here(where got car those days? LOL), and Gandang in old Malay language meaning hut. The Chinese understand this is a cow's hut, so they refer this place as Gu(Cow in dialect) Gandang(hut in Malay). So, don't get confused next time if you come to this place. It's just been too many years, and skipped many generations, even the locals probably wouldn't know what does that street named so funny. Enough of history, let's get on with what's good for stomach!

Having dinner here, all you gotta do is find a place to sit. Even if the table is not clear yet, sit down on your first sight if the previous occupant left. Get someone to sit there if you have a company, if not atleast put your foot down, slam one of your arm on the table whilst using the other hand to clear the dishes. Sweep them aside and the hawker operator will get someone help you to clear it later. Don't you ever try to go further and hope for a better place to sit, or you'll probably ended up standing by the road side and eat. Your choice, make it now!

It's ok if you can't speak their dialect. They're well aware this is a super tourist spot, and most of these fellas can understand English. If you're Chinese from Taiwan, or China Fujian, this place has a same mother tongue! Best of all, due to heavy influence of Hong Kong movie, namely Stephen Chow, these Chinese people speaks perfect Cantonese as well.

The well known Wantan Mee(noodle) here is not known for the great taste, neither they have the real Canto style from China or Hong Kong. It's just typical Malaysian style noodle. The portion is not really satisfying if you're a buffalo size like me, you better order double portion or you'll ended up with your appetite dangling.

See the BBQ pork slice? It's not even remotely close to BBQ. Anyone can tell from the appearance that this is not BBQ. So, why is the pork slices appeared so funny. That's because, usually noodle stalls need to cary a huge drum of clear soup, so they can prepare noodle. With that drum of soup, there's not enough space for them to BBQ roasting pork. What was the next best thing they can do it, they use the same piece of pork loin, throw it on a pan and start stir frying it with premixed food coloring and sauce. If you ask me nice or not? I'm telling you it's nothing compare to a real BBQ pork. However, this is the old recipe that people doesn't do anymore, which is something missing between the gap of being "original" or reinvented modern recipe.

Once again, the curry noodle here is famous with their freshly extracted cockles, fishballs, tofu bean curd. The curry broth were cooked with coconut milk extract, the thick and fragrant curry soup will makes you not only spit fire, but shouting and moaning at the same time.

Food is fairly affordable at RM4.50 a plate onwards. However, the actual killer is these fresh fruit juice. It's not expansive, usually around 2.50 to 3.50 depending on what fruit were you ordering. And if you're not a spicy food regular, you probably won't know cold and sweet drinks doesn't stop the burning sensation caused by Chilies. You can have one of this, but it will only makes you wanting to drink more due to the fact that sugar actually gives you a wrong signal of how much you need. So yeah, watermelon mixed with carrot milk does some magic. But if you're on a budget trip, besure to bring your own water bottle. Or the juice is going to make you more thirsty for another one and you'll probably ended up pay more for the drinks than the food you actually enjoyed. That will be all for the food review section, let's carry on and walk a little bit around the vicinity since we're at Chulia street.

Since Gu Kan Tang is refering to the Cow's hut junction, there is another junction previously known as the Lover's street or concubine lane, and is still being called Love Lane now, adjescent to Gu Kan Tang junction. After dinner, if quench for a beer, that's the happening place to be.

Along the street are full of old historical prewar buildings, and majority of these building has been converted to homestay or boutique hotel. These hotel has the basic ammeneties and are quite comfortable since the floor are wooden, but if you're on honeymoon with your lover, skip this and go straight to modern hotel. Not much of sound proof for wooden wall and flooring. You wouldn't want people to look at you one kind of you both of you finish business and came out from the room. Mind you the price tag for these boutique hotel is nothing less compare to a 3 star hotel. So, choose wisely.

Along the street, these restaurants are mostly owned by the boutique hotel or homestay. Which is a great convenient if you're staying in one of these, all you gotta do is throw yourself out of the window and you're in a restaurant already.

Look how close the car is driving past the dining table. This is literally "street" food, eat dust.

There are more themed restaurant and boutique hotel along the entire Love Lane, and all these are within the vicinity. So, the next time if you're here, do not rush to drive in that area. Park further away, make sure the car is safe. Take a walk and you'll be able to explore more, to see more, to eat more.
---
Restaurant Information

Chulia Street Night Hawker Stalls 牛干冬夜市小贩



Lebuh Chulia, George Town, 10450 George Town, Pulau Pinang, Malaysia
---
Chulia Street(牛干冬-Gu Kan Tang) - Revisit !!!
This post participated in the Tasteem contest Street Food