Bozz Eats: Shorty's True American Roadhouse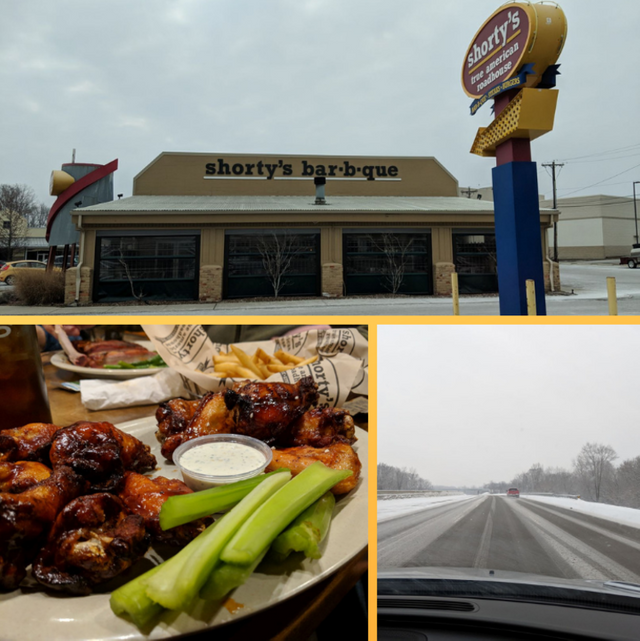 I know, I know, you are probably saying to yourself, didn't he just visit Shorty's about a week ago? Well let me tell you a short story...
@mrsbozz's sister and her family live about 4 hours South of us. Sometimes we go down and visit them in the Columbus, OH area, sometimes they come up and visit us in Mid-Michigan.
Then on other occassions when we haven't seen each other in a while and we are too busy to spend a whole weekend away we meet halfway in the Toledo, OH area.
That's what happened this past weekend and just by chance the resaturant we decided to meet at shares a similar name with a place we visited in Powell, OH a couple of weeks ago.
Shorty's True American Roadhouse is owned and operated by the Mancy Restaurant Group. I had never heard of them before, but apparently they have quite a number of establishments under their care in the Toldeo area.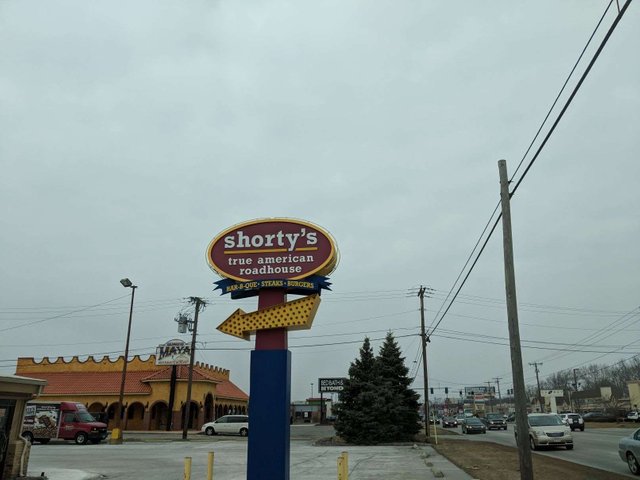 As you can see in my opening image the weather was not that great when we started the two hour drive to meet them. About 45 minutes down the road things started to clear up and we basically pulled into the parking lot at 11:30. The exact time we had agreed to meet.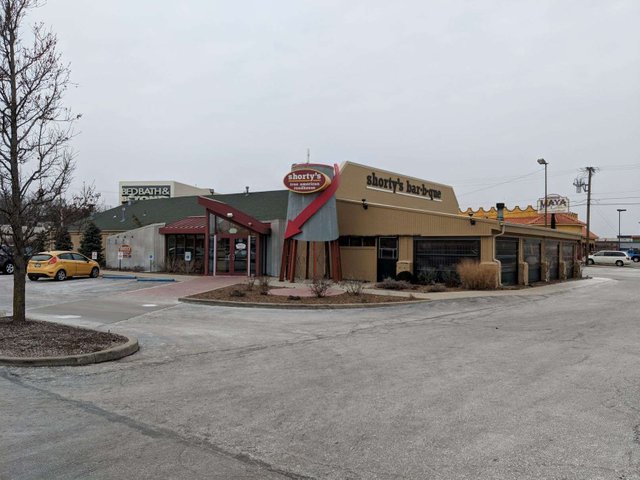 This trip was a little special for us becuase @mrsbozz's parents came down with us to have lunch together. That's why I was able to get the pictures I did from the car.
Her parents had been here before during another meeting with her sister's family, but @mrsbozz and I had never eaten here. I had some pictures in my head when they said we were going to a BBQ place and Shorty's was not at all what I expected.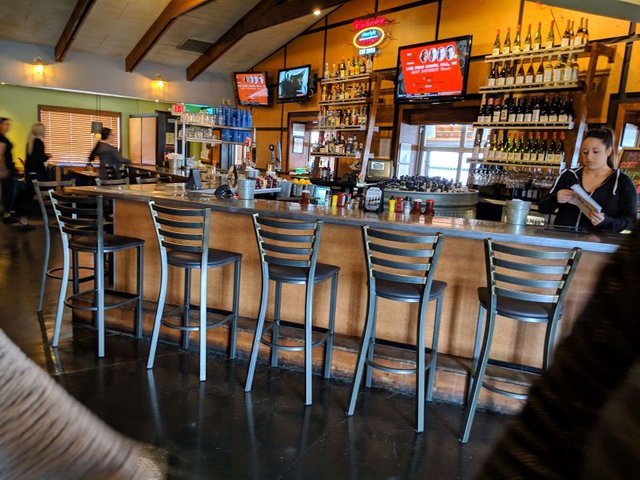 I was expecting a walk up counter to order and a pickup counter to take my food and go sit down. This place was setup more like a regular restaurant though. There was a hostess station when you first walked in and a bar area immediately to the right.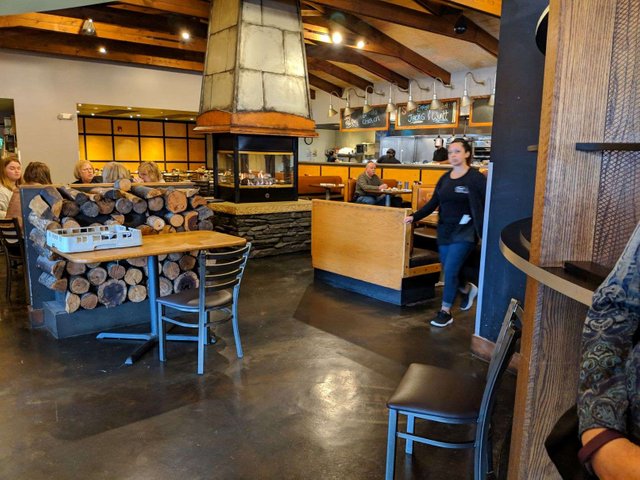 To the left was the dining area with a fireplace and an open view of the kitchen area. It wasn't that busy for 11:30 AM on a Saturday though they had only been open for a half hour when we got there. We had a party of 8 so they moved a couple of tables together and we were quickly seated.
I am going to spam you now with some pictures of the menu. If you find it hard to read, I encourage you to take a look at their website I linked above. There is a .pdf copy of the menu there that is much easier to read.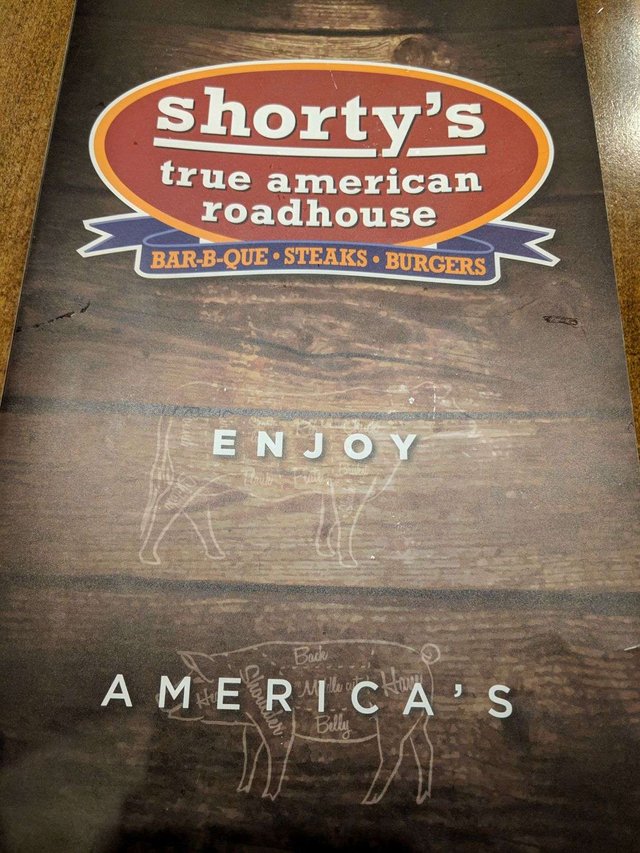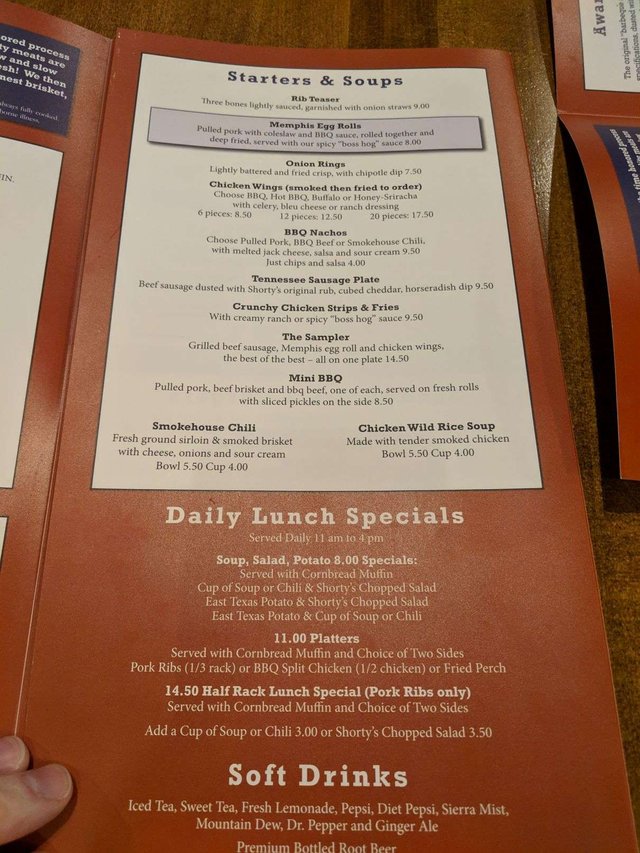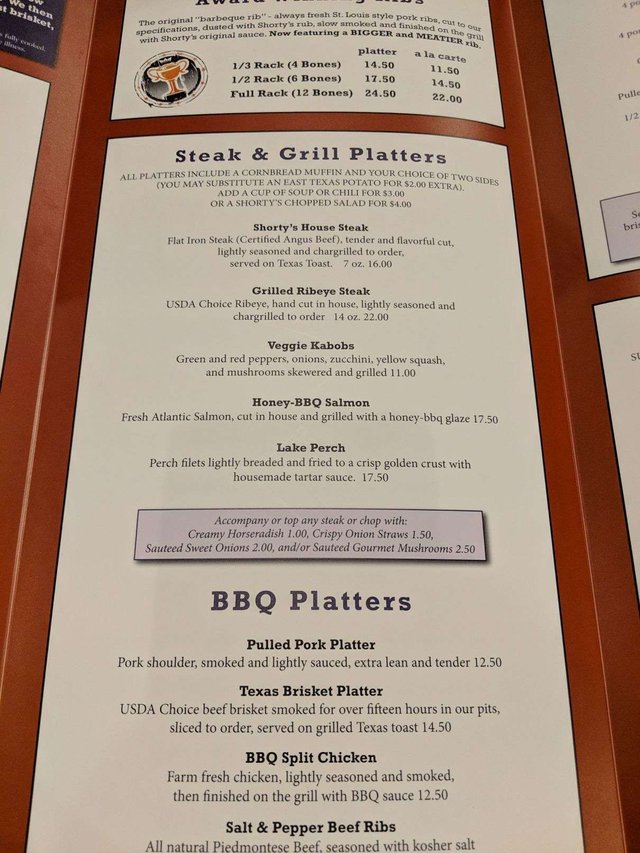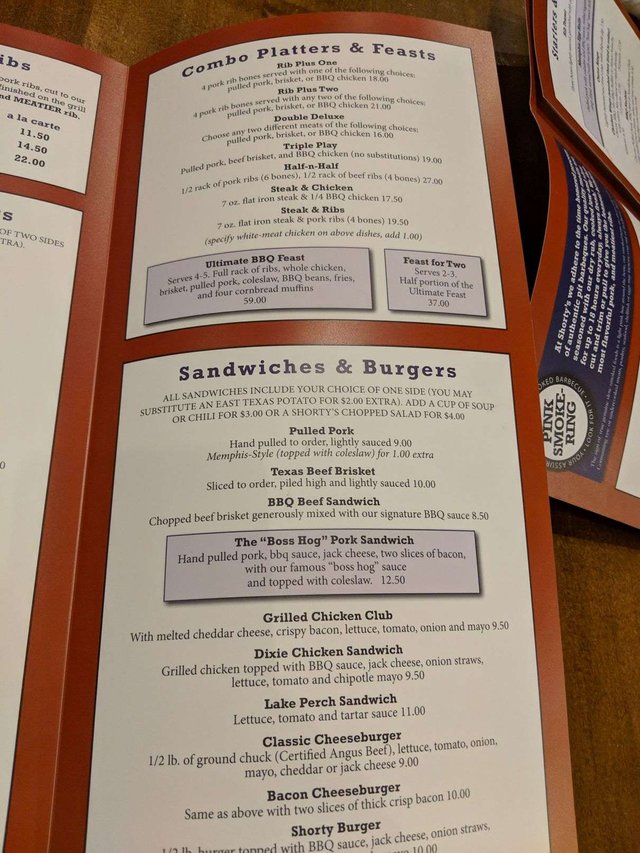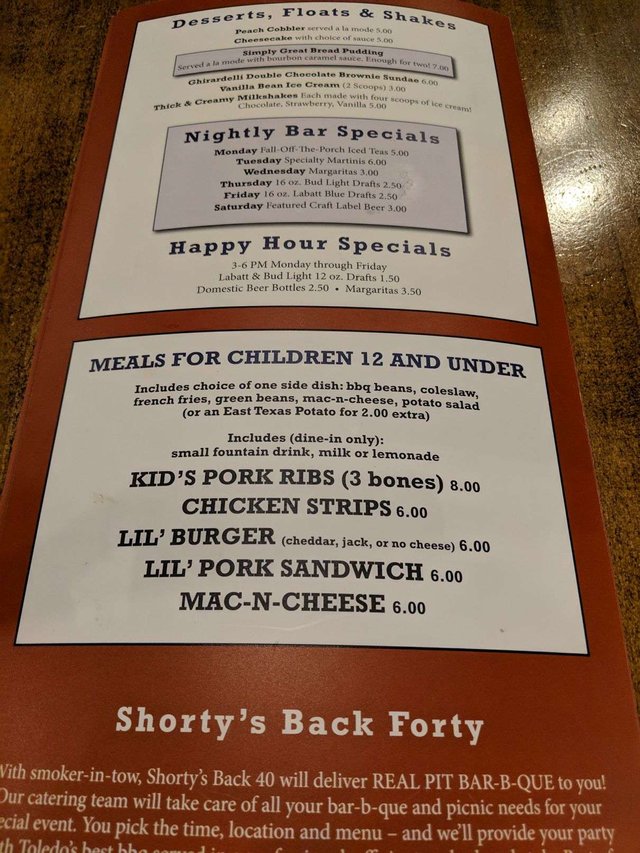 Being the middle of the day, none of us ordered alcoholic beverages though they do serve them here. I knew right away I was going to order sweet tea if they had it. I mean how can you go to a BBQ joint and not get sweet tea?
A girl after my own heart my oldest niece also ordered sweet tea and my brother in law who had initially ordered a Mountain Dow changed his order to sweet tea when he heard us order it.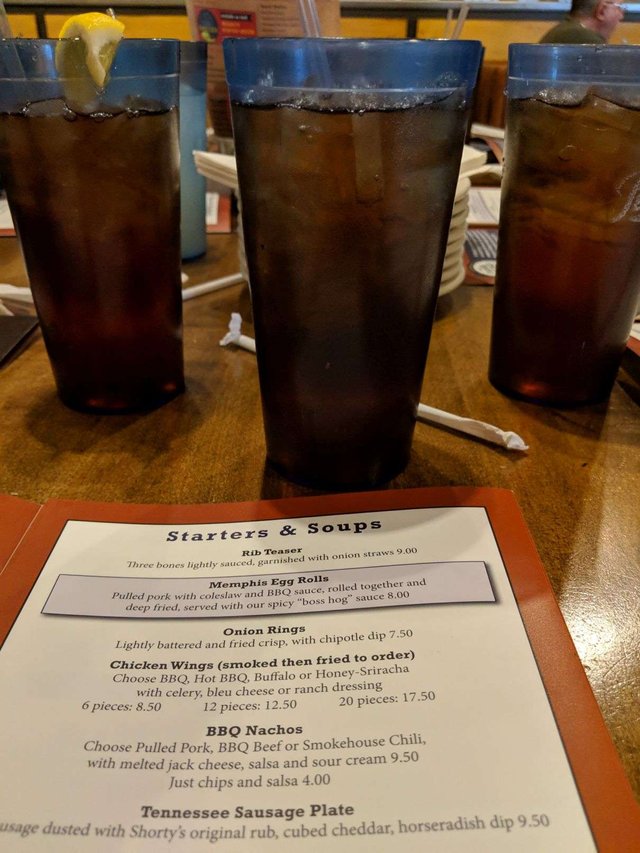 @mrsbozz doesn't care for sweet tea so she got the unsweetened tea you see on the left with a lemon wedge. I promise I am done saying sweet tea now...
Since we had such a large group, we ordered a couple of appetizers to get us started.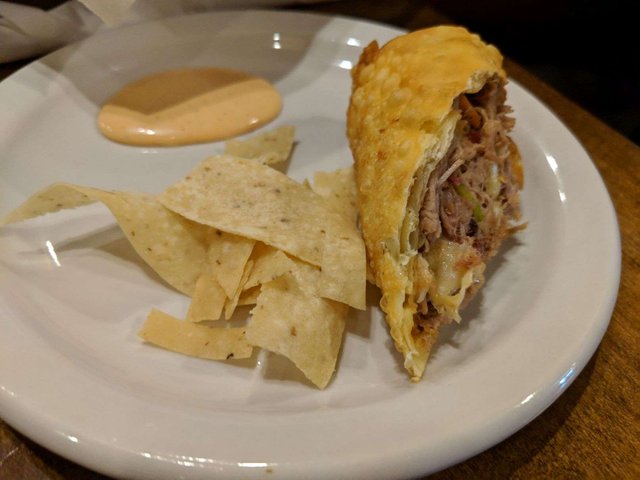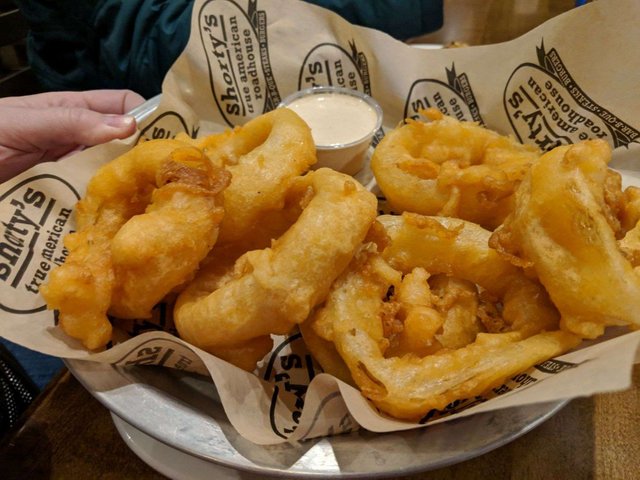 We got the Memphis Egg Rolls and Onion rings to start shown respectively above. The Memphis Egg Rolls are basically pulled pork with coleslaw and BBQ sauce in an egg roll wrapper and then deep fried.
Both the onion rings and egg rolls were fantastic and there was just about enough for everyone to have a bite that wanted one.
After the appetizers were gone and we were waiting for our entree's, the brought out this basket of corn muffin biscuits.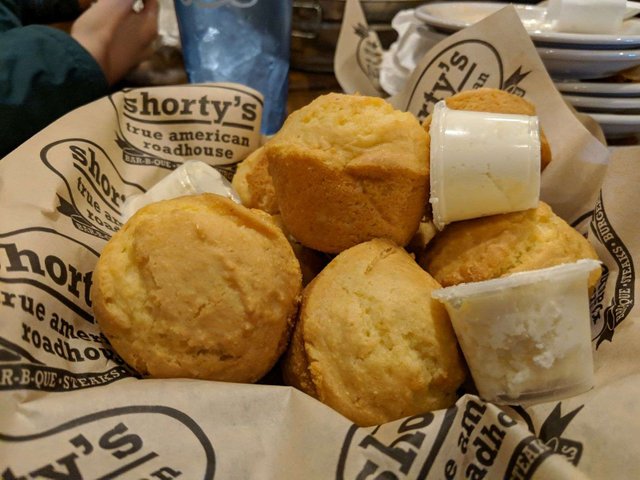 If you have read my posts before, you probably know there isn't much I despise more than dry cornbread. On that front these were a letdown. I have to say though, they made up for the dryness in the flavor department and I actually found myself enjoying them despite the fact.
Our food came shortly afterward and I think everyone was so busy they forgot about the biscuits because somehow @mrsbozz and I ended up taking about six of them home with us. I am having one with my white chicken chili at lunch today.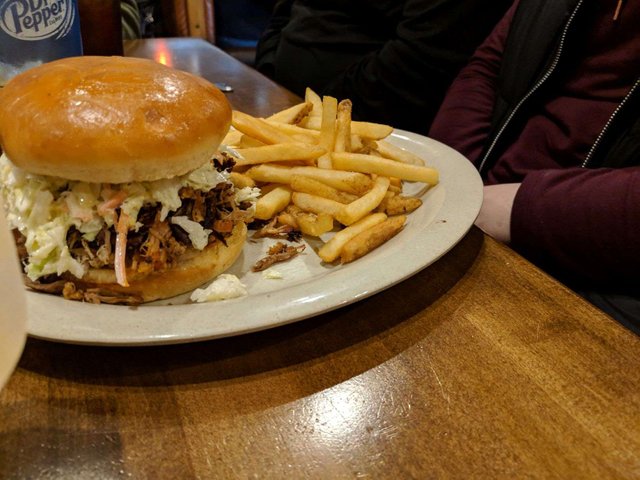 Our sister in law is a sucker for a pulled pork sandwhich, so she got the Memphis style pulled pork you see above. It looked fantstic and I think she was very pleased with it.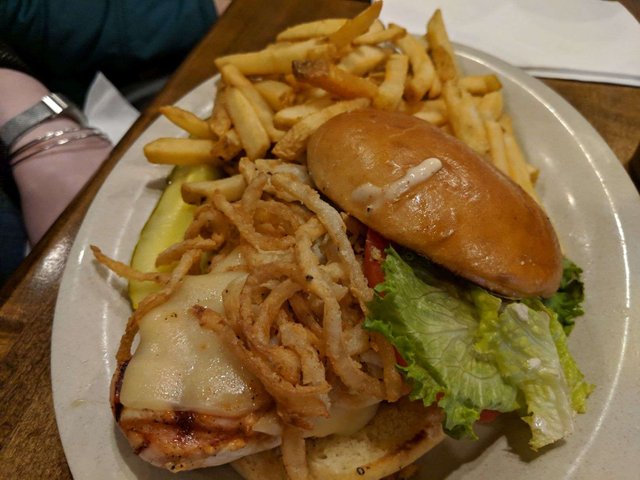 Not being a fan of pork or beef, @mrsbozz got a chicken sandwich. As you can see, it was kind of a hot mess when it came out on the plate. In addition to that the chicken though fully cooked as rubbery and hard to cut/chew through. In all it was pretty disappointing for her and I really feel bad about that. I plan on taking her out to Mexican this week to make up for it!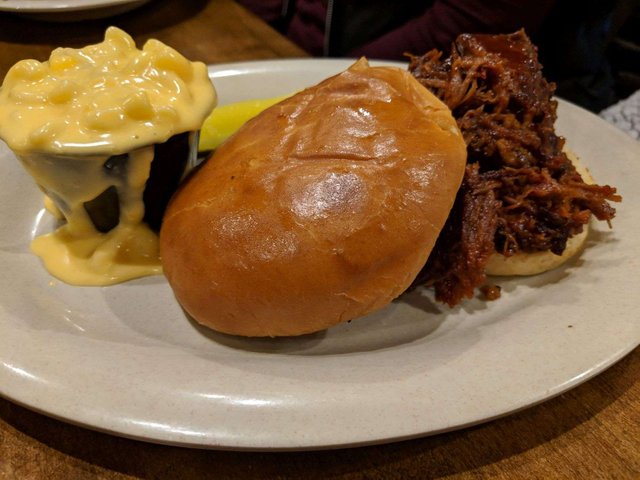 My oldest neice got the BBQ beef sandwich with mac and cheese on the side. She had really wanted both mac and cheese and fries but could only get one. @mrsbozz loves her mac and cheese but also wanted fries so they worked together, one getting fries, the other getting mac and cheese, and they shared.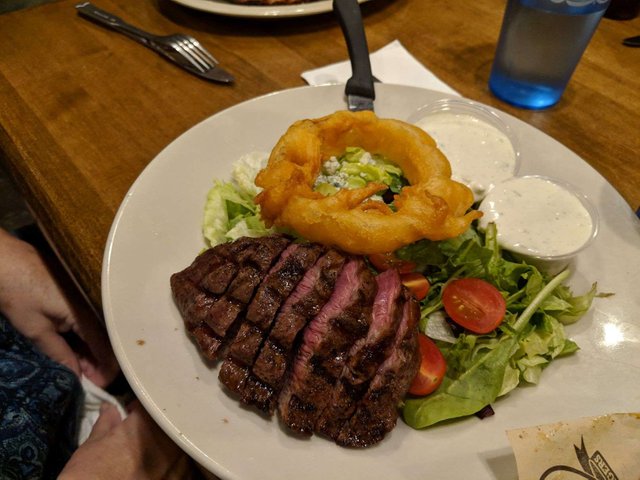 My mother in law got the Flat Iron Steak salad show here. She said it was really good and based on the looks alone, I would have to agree. That's a nice looking steak with a side of salad there!
My youngest neice got the kids rib basket which I didn't take a picture of.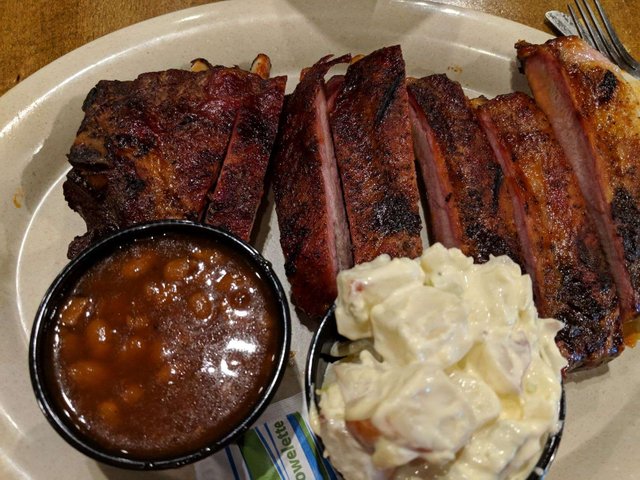 The reason I didn't take a picture of it is because I got the lunch special half rack of ribs and two sides for $14.50 (which is a great deal).
Where most restaurants serve baby back ribs, these were full St. Louis style ribs and let me just say, they were fantastic. There was just the right amount of pull to get the meat away from the bone, they were sauced on the underside perfectly and the spice rub really made them pop. These were probably some of the best spare ribs I have had in a while.
The bbq baked beans were fantastic with big chunks of pork in them and the potato salad was just so so. @mrsbozz makes a fantastic potato salad, so it is hard for most places to even compare.
My father in law got the same meal as I did, but he is trying to watch his carbs so for his two sides he got a double order of green beans.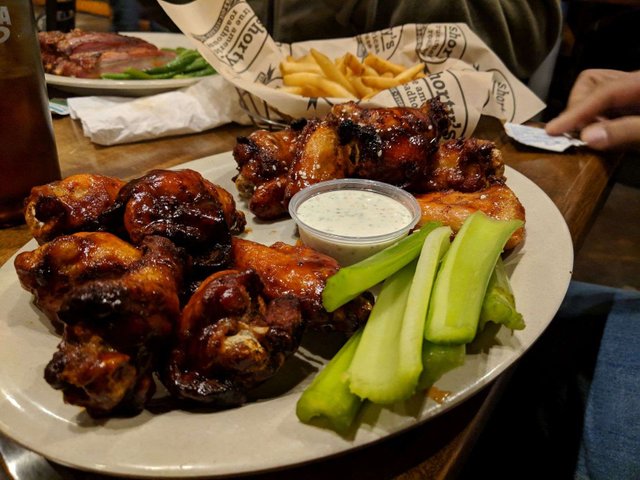 Finally, my brother in law got an order of smoked/fried wings with a side of french fries(chips). He got six of them with the hot BBQ sauce and half with the honey Sriracha sauce. He said they were fantastic!
I didn't get a picture of the receipt because my father in law was generous enough to treat us all. He did say that for the eight of us including tip the total was just about $165 USD. That breaks down to about $21 USD per person which isn't that horrible for good quality BBQ. To be fair the flat iron steak salad was the most expensive item any of us ordered.
If you are in the Toldeo, OH area and you are looking for slightly more upscale place than your average BBQ joint to get some 'Q', you should definitely check out Shorty's. I highly recommend it!



---
Restaurant Information

Shorty's True American Road House



5111 Monroe St, Toledo, OH 43623, USA
---
Bozz Eats: Shorty's True American Roadhouse
This post participated in the Tasteem contest Your weekly choice