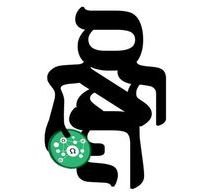 Sodalitas Vulturis Volantis (SVV), the Department of Convolution (DoC) and LAMB are websites that are part of a type of Alternate Reality Game (ARG) set in the esoteric world of symbols, numerology and cryptic puzzles. I say a type because to me it seems more like a recruiting tool for some kind of cult. These puzzles are loosely based on modern western religious groups, orders, sects and cults such as Kabbalah, Alister Crowley's Thelema, Hellenism, Hermes and other occultist practices.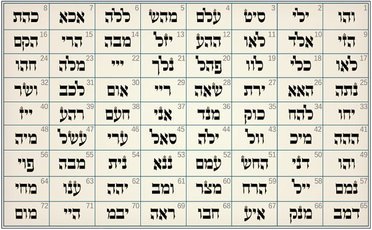 Ive been following these puzzles over the last few months. Not because I'm into the occult but because I was interested in who was behind it all. I was quite impressed by it's depth and complexity, and by how convoluted it was. But was soon turned off by them when I discovered SVV's planned to crowdfund a website that included hidden porn pages without telling the people funding the site. Very soon after this was discovered they quickly pulled the campaign all together. You can read more about it here.
So after a little bit of research into oldwvlf lead me to a Bulletin Board System (BBS) website run by a group or organization called The Hermetic Library, and to a profile page by Matthew Charles Moran, with the username OLD WVLF.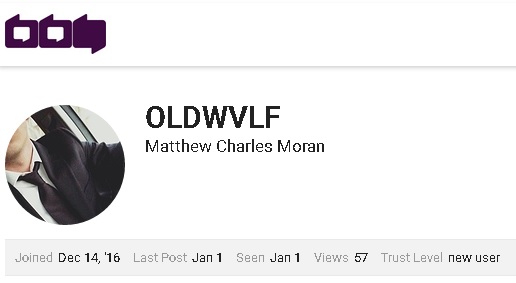 REDACTED
Here OLD WVLF MM (Micheal Moran) posted some documents to the Hermetic Library in December 2016, one of the pages has the SVV logo on which the Hermetic Library posted a photo of to Flickr and other Hermetic Library based blogs.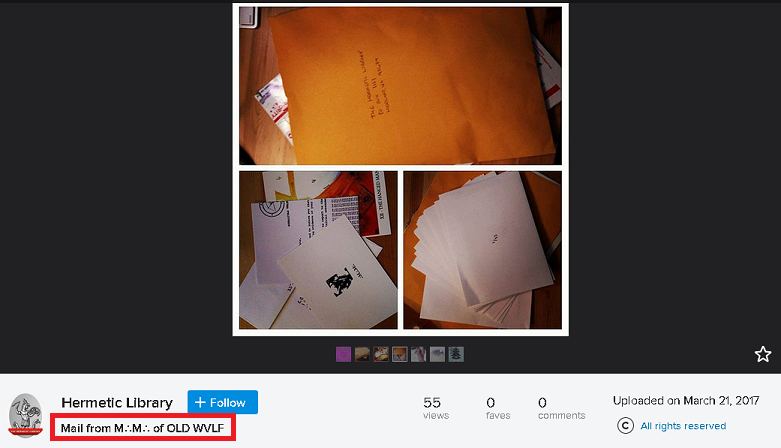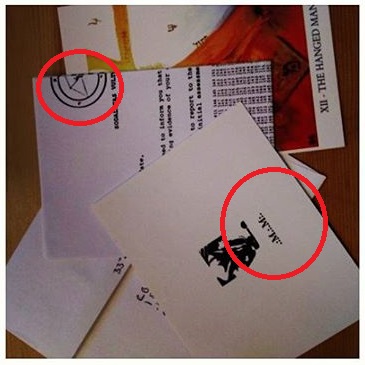 Morans classical guitar music also turns up on a few Hermetic Library blogs as well - OddOrder - Hermetic Library Anthology Album Magick Music And Ritual 12

HERMETIC LIBRARY
If we take a look at the Hermetic Library's About Page it states:
The collection is, by and large, of a spiritual focus but not the areas of spirituality that you will generally see within the mainstream of American culture. The collection at the library houses materials related to hermeticism in a broad sense.
Hermeticism, also called Hermetism, is a religious, philosophical, and esoteric tradition based primarily upon writings attributed to Hermes Trismegistus ("Thrice Great"). These writings have greatly influenced the Western esoteric tradition and were considered to be of great importance during both the Renaissance and the Reformation. The tradition claims descent from a prisca theologia, a doctrine that affirms the existence of a single, true theology that is present in all religions and that was given by God to man in antiquity.
The Librarian of this library is John Griogair Bell. Looking at the 1st post on the bbs.hrmtc website we see it was posted by John Griogair Bell the Librarian. It welcomes people and explains why he set the bulletin board up etc. Looking further into JohnGriogair Bell reveals a whole host of connected websites, including Rigarora, a tech type blog that describes itself as Adventures in Geekery and Nerdy Mishegoss and created by A Technologist Lost in the Wilderness and OddOrder which is a Geekery without Gravitas – Arts & Letters & Whatevers website.
It can't be said for certain if John Griogair Bell is directly connected to SVV but he seems familiar enough with Moran to want to promote his music. John G Bell also has the technical know how to put together a network of websites like SVV, LAMB and DoC if he was involved.

OHM WALLET
The recent addition of Ohm Wallet to the SVV has been an interesting move but there have been a couple of things that haven't sat right with me. In a recent post by @wordswithnick he his giving away free Ohm Coin, totaling 10,000, for joining up to Ohm Wallet. Nick is Nick Oefinger one of the people who handles Marketing for Ohm Coin. Again in this post by @jphenderson, another employee of Ohm Wallet, is rewarding people who sign up to Ohm Wallet with 500 or 1,000 coins totaling 10,000 Ohm. It's worth mentioning no where in @jphendersons post does he disclose he actually works for Ohm wallet.
Ohm Wallet Team Roles
8- TheWalrus/Jacob Henderson- Full stack development.
9- Nick Oefinger Marketing.
Although this is a perfectly normal marketing strategy it does seem to undermine the spirit of LAMB. LAMB is the link between Ohm Coin and the SVV. It's for people that are basically to busy, stupid or lazy to participate in SVV. On the LAMB website it clearly states that doing 1 act of kindness will net you a single Ohm coin.
A single Act will be rewarded with a single coin. There is a reason for this. We would like to start by giving One Million OHM. One Million Acts of Kindness.
As of today, according to CoinMarkets.com, 1 Ohm is currently worth 0.000005500 Bitcoin = $0.02. (Please correct me if my math is wrong.)
It seems as though they are happy to give out 1000s of Ohm to people (maybe their friends?) on Steemit yet only offer a single coin to people willing to do acts of kindness for LAMB.

### Surly being rewarded for premeditated acts of kindness is a contradiction of sorts anyway.
 
In conclusion I feel the SVV is a recruitment tool for some kind of enlightenment cult and Ohm Wallet didn't really think their marketing strategy through properly. In the long run, if it does take off, I can only really see the owners of Ohm Wallet making any real money from this though. The purpose of this post is to share publicly available information and to let people that want to be part of SVV and the ohm reward scheme know who's actually involved and what they're connected to.
# YOU DECIDE