In a shocking twist to our Orwellian modern lives, the "authorities" can demand to know where anyone near a crime was thanks to what are called "reverse warrants". The technology we have become so accustomed to for convenience, is also a convenient way for us to be tracked as we take it everywhere with us. Our phones are with us from home to any travel destination, and they are the modern tracking device that we've all too willingly put on ourselves.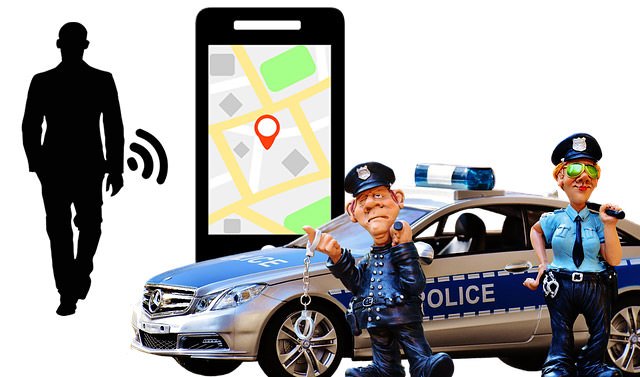 Made by @krnel from sources: pixabay, pixabay, pixabay
Authorities like local law enforcement can now canvas an area for suspects and witnesses without even going around to talk to people. Now, all that's required is a warrant which is sent to Google. In return the authorities get the location data for all devices in an area, thereby identifying everyone. This is the new era of "reverse warrants" as cops turn to location data, since most people have GPS location turned on in their phones for location-based search result and ads.
One of the first cases of it's use was earlier this year, when the Raleigh Police Department of North Carolina served warrants to Google in order to try to figure out who they could suspect of committing crimes. They didn't need to have a suspect in mind first in order to work from that base and obtain a warrant on them. Warrants came first, letting the RPD track anyone in the area to identify who they are and where they were.
The reverse warrant in North Carolina stated:
This location information is derived from GPS data, cell site/cell tower information, Bluetooth connection and Wi-Fi access points.
This applicant knows that location data can assist investigators in forming a fuller geospatial understanding and timeline related to a specific criminal investigation; and may tend to identify potential witnesses and/or suspects.
Google has now become a one-stop shop for bulk data collection and identification of the populace. Hundreds of non-suspects have been tracked as a result of these "reverse warrants". Anyone in the area is swept up in a search for a suspect. This is not how warrants are supposed to work. Search warrants are supposed to be obtained for specific suspects. Reverse warrants are simply base don proximity, not any specific evidence. Google has pushed back, but the government is not giving this gold mine up.
The State of North Carolina maintains that the information sought herein consists entirely of "record[s]" other than the "content of communications…" Such records, require only a showing that there are reasonable grounds to believe the information sought is relevant and material to an ongoing criminal investigation… Despite this, Google has indicated that it believes a search warrant, and not a court order, is required to obtain the location data sought in this application. Although the Government disagrees with Google's position, because there is probable cause to believe the information sought herein will contain evidence of the criminal offenses specified in this affidavit, the Government is seeking a search warrant in this case.
The RPD got a warrant that demanded data for a 17-acre area which included both homes and businesses. The FBI is now using this tactic after local police have successfully pulled it off. Forbes has obtained a reverse location search warrant on Google issued for the FBI in one case:
They went to Google after four separate robberies in which unidentified, armed individuals entered and stole from the same Dollar Tree store between March and September this year. The manager of the Dollar Tree was also robbed at gunpoint while dropping off money at a Wells Fargo night-deposit box located just down the road from the store.
The warrant asks for location histories held by Google for anyone within three separate areas—including regions around the Dollar Tree store and the Wells Fargo address—during the times and days the five robberies took place. The FBI also wanted identifying information of Google account holders in those areas, two of which had a 375-meter radius. The other had a 300-meter radius.
In this case, the documents obtained by Forbes show Google didn't hand over any data to the FBI. Google is pushing back on these broad data requests that are unsupported by probable cause the way normal warrants work.
You may think the police and Feds are going good. That this is the same as canvassing an area to get testimony from people and gather evidence from witnesses about potential suspects in a crime. But, there is a key difference in all of this: compulsory compliance. You are now known to have been in an area at a certain time, regardless of whether you want to be involved in talking about it to the authorities. Data on hundreds or thousands of non-suspects is being gathered. The FBI warrant also imposed a gag order, so that no one would know that the Feds wanted to know who they are or where they were.
This practice will certainly grow more popular by law enforcement across the country, until a court somewhere stands against it to stop it. We don't know how many times this has been tried, or how many of these "reverse warrants" have been approved. But we do know that Google has refused to comply in at least one case. Since there is little legal recourse applied to Google for refusing to comply with the demand for data access, it indicates law enforcement knows these "reverse warrants" aren't constitutional.
---
References:
---
Thank you for your time and attention. Peace.
---
If you appreciate and value the content, please consider: Upvoting, Sharing or Reblogging below.


me for more content to come!
---
My goal is to share knowledge, truth and moral understanding in order to help change the world for the better. If you appreciate and value what I do, please consider supporting me as a Steem Witness by voting for me at the bottom of the Witness page.