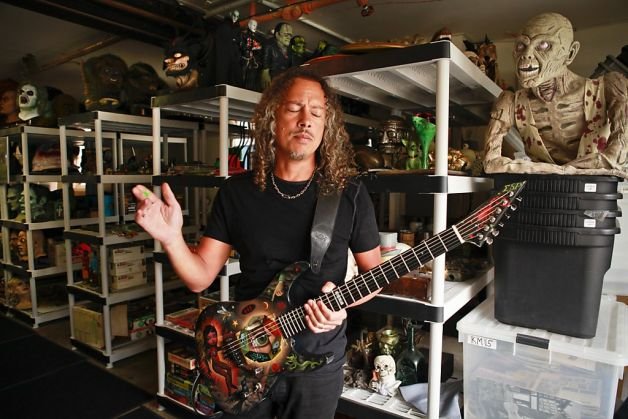 ---
Instagram just made me feel old. The same feeling I thought about aunts and uncles kinda old, when I was 14. Kirk Hammett is at fault, and I don't know how to feel about this.
He was such a Monumental influence in my life as far as music goes and was my inspiration to start learning the electric guitar on my own. No teacher. Which probably explains why I'm not that good. Yet, there was a time, when I was adored my millions, during a brief stint as the rhythm guitarist of my band in high school, FreeBeer.
I remember as if it was yesterday, when me friends and I won the Battle of the Bands two years in a row. Both songs were Metallica, 'Search & Destroy' and 'Sanitarium' respectively. My school mates were loving it, as the teachers and headmaster were cringing and gritting their teeth, the school priest clutching his crucifix waiting for the rapture to happen, our band about to be possessed into a death squad of rabid demon children. They didn't seem to understand what was going on? Mr. Barber did though, my basketball coach, he had a smile as wide as the Cheshire cat's grin.
So there I was the other night, trolling through Instagram high as fuck when I decided to check out my childhood idol, Kirk Hammett. What was this? Not even 1 million followers? Surely you jest? I reloaded the page. Again, the same number appeared before my conundrum filled eyes. This is not possible, I expected at least 10mil followers.
My curiosity and anger had been set in motion; it was time to check out the modern 'musicians' of today, if that's what we can call them. Lets go straight to the top.
---
Selena Gomez - 134 million
Cristiano Ronaldo - 121 million
Ariana Grande - 118 million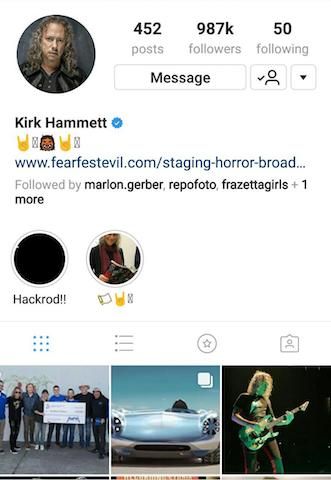 ---
Ok that was enough I almost threw up… I did throw up in my brain, and it really hurt. Was juuuust about to check out the Kardashian's page, but decided against it due to the unpleasant life hazard of throwing my phone against the wall. Holy Jeezuz Peter, I still can't get the 'champagne-butt' photo out of the dark recesses of my skull, from a distance I thought it was Peter Griffin's chin. However in all fairness to the list above, Cristiano Ronaldo is the Man, and most probably the greatest footballer of this generation. Period.
You must understand my sadness in regards to this crime, of Kirk having far less followers than the above-mentioned entertainers. To fully envelope my emotion, we must take a trip back in time. To another place, Sin City… Jakarta 1993. I was 16.
---
A group of friends and I managed to find out where Metallica was staying, and we headed there with great expectations to meet them. As we arrived, there were a few security guards and the security fence was just about to be installed. We bribed the guards with smokes and beer, and they let us into the lobby.
A few hours had passed until James Hetfield walked in, we stood up and he waved to us, followed by Lars Ulrich, he flipped us the bird and then Jason Newsted who casually came over and said thanks before the three of them headed into the elevator. But where was Kirk? He was my Gandalf, the trip would've been useless without him presenting himself.
"Hey guys, what's up?"
A voice calmly spoke behind me; I turned around full of suspense… It was he. I was in the presence of Lord Kirk, the epitome of 'metal guitar'. The Guardian of Strings and the rightful heir to the Iron Throne. I couldn't move nor speak, perhaps I even farted.
He was shorter than me, standing there with a plastic cup full of beer. The conversation started with,
"So you kids live here?" to which I replied,
"Me Kevin, me ape, me likey Kirk music, good it is."
Well, that's how it felt like it came out anyway. When all was good and done about fifteen minutes later, Kirk shook our hands and said goodbye to us. But before he rode off into the sunset, he turned around, put his hand on my shoulder and said;
"Hey kid, you're alright, stay out of trouble."
And with that final moment in my memories forever, I knew everything was going to be all right… after I went to jail at least once.
LONG LIVE METALLICA!
---
---
If you're interested in:
Technology, Art/Comic, Philosophy, Exploration, Odd Things, Science & Spock
Do Follow Our Channel:
PulpWorx
You like SciFi short stories? We write an Original Comedy, Space Opera series on Steemit
Elron Ahura - Space Detective 2369 AD
You can read all 3 Chapters of The Synthetic Man
Part 1 - Part 2 - Part 3
We also Produce Seminars, last year we hosted Graham Hancock - And this year we had Dr. Lawrence Blair. Both videos of the seminars will be released later this month.
Here Is Our Trailer For The Graham Hancock Seminar - The Mystery of Gunung Padang
Our website with info on our past guests and future projects dedicated to Science, Literature & Music.
BudoCon.com
Until next time, Eat a Taco and Steem On!!
---