A Goodbye To The Bachelor Mobile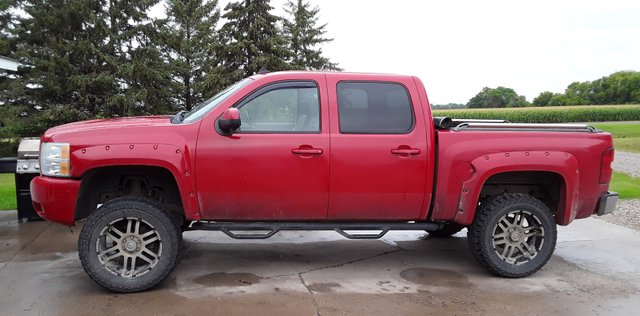 I call it the bachelor mobile because well.. just look at it. Not exactly what you think of when you of a family vehichle. My husband bought this thing and jacked it up while he was still a bachelor. He dreams of getting a desiel pickup one day, when all other priorities are met first. So he will most likely drive this thing until the wheels fall off.
So the story goes.
I parked the Yukon in the driveway, in front of the garage. When the Big Man got home, he was in a hurry to get in the shower after getting chemical on himself. He quick parked his pickup behind me.
Huge mistake!
I don't care if you get mad at me for stereotyping, never park behind a woman. Just don't do it.
It had been a long day that day. Kids were fighting. I was exhuasted. I needed a quick break. When he was done showering and available to keep an eye on the kiddos, I told him I was going to the grocery store quick. I hopped in vehichle and threw 'er into reverse. Crash! You have to be kidding me!
He was parked at an angle behind me, so it was only the corner that was damaged. But still. Of course, he was mad I didn't watch where I was going. I was mad he wasn't more careful at work.
So for about 2 months, I got to drive around his pickup while my vehichle went in for repair. First things first, I cleaned the inside of that pigsty from top to bottom! Have you ever seen the inside of a work pickup? It's a disaster! I couldn't believe how "not bad" that pickup was once it had a good cleaning.
Then I washed the outside. Not kidding, we could finally see outside the windows! Now the only real complaints I had with having to drive the pickup everywhere were that the kids were much too close to each other during drives and trying to park it.
By the end, I was used to driving his pickup like it was my normal ride. I was used to the big climb to get inside, the noisyness of it, and even the curious looks I got from strangers.
When the Yukon was finally finished, I was shocked by how strange it felt to drive. It felt like a stranger's vehichle! (Smelt like one too.) It felt so low to the ground, and just small in general. Was I driving a car instead of an SUV? Oh, but the quietness of seperated children! Yes, I did miss my normal ride.
Goodbye bachelor mobile. I know you'll soon be dirty once again.