What About Little John? Part Eight. Ending?
A true story.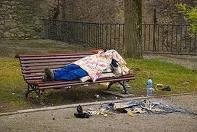 I took a walk today to see if I could find Little John. I got to the park and took a shot of the rubber tree he used to sleep under. It turns out that writing from memory has its faults. This does not seem to be a rubber tree. More on what happed today... but first...
I am going to finish this series in this post as planned. Thank you for your comments and suggestions. Please stay with me on this one because I will use your advice one way or another.

The first photo taken at the park
Little John is just one of many that I chose to meet, talk to and get to know. John is not a young boy. He was about thirty-five, six-three and well over two hundred pounds when we met, mid-forties now.
You are all curious what happened to our friend. As it turned out, I had continued to support Little John through the summer, though less often. I went there to keep him going at, arriving at odd times because the kids were out of school. When school resumed, I saw him ever Friday and kept him going. John got his ID and manged to get some work bringing people in for several businesses in the neighborhood.
One Friday late in the school year, I got to the park and it was closed. This is a huge park! I walked the five or six blocks around it. No way to get in. They closed it in one day.
They had put up steel barriers completely encompassing the park and John was nowhere to be found. The kids and I walked along the bright yellow sheet metal walls to the bus stop and they asked, "What's going to happen to Little John?" I said, "We have to find him."
That did not happen.
Weeks went by and our friend was nowhere to be found. He is remembered only in our prayers and in the series I have written here on Steemit. Our walks home were a bit sadder without a good deed, money given, well spent. Just a walk home and not knowing if he had been arrested, relocated, or worse.
The park reopened the following year with all new sidewalks and stairs. The two benches that John used to sleep on are gone, replaced with tables and stone chairs (photo). Even if Little John were here, there would be no place to sleep when it rains.
Months later, my youngest was with me on our way home, and we saw Little John in front of an apartment building about four blocks away from the park. He was clean, no beard, with what appeared to be a cell phone in one hand.
We looked at him from the corner. He was about a block away and did not see us. I wanted to take time and find out how he was, but my oldest was in route from high school. I could not get one child and miss the other. I did not have time to make a detour that day, no time, but I started to look for him again. I had gone to that neighborhood many times while the park was closed, and every Friday since as the park reopened, continuing until my youngest graduated grade school.
I only have an image of him at the apartment building, one of many. He looked good. No more sleeping on the streets.
The planned ending.
The end.
---
I just got back from the park.
The above tells the end of the story as far as I knew after losing contact with John. I walked several miles to get to the park today, passing by those apartment buildings and walking up and down the avenue. I took pictures and even a video. I could not find the woman that ate with us that first supermarket day in part three, that awkward day.
I now have it on good authority that her name was Norma. I also factually know that Little John was living in an apartment with Norma all that time while I had been looking for him.
I am leaving out what / who I did find at the park. I am grieved to my core.
Did I mention that I spent hours at the park today?
Cliff.....
Update: Little John is telling his story on Steemit
Read the Spoiler or go to his steemit account "La Vida de Juan" - @LVJ