My honest thanks to @matthewtiii who wont last week's contest with his piece Henry the Honey Badger. Kudos especially for using all of the prompts I came up with last week; it was a creative take and I enjoyed reading it! As always, when we have a winner, the pot resets, which means...
Welcome to another week of Descriptions on the Spot!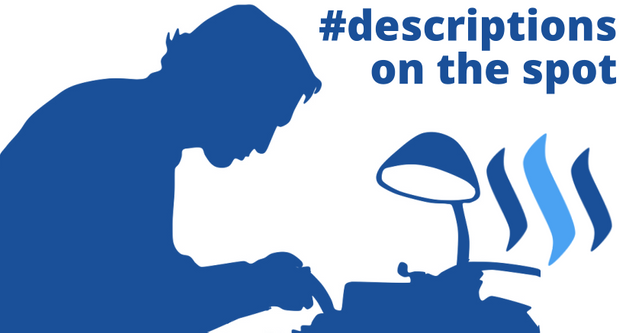 Special thanks are in order to @jedau, @virtualgrowth, and all the old-timers who got this ball rolling in the first place. I also want to thank @rhondak for her tireless work at the Minnow Support Project and the Fiction Workshop, which I now inhabit on Discord. Also, @kryptik: YOU NEED TO SUBMIT SOMETHING. I won't take no for an answer, you beautiful bastard!
In case you missed our previous posts, Descriptions on the Spot is a writing contest for fiction authors. It isn't genre specific, and anyone can enter.
How it works:
I'm going to leave a few writing prompts in the comments section. You are more than welcome to add to them. Writing prompts can be anything, but try to keep them short; a sentence or less if possible. You can also use photographs and images that have been posted by people here on Steemit as prompts, provided you ask their permission first and link back to their original post in your story! @steemitadventure has been kind enough to loan us two of her pictures (which you can find on one of our previous posts)!
All submissions must be original works; no copying and pasting older stories! There's no maximum limit on word count, but please at least make it 200 words long. Once you have a story written up, leave a comment below the specific writing prompt you responded to with a link to your story. That will keep the comments section relatively cleared up, and it will make it much easier for me to go through and read all the entries.
What you can win:
Well, I want to say that winning the respect and approval of your peers is enough, but a cash prize is always appreciated, right? Since I don't have anyone else curating the post with me at the moment, I'll take a look at the submissions myself. Every week will have one winner, and they'll earn at least 5SBD or the SBD for the post payout; whichever ends up being greater that week! SBD rewards from previous posts, if unclaimed, will roll over into the next week's posts.
Let's get some submissions going and put some work in! Time is money, and there's already some money on the table!
---
Like what you read? Follow me, @anarcho-andrei, for more fiction and non-fiction!
Andrei Chira is an anarcho-capitalist, former 82nd Airborne paratrooper, vaper, and all-around cool guy. He's a father to one wonderful little girl named Kate, lives down in Alabama, and spends his time writing stories, posting to Steemit (not as much as he probably should), and cultivating the mental fortitude to make it through three years of law school.