14sbd from this post will be donated for the course of Steemit in Nigeria2 (S.I.N2), coming up later in the year. Also, donations are welcomed to @leadent360 (official S.I.N2 account). You can contact @ehiboss for more information. The countdown has already started.
---
Since this is a S.I.N2 donation post, permit me to write this post in NIGERIAN CREOLE LANGUAGE (Naija pidgin).
My country people, I don land with ogbonge tori as ein relates to robotics. Una don see the kind better advancements wey dey go on for the field of robotics. As people don talk am tey tey, say humans go join body follow machines (unto human-machine merger). But believe me, dis future don dey approach wella.
You don ever imagine say robot fit born pikin? I know say dis kind thing dey sound somehow shaa, but make I tell una: All the better tech wey una dey see today, na from weird thoughts dem start oo.
As the year dey pass, scientists dey bring better brain come outside, and technologies wey make sense dey show face every now and then. No be only dat sef; as dis techs dey show face, dem go dey cross natural biological boundaries. And one of the boundaries wey tech don cross na for the area of conception. My people, I welcome una to the era of Synthetic pikin.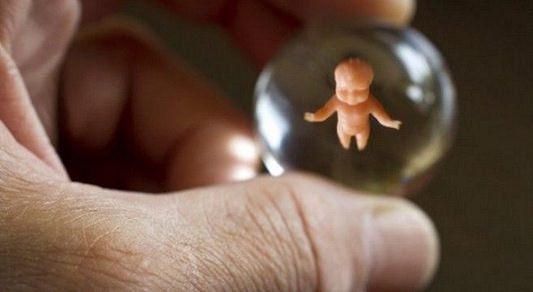 Before I waka proceed, I wan package dis little brain give una: The field of synthetic pikin dey very broad, na only some aspects I go package give una.
Bio-robots fit carry belle?
Omo!! Dis kind question na die. But I go try tidy am wella. All of una sabi wetin be "bio-robots" na. Dis one no be just any kind robots, but dis kind resemble humans wella, even unto some details sef.
Now as una don get brain of wetin bio-robot means. Then back to my question:
How robot fit give birth to pikin?
As we don already sabi, advances don show face for biotechnology and stemcell engineering. And because of these advances, scientists fit culture spermatozoa and ovum in lab. After dem don culture finish, na to fertilized dem be the main thing. And the fertilization wey dem go use na "In-vitro fertilization". As dem don fertilize the sperm join the ovum, dem go transfer am enter artificial womb.
That one no be where ein end oo. Now advances don incorporate dis artificial womb for inside bio-robots, and dem fit carry the pikin inside the belle like women dey carry dem pikin. Make we chuk eye for dis pix wey dey below to understand wetin I mean.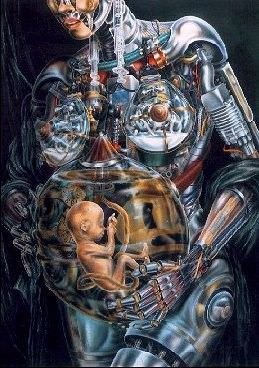 Synthetic biology don join body follow "cloning"
All of una sabi wetin be "artificial cloning", and we also sabi say you fit produce exact copy of pikins which go get the same genetic makeup with you. And the same thing fit apply for inside robot conception too.
But another option be dis: Instead of to join sperm follow ovum (unto IVF fertilization), scientist fit comot your stemcell, come culture am, then grow a replica of you, which dem go finally chuk enter robot womb. And as ein be, the pikin go be exact replica of you (a pikin-version of you. Na wah oo).
But before I carry my kaya comot here, make I package types of cloning give una as bonus :)
Therapeutic Cloning : For dis kind cloning, na to create "embryonic stemcell" which dem go use culture tissues for inside lab. Dis cultured tissues go be for the replacement of tissues wey don damage.
Gene Cloning : Dis kind na to create "follow-come" copies of gene, and even DNA strains join too.
Reproductive Cloning : Na dis kind of cloning wey dey create the entire organisms (whole and entire), and na dis kind dem dey use for synthetic pikin. As in, if dem create you ee, ein go look like your follow-come.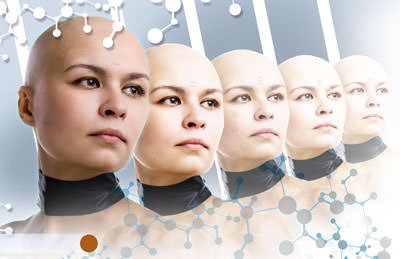 Conclusion
As we don look dis tech finish, we go sure say for future, synthetic pikins go plenty for dis world; I tells you.
But the thing wey we go reason be dis:
When robots come born pikin, wetin we go call the pikin? na robots abi na man pikin?
---
I troway salute give una
References where una fit chuk eye: Ref1, Ref2, Ref3, Ref4, Ref5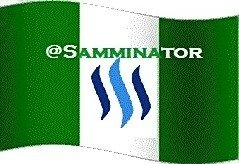 gif by @foundation