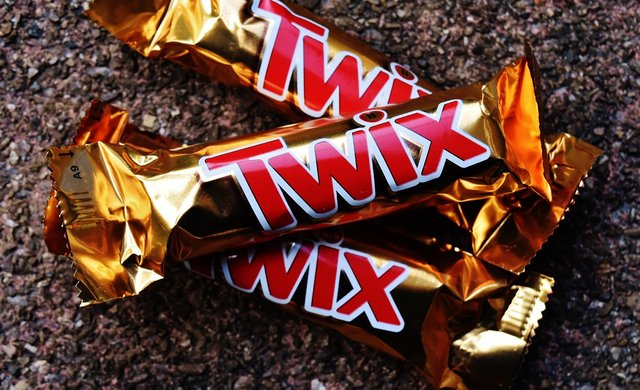 Midnight sweethearts! Image credits: Pixabay, CCO.
Hey guys, it's been a while I wrote-in any contribution to the science world and I'm glad to be here again. Today, I'll be discussing a topic that is relatable to us to a large extent. Granted, every living thing feeds and I feel almost everyone might have experienced sometime in their lives.
As an eater, have you ever felt the urge to take in excessively even when you feel you're already satisfied? I mean, you feel all heavy inside, and you're unsure if it's okay to take another bite. But somehow, you just cannot stop until you've reduced the meal in front of you to nothing? How about bingeing over dinner while seeing your favourite series on Netflix or reading a book?
Over time, I have occasionally noticed that I would wake up feeling generally lazy and unusually hungry when I overate dinner the previous night. Normally, I would shrug this off to mean maybe I probably didn't eat as much as I should have, and I didn't really make out the time to think about it. However, the previous week saw me binging late each night to meet-up the deadline for a task I was working on and I got the same experience every morning, which begs the question: Is this so for everyone else out there? Do you feel hungrier on mornings when you overate the night before, or is it just me?
It's interesting what I discovered, and hopefully, this post explains that in very clear lucid words. Firstly, let's get to understand the science of hunger and why anyone would binge over dinner.

The hunger science -- Here's how you could tell you're hungry.
Hunger is a condition in which a person, for a sustained period, is unable to eat sufficient food to meet basic nutritional needs. Wiki
The tell-tale signs of hunger could be anything between the lack of energy and the lethargy to do work, headache, and shakiness, to the rumbling noise you hear in your empty stomach. While it isn't at all a pleasant experience, the sensation itself carries out a very important function in our bodies. It reminds you that you're running out of chemical energy and that you need to recharge by eating, fast. It isn't concerned with nutrition or whether the diet is balanced or not.
Hunger can also be viewed as the interaction between the brain and the digestive system when there is a low supply of energy in the body cells. It isn't the complete loss of energy. It simply signifies the lack of 'available energy' for all the body and brain activities you do. Hence, even when you feel hungry, you aren't completely out of energy, which explains why it is possible for living things to go days or weeks without eating. Your body gradually uses up the stored energy in you to keep alive, while at the same time, gives you that constant reminder that you might not like what would happen if you don't eat soon.
Generally, two hormones are in operation when one is hungry. They are Leptin and Ghrelin, and they mostly work to regulate the amount of food taken. Leptin is released by fat cells just as stored-up body fat is being used up to help supply your body's energy needs for energy temporarily. Hence, it is a control measure that signals to your brain that loss of body fat would leave you thinner. On the other hand, Ghrelin is released by the linings of the stomach to tell it as it is - You're hungry. It does that by stimulating the rumbling you hear in your stomach in a bid to get your attention.
So the brain picks all of these signals and tells you that it's time for the next meal.

Glucose, sugars, and the digestive process.
When food is eaten, it undergoes a series of reactions we term as digestion. Digestion basically is the chemical process that involves the breakdown of the food substances to yields several nutrients for the body's growth and development. Starchy and Sugary foods such as carbohydrates contain one of the most important food nutrients which are derived during digestion of the food particles: Glucose. which is commonly known as blood sugar.
Glucose is a monosaccharide with the molecular formula C6H12O6 and it is largely needed in the body for energy. During digestion, food is acted-upon and broken-down in the stomach by enzymes in the presence of water, and you get all of that glucose extracted in the small intestines, and pumped into your bloodstream. Thus increasing your blood sugar level significantly and providing a short burst of energy as well, making you feel stronger.
So now we've got the glucose. However, it's very important to note that glucose doesn't just convert itself into energy directly. Rather, it requires an extra process to occur. It requires a hormone called insulin. Insulin carries out the primary function of regulating blood-sugar-level by 'opening-up' cells to absorb Glucose. Hence, it is often described as 'the key' to energy in the body.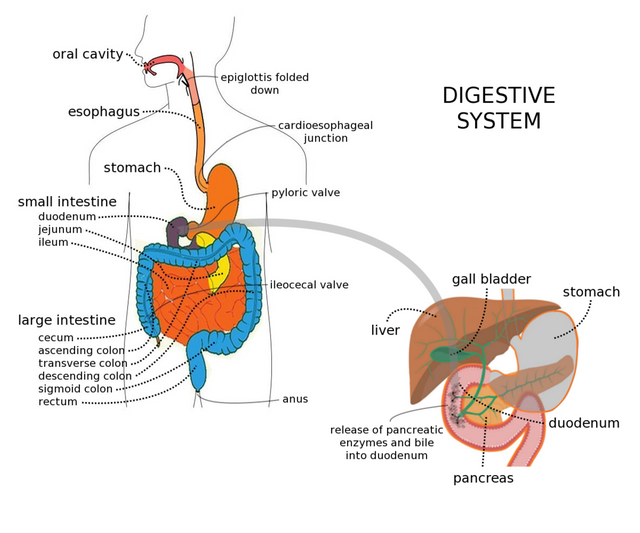 The human digestive system. Image by Gordon Flynn CC BY-SA 2.5, via Wikimedia Commons.
In the pancreas, there exist beta cells that are very sensitive to the amount of glucose in the body. As blood flows through the pancreas, the beta cells detect the level of glucose in the bloodstream and work to alter/regulate it to be suitable for the body at the given time. If blood sugar level is high, It causes the pancreas to release insulin to help cells absorb the glucose to be used as energy. If the blood sugar level becomes normal or low, it stops the release of insulin.
The whole process of digestion begins simultaneously as one starts eating and still continues even when the food is finished. Hence, glucose is released into the bloodstream almost as soon as you begin eating to provide a quick boost of energy, and with that increase in blood-sugar-level, insulin is released too and the cells absorb glucose to provide energy. Hence, the time lapse between eating and waiting for your cells to fully absorb the glucose for the energy you need is extremely negligible.

Excess blood sugar = Excess insulin?
Now, back to our question: Why do you feel hungry when you wake up after overeating the night before?
If we're to go by the layman's intuition, this shouldn't even be possible. right? I mean, you've got yourself stuffed-up with so much sugar (which should mean more energy, indirectly), and the only way we expend large amounts of energy is by doing work. right?
Oh, and before anyone thinks we haven't thoroughly given this a thought yet, let's be quick to state that we know energy is constantly being used up for some metabolic processes even when we are asleep. But we aren't necessarily doing work while sleeping, so we should wake up with our reserve of energy, almost filled to the brim! Just like how the batteries in our cell phones barely lose a grid when we "put it to sleep."
Well, if there's anyone to blame, then we've got excess insulin to point fingers at!
Recall we mentioned earlier that hunger isn't the complete absence of energy. Rather, it is a sign that your blood sugar has dropped to significantly and you should do something to refill. You necessarily aren't lacking energy. Hence, when you binge on excess sugar the night before, your blood sugar level rises rapidly and this causes a significant release of insulin from the pancreas to reduce the amount of sugar in circulation. But you over-ate, didn't you? so the cells absorb the required amount for energy, and the excess glucose gets stored in the liver and muscle cells as glycogen for later use. Thus, leaving your blood-sugar-level running low.
But of course, this isn't always the case, and the sensation of hunger after waking up from a long sleepy night might be as a result of a lot of other factors such as the body metabolism rate and duration of sleep. According to sleep specialist Dr. Michael Breus in his book The sleep doctor's diet plan: Lose weight through better sleep, body metabolism increases during the second half REM (Rapid Eye Movement) stage of sleep. Hence, there is the possibility that the longer you sleep, the more calories get burned, leaving you almost hungry again in the morning.source
Also, intake of excess fructose-based food and drinks rather than a balanced diet could warrant for the feeling of hunger. Fructose has a way of tricking the brain into believing you're hungry, whereas you're not.
Dehydration must not be left out. Water is the medium through which digestion takes place. Hence, our bodies need both food and water for full functionality. Over time we get thirsty and it could be hard to tell the difference between hunger and thirst for some people. Taking a glass of water might prove you're not hungry after all.
In summary, binge-eating during dinner converts and stores a huge amount of glucose as fat and has a high probability of leaving you slightly fatter and hungry in the morning. So the next time the sweet tooth hits, and you feel that knowing urge to honk down an extra plate of food and then top it off with a cup of ice-cream and loads of sugars over dinner, you might want to take a little snack instead, and retire to wake up hale and hearty in the morning, hunger-free.
Thank you for reading

References:
Canyon -- All about binge eating
Kaylasines.com -- 5 reasons you get hungry after dinner.
This insider -- How the body burns calories during sleep
Kaiser -- Insulin, and how the body converts glucose to energy.
Nutrition -- Leptin, Ghrelin and weightloss.
Scienceabc -- Why you wake up feeling hungry.
If you write STEM (Science, Technology, Engineering, and Mathematics) related posts, consider joining #steemSTEM on steemit chat or discord here. If you are from Nigeria, you may want to include the #stemng tag in your post. You can visit this blog by @stemng for more details. You can also check this blog post by @steemstem here and this guidelines for help on how to be a member of @steemstem. Please also check this blog post from @steemstem on proper use of images devoid of copyright issues here. Thank you.