If you grew up in Nigeria, there is a big chance you must've heard a fair share of myths and legends. Some genuinely believe these to be true while others, maybe due to education plus enlightenment, may just take some of the stories as folktales. For instance, some think that whistling at night is an invitation for trouble. When I heard about this, I whistled every chance I got to check out how much trouble I could get.
While today's topic may not be about Nigeria's myth and legends, which of course is many, it is about something that looks quite strange.
I do not know if you have heard about the warning which one may get when you need that quick shower, and it suddenly starts to rain, and someone told you to postpone the bath till after the rain as it is dangerous.
The first time I heard of it I thought the person was trying to pull a prank on me. But when I saw how serious the face was, I did hesitate. But I eventually ended up taking that bath. At least if it ends up proving fatal at least, we would have some proof that it is real :)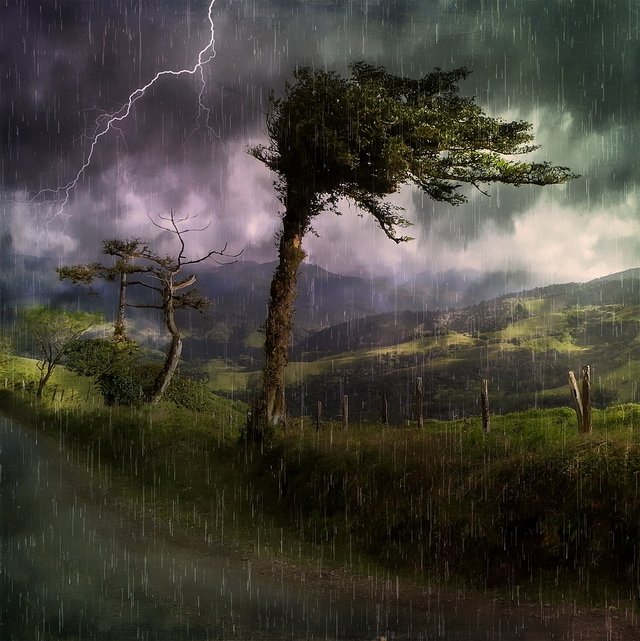 [image credits: Pixabay Commons]
But if it is so dangerous to take a bath in the bathroom when it is raining, how did I survive the countless time in my childhood when I run around in the rain playing football or any other "water games" that our juvenile senses come up with?
Washing dishes or taking a bath while there's a thunderstorm may not be dangerous as an activity on itself, but rather what comes during such rains- the lightning and thunder.
I don't know if you have ever witnessed damage to an electronic that is turned off but still plugged in during a thunderstorm. You can blame the EMP for that roasted circuit powerboard.
The EMP or electromagnetic pulse is a short burst (transient) electromagnetic interference which can jump across the socket terminal and destroy the electronic device if plugged in. The EMP may be as a result of the fall of a high voltage power line (e.g. a 110kv line) onto the 11kv/415v low voltage line causing a surge in the line. Apart from the falling powerline, the lightning is another huge source of voltage discharge.
The lightning that occurs during a thunderstorm is very hot and understandably so as each bolt of cloud-to-ground lightning has up to a billion volts of electricity.
Lightning could be likened to a giant capacitor. The capacitors have two plates separated by a dielectric. In the case of lightning, the storm cloud in the upper layer of the atmosphere is mostly positively charged while the lower storms become negatively charged. The Earth, including tall trees, mountains, and other objects that is on the ground act as the positively charged "plate" of the lightning.
Now, back to the reason, many are warned not to take their bath during a thunderstorm.
The warning can extend to not just taking a bath; it should contain staying away from any metal such as found in sinks, metal rails or just about anything that can conduct electricity.
The most building still uses galvanised pipes for their plumbings. Those that use PVC pipes still have a point where metal fittings cover some of the PVC pipes.
The electric current is like a lazy guy that may decide to walk across the field rather than follow the designated footpath which is longer. Electricity likes to follow the path of least resistance to the ground; your metallic shower pipe may just be that path. Water is also a conductor of electricity, and you do not want to be in a shower when the strikes occur.
There is an ongoing critic on whether this showering in thunderstorm may indeed be dangerous, but an Australian man from the city of Brisbane learnt the hard way as paramedics had to take him to hospital to treat the injuries sustained from electric shock while in the shower during a severe storm.
Though it is rare to have fatality due to the presence of lightning protection/arrestor, and good earth system which channels this surge current to the ground. The record shows the US experiences up to 25 million lightning strikes per year with only average mortality of about 47 people.
But it is better to err on the side of caution and avoid taking that bath or washing that dish on that metal sink when it is raining. This is especially useful in a country like Nigeria where only about 5 in 100 houses has a functional lightning arrestor, surge suppressor, and a good electrical earthing system.
There you have it, this one story is real and not a myth. If you can postpone that bath during the thunderstorm, please do. Thank you.
Some cool facts: lightning tends to strike more men than women. In 2016, lightning fatalities accounted for 40 deaths in the USA, out of this number 9 are female; a 77.5% of the total victims are men. And this little fun fact has got nothing to do with anything except that men just so happened to be more outdoors than women. If you reverse the trend, the female folks will get as much share of the sparkling monster as the men do.
Unlike a victim of electrocution, you can safely touch a lightning victim. Most victims of lightning have a cardiac/ respiratory arrest due to the massive amounts of current passing through their body. Resuscitation via CPR could help increase the chance of the victim.
It is a myth that you are safe while in a car. The experts say you are only safe if the vehicle is a totally enclosed metal which in effect forms a Faraday cage. But if caught in a car during a thunderstorm, you can increase your chance of survival by placing your hands on your lap and not touch any metallic part of the vehicle with the engine shut off.
There is an injury found on the body of lightning victims that appears like a weird weblike mark on their body. The lightning injury is known as the Lichtenberg Figures. The reddish "tattoo" is a result of the current that passed through the body during the lightning strike.
---
References
---
If you write STEM (Science, Technology, Engineering, and Mathematics) related posts, consider joining #steemSTEM on discord here. If from Nigeria, there may be need to include the #stemng tag in your post. You can visit this blog by @stemng for more details. You can also check this blog post by @steemstem here and this guidelines here for help on how to be a member of @steemstem. Please also check this blog post from @steemstem on proper use of images devoid of copyright issues here
Would you like to delegate to the @steemstem? Here is a link below
50 SP | 100SP | 500SP | 1,000SP | 5,000SP | 10,000SP | 50,000SP