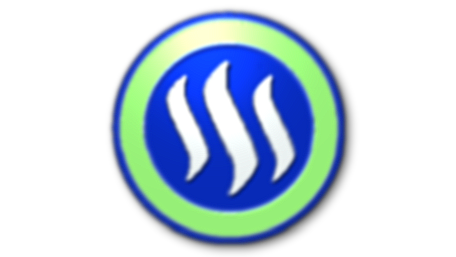 [EN]
---
This post is intended to cover the server costs for SteemWorld.org and to enable me to continue my development in the future.
In case you missed the first part:
SteemWorld ~ Weekly Support ~ #1
[DE]
---
Dieser Post ist dafür gedacht die Serverkosten für SteemWorld.org zu decken und mir in Zukunft weitere Entwicklungen zu ermöglichen.
Falls du den ersten Teil verpasst haben solltest:
SteemWorld ~ Weekly Support ~ #1

Updates
---
Account Creator
The new Account Creator is now available in the Tools section: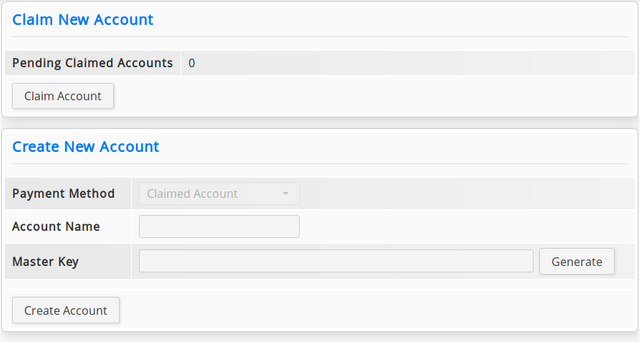 ---
Claiming new accounts
If you have enough resource credits (RC) available (currently ~ 5000 SP required) you can claim an account simply by clicking the 'Claim Account' button. The pending claimed accounts are being shown above it.
After claiming an account the number will increase by one and your RC will be decreased by the required amount. In principal, you then already own a new account but its properties (name and keys) are just not defined yet. You can claim as many accounts as you wish (as you have RC) without the need of creating them at the same time. One pending claimed account can later at any point in time be used to create one Steem account.
---
Creating new accounts
Payment method
There are two different ways to pay for a new account:
By using an earlier claimed account
By paying the fee that is being set by the top witnesses (currently 3 STEEM)
Paying with liquid STEEM is not yet available but will be in the coming weeks.
---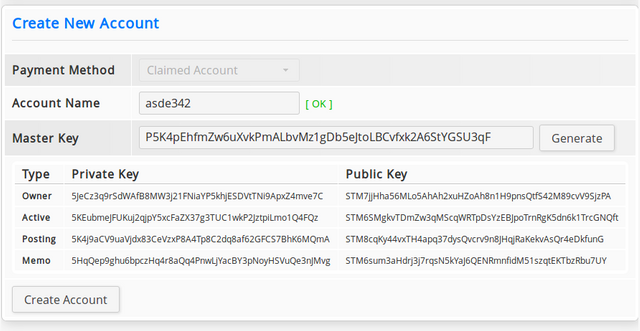 ---
After defining the name of the new account there will be a status text displayed next to the 'Account Name' field, that shows if the name is valid and there is no existing account with that name in the blockchain already.
To generate a random master key for the new account just click the 'Generate' button. The resulting private and active keys will be shown in the table below. By clicking on 'Create Account' there will pop up a confirmation dialog that asks if you did write down the master key to ensure that you will have control over the new account later. After confirming and providing your current private active key the new account will be created.
---
Update: Using STEEM to claim an account now possible
I uploaded a new version today and it is now possible to claim accounts by paying the 'account_creation_fee' in STEEM (currently 3 STEEM):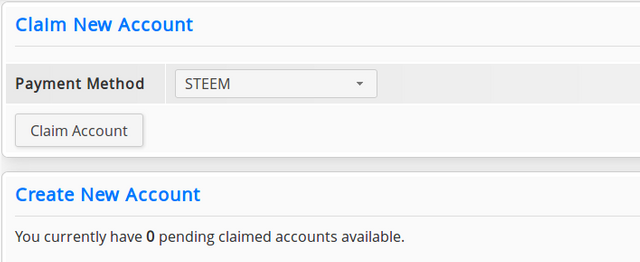 I moved the payment method to the claim process so that it's possible to claim accounts without creating them directly. In case of a temporarily occurring cheaper creation fee that's a better solution for users with < 5000 SP.
In the making
---
Finding/Building a trustable open source solution for using private keys on SteemWorld (I won't use SteemConnect because it leads to a few accounts having active key privileges for thousands of Steem accounts in future. Something like @yabapmatt's Keychain would be a way better solution)
Web service for loading the data in a more efficient way and for enabling me to add many cool new features in future
Improved coming curation rewards overview
Details for coming rewards (number of posts/comments, maybe a pie chart)
Different views in the Posts Overview
RC costs calculation
---
Links
---
EN  |  What is SteemWorld?
-> Welcome to SteemWorld.org!
DE  |  Was ist SteemWorld?
-> Willkommen auf SteemWorld.org!
Thank you for supporting my work!
---
Positive thoughts create a positive world. It all begins with connecting our thoughts with emotions. What we focus on is what becomes powerful. We are the creators of our world.
Much love,