The Old Dog Presents: Our Fifth SteemTradeCards For 2018. The Witness We Call Dr. Duty @jesta
Once again with this card @airmatti and I welcome @wolfje who has written all of the biographical information that you see here. 
Before having a look at this prolific Steem blockchain builder  please note that you can see all of our 2017 cards by clicking here and all of the 2018 cards, films and project information can be seen on our @steemtradecards site!
One of The Steem Blockchain's Amazing Witnesses @jesta
This guy is not a talker, but a developer. 
You barely notice him, but that's how he does his best work. He's honest and wants his applications to be practical for all Steemers so that they'll actually use them! If he notices that he can't live up to the expectations he's even willing to refund the users who invested in his applications. What a stand-up guy!
This brilliant builder has plenty of ideas that will keep him developing all the time as he constantly reminds himself to focus on his motto: "do one thing, and do it well". 
We're all very curious to see what he comes up with this year, especially once the much anticipated Smart Media Tokens are launched!   Go get em @jesta!   
Let's Take a Closer Look at The Man That We've Dubbed Dr Duty!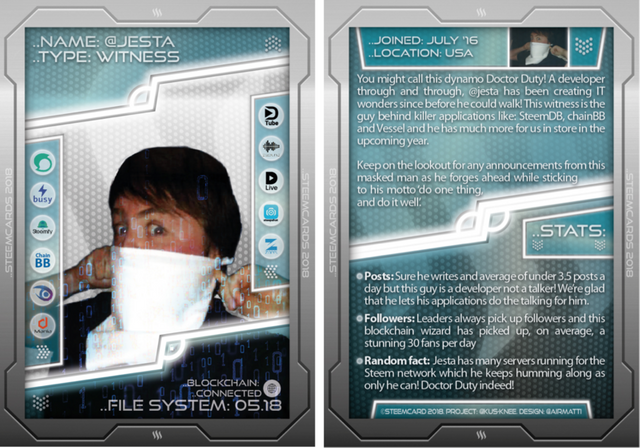 Here is @jesta a.k.a. Dr Duty, getting ready to perform his special brand of surgery on the Steem blockchain!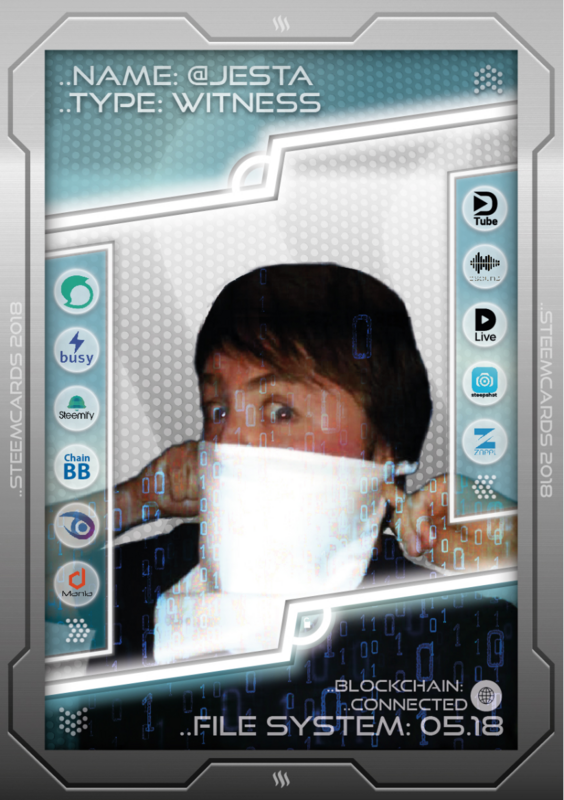 This guy is so busy creating great apps for the Steem blockchain that he didn't have time to pose for a shot!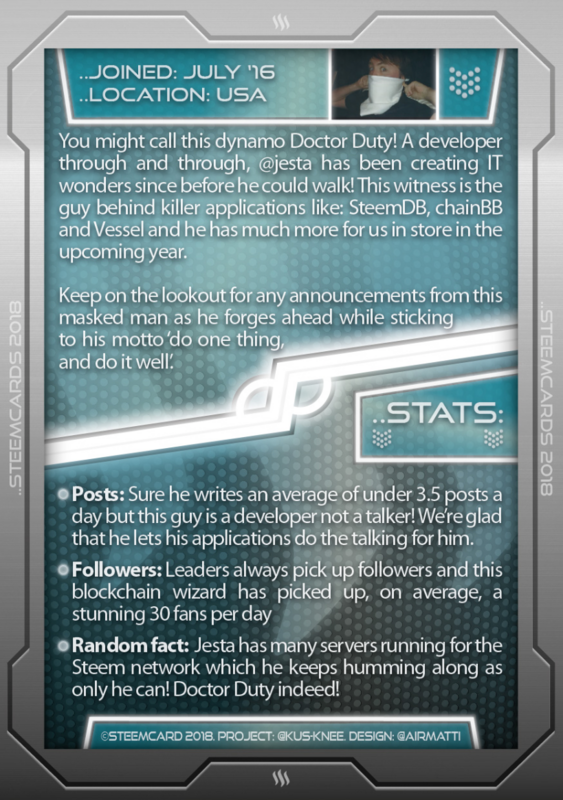 His accomplishments on our behalf are unsurpassed!
Here is The Full Text as it Appears on The Card!
Witness     
Location: USA   
You might call this dynamo Doctor Duty! A developer through and through, @jesta has been creating IT wonders since before he could walk! 
This witness is the guy behind killer applications like: SteemDB, chainBB and Vessel and he has much more for us in store in the upcoming year.   
Keep on the lookout for any announcements from this masked man as he forges ahead while sticking to his motto 'do one thing, and do it well'.        
Stats   
Posts: Sure he writes an average of under 3.5 posts a day but this guy is a developer not a talker! We're glad that he lets his applications do the talking for him.    
Followers: Leaders always pick up followers and this blockchain wizard has picked up, on average, a stunning 30 fans per day   
Random Fact: Jesta has many servers running for the Steem network which he keeps humming along as only he can! Dr. Duty indeed!
A Special Mention Goes to the Following Members!
@airmatti for his awesome design. I have sent him 15 Steem as part of this ongoing @steemgigs which has already paid out 100's of Steem to this talented artist. 
@wolfje for producing the text for this card. @wolfje will recieve 10 Steem for his awesome contribution!
@surpassinggoogle for the @steemgigs tag and the opportunity that it gives to so many!
Please Also Support The Animated Version of The Card
@airmatti has also  produced another cool animated version of the card which feature  original music by one of our other amazing Steemers! You can find it here.
What do You Think?
Who would you recommend as deserving of a Steemit Trading Card?
Are you Looking Forward to Our New Series For 201?
I hope that you enjoyed this presentation of SteemTradeCards Mysterious Witness @jesta
Until next time,  

@kus-knee (The Old Dog)