Hi everyone!
Today, I am coming with a little call to action. I have been recently seeing more and more Steemians promoting our beloved platform on other social media and I would like to inspire other users to join them. I am sure that promoting Steemit on other social networks such as Twitter or Facebook could make for a massive boost in the growth and development of the platform.
Now let me be a bit more specific and introduce you to an amazing Steemian @stephenkendal and his new project #steemtalent. Stephen has been very active on Twitter too where he has about 6,600 followers and he has been promoting Steemit to them.
Through his new project #steemtalent, Stephen has been trying to attract all kinds of creative people to Steemit, such as photographers, travelers, bloggers, musicians, artists, analysts etc. Stephen has been doing an amazing job but to raise the awareness about Steemit among millions or hundreds of millions, we need more people like him.
I joined Stephen´s inspirational efforts as I started to promote Steemit to photographers. As you probably know, I run two daily photo contests where it is quite easy for creative photographers to make some extra money and I would really love to see more and more new photographers coming to Steemit to compete in these contests.
It is important to remember that bringing new, talented people who are able to create interesting and original content, is absolutely crucial for the healthy growth and success of Steemit. Keep in mind that the content created by us, Steemians, is the driving force behind the platform and one of the key factors that determine the price of Steem so we should all do our hardest to produce the best content and to spread the word about Steemit among other people who have the abilities to contribute to the growth of the platform.
Also, if some of your friends are already promoting Steemit on Twitter, Facebook, Instagram and other media, make sure to support their effort through likes, retweets and comments. In unity there is strength :)
To motivate you in your promoting activities, I decided to reward those who spread the word about Steemit on other social media. Just submit a printscreen of your status from other social networks where you promote Steemit in the comments below as well as on my daily upcoming posts and I will give those comments a little upvote ;)
Below is just a little Twitter feed from few days back to show you how things work in reality: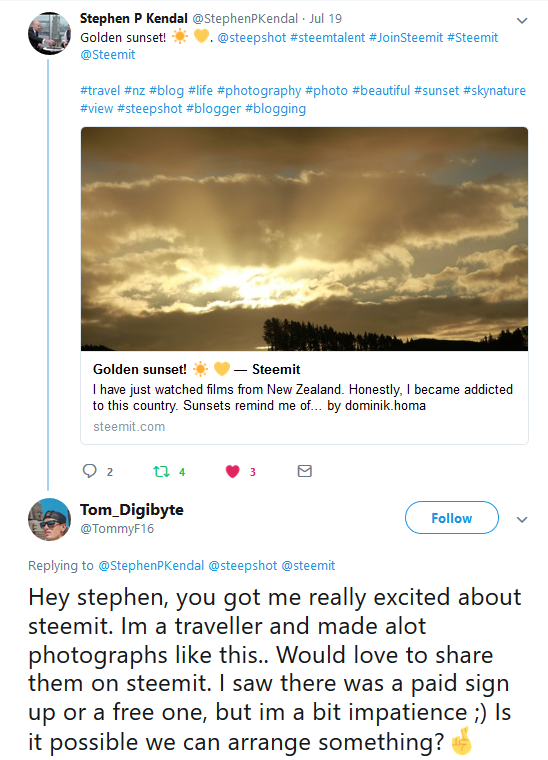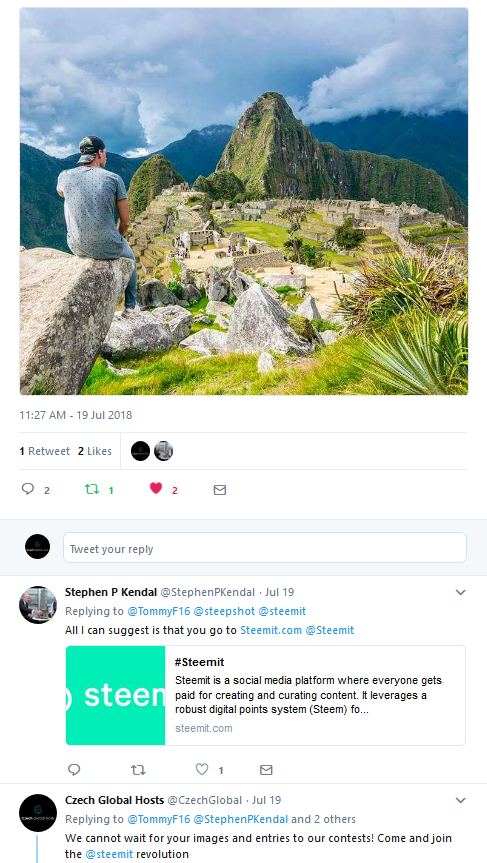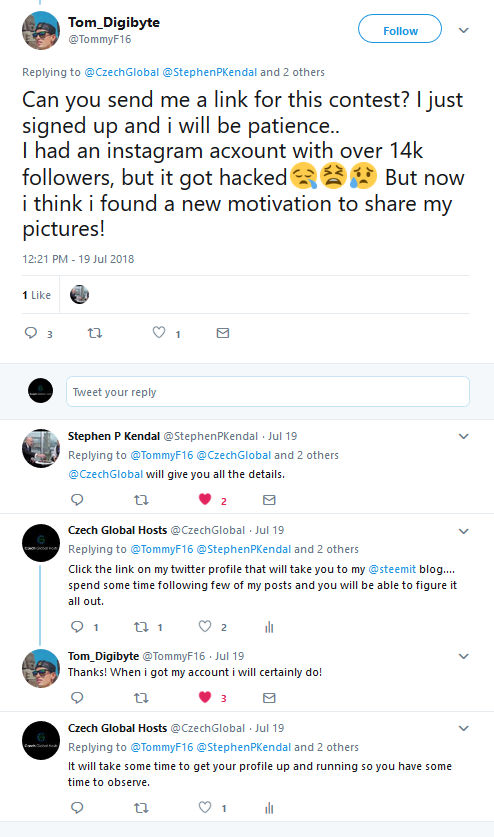 Feel free to get inspiration from another dedicated Steemian and a regular contributor to my photo contests @jpphotography. He regularly takes part in my contests where he posts his entries on his personal blog which he then shares on his Twitter account. We definitely need more of you to do what he does.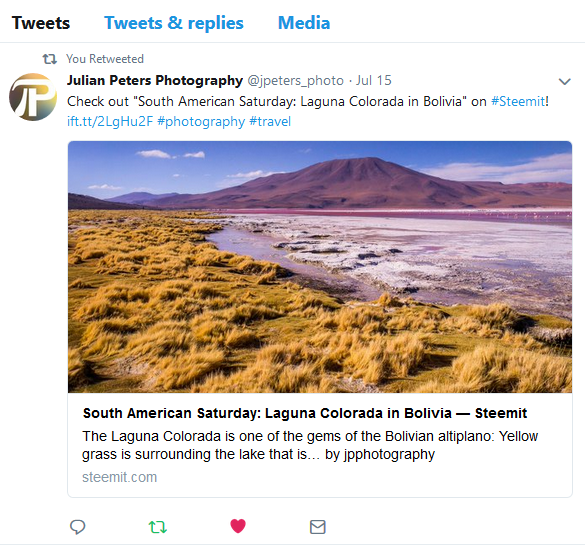 Thank you for your cooperation. Have a great day and Steem on!
---
Please feel free to check out some of my other recent posts.
Travel Tip: Dobris, picturesque town with magnificent Rococo chateau
Quote of the day: "No one would ever have crossed the ocean if he could have gotten off the ship in the storm."
ColorChallenge - Purple Sunday - @roadtrips in 7 World's Continents Photo Challenge!
Prague/Czech Republic - Sunday photo challenge - share your personal pictures from your visit to the Czech Republic!
---
Tomas
CEO & Founder of CGH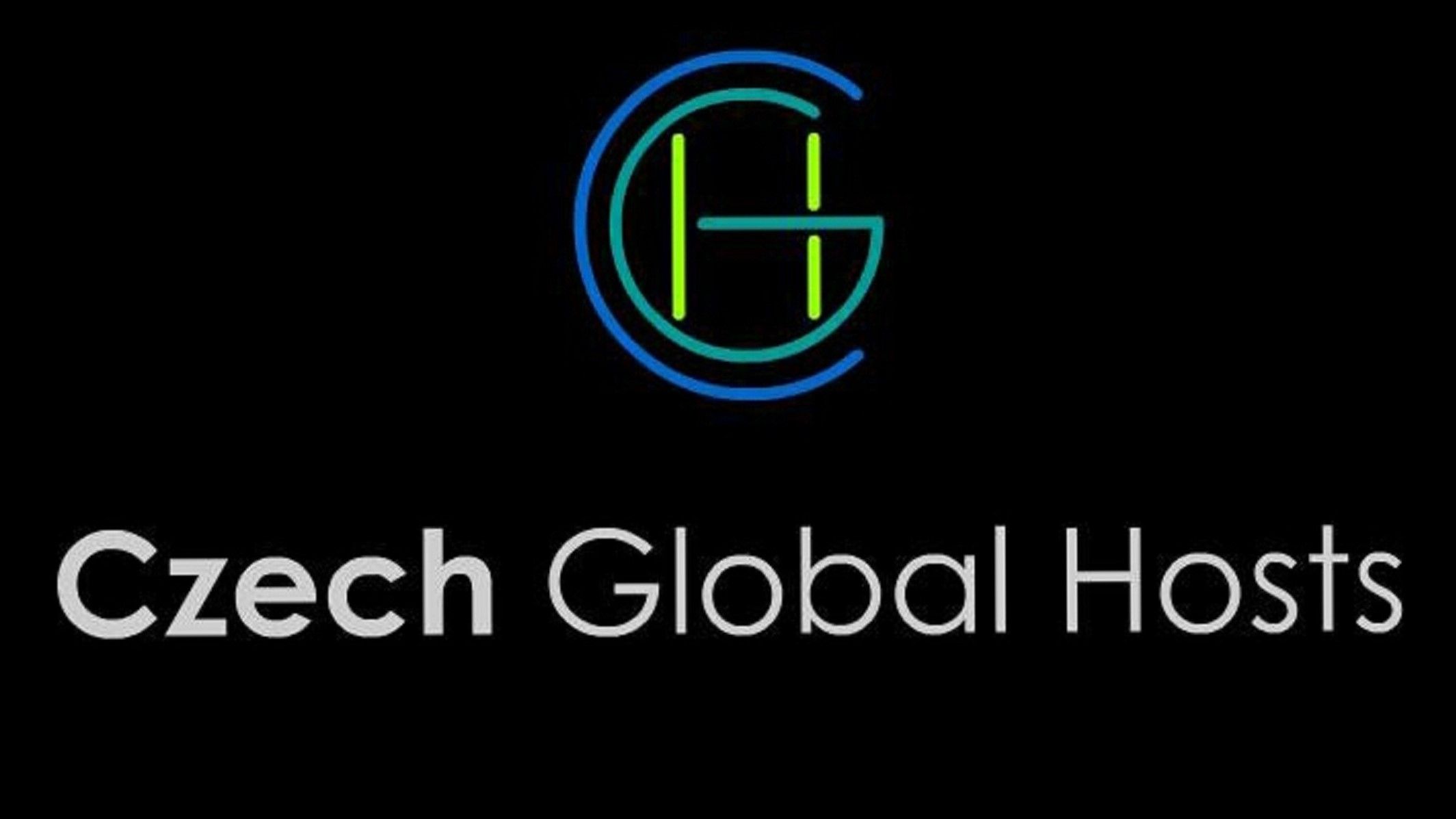 ---

---