---
It must be pretty clear to virtually every human being on planet earth that sleep...most especially...adequate sleep, is very essential for the human mind and body. This is something a lot of us take for granted, due to our busy schedules and hyperactive lives.
But even with the need for the 7 - 9 hours of healthy recommended sleep time, do we all know what our body and minds are up to, while we are snoozing? Well, this article helps to put some of those activities which our subconscious/mind and body indulges in, while we happily snore, into perspective.
---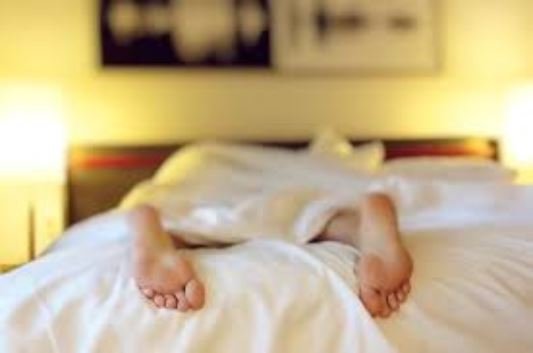 Image Source CC0 Public Domain
---
The Brain is a flusher
While in the snoring mode, your body and mine (coincidentally…😉) fundamentally works to cleanse our system of toxins. And during the sleep or resting period, damaged molecules and toxins get filtered, through a process that enables the brain and the body to rejuvenate.
What this signifies is that if you deprive the body of sufficient or adequate amounts of sleep, your brain would be unable to detoxify the body, and you know what that means? Well, it means we gradually begin to deteriorate neurologically….Yep! Terrible, I know. So, to avoid or prevent that, GET ENOUGH SLEEP! [1], [2]
---
Getting taller while asleep is real
Apart from the basic fact that we experience growth in height while we sleep, due to the production of growth hormones, there are other factors than cause us to get taller while we sleep.
Did you know that while you lay down in sleep, your spinal discs decompress and also rehydrate? This causes the discs to become bigger, thereby boosting your height slightly.
Also, for much younger people, the more deep sleep they get or allocate to their body daily will enable them grow further in height, until the age of say 19 – 27, when the body's growth plates closes and becomes replaced with solid bone. [3]
Did you know that the more open your growth plates are, leading to the release of growth hormones, the more you will continue to increase in height regardless of other factors? For more on this, read [4]
---
Calorie burning during sleep, makes you lose weight
Already we know that the body burns some calories even while we sleep, despite the body's inactivity. However, what a lot of people do not know is that through the night, we expel humid air and lose water from the body through perspiration, thereby losing weight.
Compared to the day, we do not consume food or beverages to counter this effect, while we must be deep in sleep. Hence, we drop in pounds or weight by morning.
Also, while we sleep, our body deals with hunger hormones (for our own good, in most cases). How does this work, you may ask? Well, we are equipped to fight off the cravings of junk food, if we are able to get adequate amount of sleep the night before the junk-food consumption. [5], [6]
---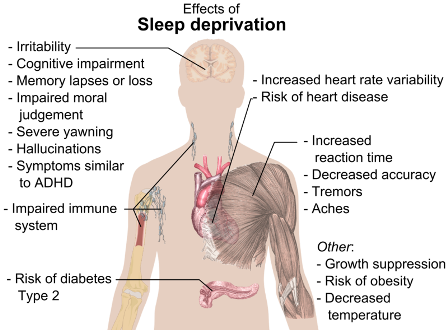 Image Source By Mikael Häggström - CC0 Public Domain
---
Sleep boosts a healthy skin
As we sleep or rest, the protein which is responsible for a healthy skin and youthful appearance, collagen is produced at an increased rate.
Ironically, the collagen protein, which when released at higher levels promote vibrant and resilient skin, is stimulated by growth hormones which are released as we sleep and slumber. [7], [8]
---
Our mind creates dreams at night
Despite the fact that so many of us claim that we don't dream at all at night, the truth is that just because you can't actually remember dreaming doesn't mean that you aren't dreaming.
Studies have shown that most of us get to forget about 95 to 99 percent of our dreams. Why this happens isn't exactly clear, but some medical and psychological theories suggest that it may be because we aren't concentrating on our dreams while in the dream land.
Another theory as to why most people don't recall their dreams, and hence conclude that they don't dream is probably because while we are asleep, the hormone (norepinephrine) that is linked with memory is turned off. This makes the brain unable to encode the night visions or dream experience into memories. [9]
By the way, we tend to dream for as much as 2 hours during a night of about 8 hours of sleep. (I bet your dream, could even form a Hollywood movie, eh? 2 hours of dream? I'm sure my dreams would be a blockbuster….😁) [10]
---
Body drop in temperature
Unless you are sick of some kind of ailment, when we find ourselves in dreamland, our body temperature normally drops. The significant rate at which our body temperature drops is synonymous with the reducing the rate at which the body burns calories and releases the melatonin hormone which regulates sleep and wakefulness. [11], [12]
---
You unknowingly wake up numerous times during sleep
Our body often goes through a strange cycle where we wake up so many times within an hour (in some cases, about 15 times), during the night. It is said that this phenomenon is usually experienced when our body is shifting from one sleep stage to another. [13]
However, it is also known that the several periods of wakefulness is quite brief that we don't get to remember them, in most cases. [14]
---
Your own involuntary jerk can wake you up
So many people get to experience sudden involuntary contraction of muscles in a phenomenon known as a hypnagogic jerk, which is produced when they fall asleep. [15]
Whether you are sleeping alone or a partner, you may experience that sudden jerk which is quite significant enough to wake you up back up from dreamland. [16]
---
Conclusion
Without a doubt, adequate sleep and rest impacts greatly on our health in so many ways that can even be mentioned. In order words, good sleep, is equivalent to good health.
Seeing as there are so many benefits associated with the various sleep-related health facts about, it is paramount that everyone of us, should adopt a daily schedule that enables us to get recommended duration of sleep every night, in order to keep our body, mind and soul healthy and in one piece.
Nutritional habits should also be adjusted and healthier food or feeding habits would go a long wat to enable us have sound sleep at night as well, which ultimately translates to a healthy body and mind.
---
References & Further Reading:
nih.gov | npr.org | ncbi.nlm.nih.gov | healthguidance.org | livestrong.com | thegabrielmethod.com | webmd.com | alaskasleep.com | sleep.org | medicalnewstoday.com | https://sleep.org | tuck.com | sensitivesleepers.com | drweil.com | wikipedia.org | livescience.com]
---
---
Thank you for your time and for reading.
If you found this post interesting, then kindly UPVOTE, RESTEEM and FOLLOW @rickie, for more.
---
---

---