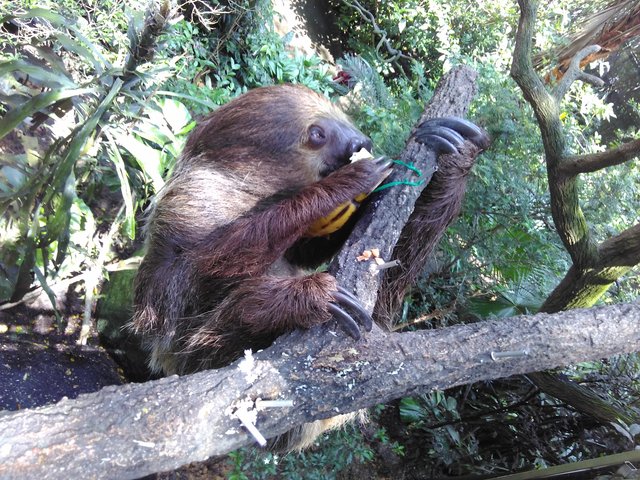 Source
Judging from the title, you might think I hate sloths but don't get me wrong, I do not hate sloths nor do I have a personal agenda with them. After I read @jznsamuel's post about sloths I was wondering why sloths are not extinct yet given their slow movement speeds and pretty much non existent defense mechanism. This led to some funny comments on his post as you can see below.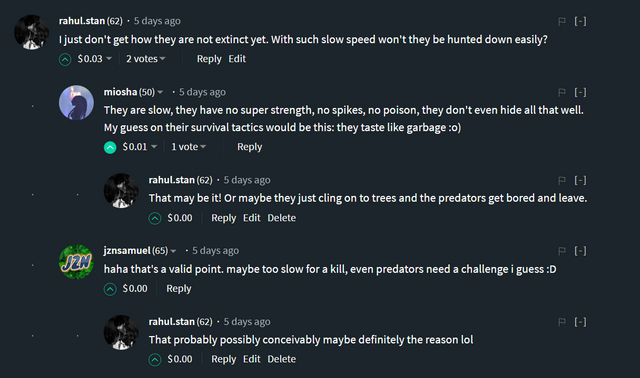 So I got to researching and here's what if found.
Sloths are slow, lazy and stupid. Another such creature that comes to mind is the dodo which is also defenseless, quite slow and can't attack very well. And guess what, the entire species were hunted down to extinction. On the same premise, sloths should have went down the same road, but they didn't so there must me a reason why.
---
Before we get into it, here is some information about sloths.
Sloths are mammals that live on trees and eat plants as well as insects and sometimes even small birds and reptiles. They are found mainly in Central and South America. Similar to koalas, they spend most of their time eating and sleeping.
They are not very large in size ranging from 50-60cm in length and with a short tail. There are mainly 2 species of sloths: two toed and three toed.
---
Now coming back to the main topic as to why are they still around.
Although they are omnivores, they mainly eat leaves and leaves have very little energy stored in them, so in order to conserve energy, they lower their metabolism rate and move very slow.
Another reason for their survivability is that they have very less natural predators, mainly eagles, snakes and jaguars because not many apex predators can climb up tall trees and there are not many birds that can take on the sloth.
---
So there you have it.
Thanks for reading.

Reference:
a-z animals