Last Thursday, the IceCube collaboration announced the discovery of a cosmic source of both highly-energetic neutrinos and gamma rays. It consists in a first of a kind, which is why this news is so exciting for the particle physics and astrophysics communities.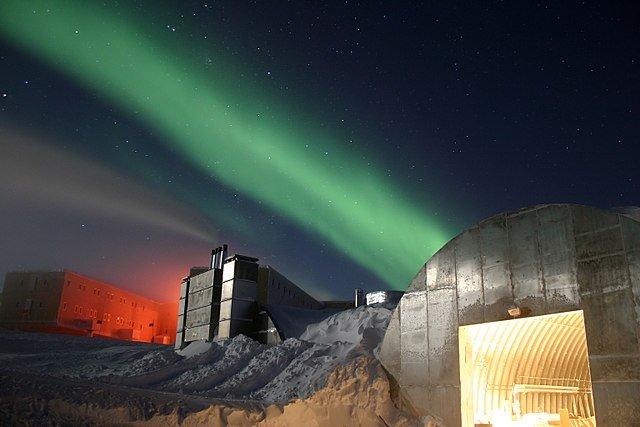 [image credits: Chris Danals (public domain)]
In my recent posts, I discussed two interesting features of neutrino data from the OPERA and MiniBooNe experiments, connected to the fact that the three known species of neutrinos oscillate into each other when they propagate.
Today, we will significantly deviate from this topic and move to neutrino astrophysics: neutrino reaching Earth after a long trip in space.
I will try to make this post self-contained and define slowly all the necessary concepts. Please do not hesitate to ask any question if needed.
---
NEUTRINOS IN A NUTSHELL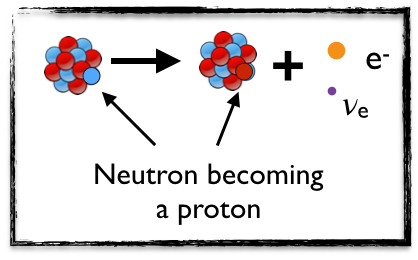 [image credits: homemade]
The picture on the right is my favorite picture to introduce neutrinos. It shows the decay of an atom into another atom, together with the emission of an electron and a neutrino.
Neutrinos were introduced more than 100 years ago, when physicists were discovering radioactivity.
From the study of atomic decays such as the one of the picture, they concluded that the energy produced by the reaction was shared by the visible electron and an invisible guy, that was coined a neutrino a bit later.
Today, these phenomena are well understood, in particular at the fundamental level of the Standard Model of particle physics.
However, among all the three interactions embedded in the Standard Model, neutrinos are only sensitive to the weak force. As a result, they can travel long distances, following a straight line, without interacting with anything.
This is crucial for what concerns cosmic rays.
---
COSMIC RAYS
Whilst radioactivity was being discovered (100 years ago), cosmic rays were also discovered by Hess. He discovered that Earth was bombarded by particles coming from space, and actually got a Nobel prize for this.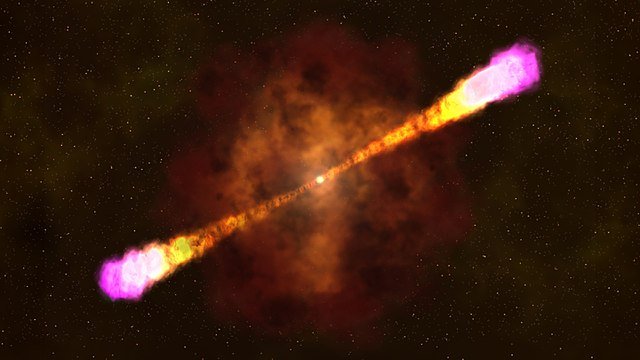 [image credits: NASA (public domain)]
Those cosmic rays can be made of many different particles (including neutrinos but also all the elements of the periodic table) and have energies spanning dozens of orders of magnitude.
The mechanism behind their creation and their acceleration to such high energies is still unknown today, so that it lies at the core of the astrophysics research program.
But why focusing on neutrinos?
Most cosmic rays are made of charged particles or photons (the latter being better known as gamma rays). As a result, they will interact with anything they will encounter on their trip to Earth, and in particular with all the strong magnetic fields populating space. There is thus no way to understand where those particles are coming from (unless we could know it by another mean), as the trajectories are bended by all these interactions.
This is however not the case for neutrinos that are no electrically charged. As said above, neutrinos only interact very weakly (in contrast to photons that interact with almost everything). Neutrinos can consequently travel straight to us directly from the place at which they have been produced.
They offer hence a way to get details about potentially distant sources of cosmic rays, as arriving on Earth unaltered, carrying information about the most distant places in the universe.
---
THE ICECUBE OBSERVATORY
By their stealthy nature, neutrinos are difficult to detect. However, thousands of billions of them go through Earth each second. Therefore, managing to detect even a tiny fraction of all of them would be sufficient to get something to study with high precision.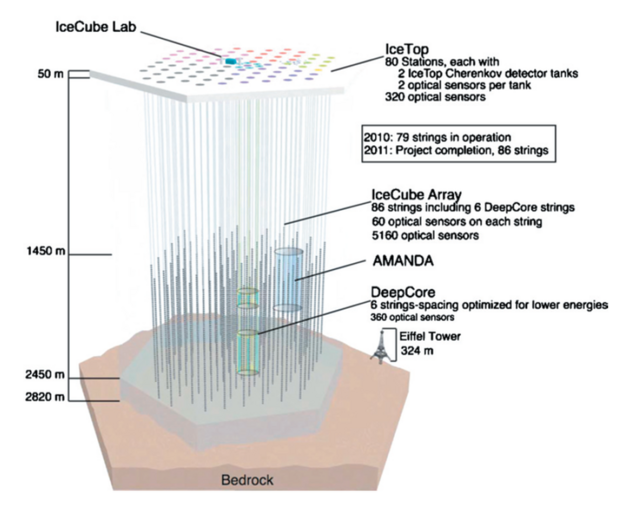 [image credits: Cmdrjameson (CC BY 3.0)]
This is the idea behind IceCube.
First, we maximize the size of the detector. If something occurs rarely, but equally everywhere, just scouting a huge space increases the chance to observe something.
The IceCube detector is a detector of 1 km3. As can be seen on the picture on the right, it consists in a huge array of strings full of electronics. In total, we in fact discuss more than 5000 sensors!
Next, we need a good material to make the detector of. Antarctic ice was chosen. At IceCube, neutrinos are not directly observed but reconstructed instead from their interaction with the ice.
When a neutrino hits an atom of ice, it generates a bunch of charged secondary particles than will emit Cherenkov light. Similarly to an airplane emitting a "bang" when it accelerates beyond the speed of sound, particles emit blue light when they accelerate beyond the speed of light in a given medium (in Antarctic ice, the speed of light is only of about 230.000 km/s).
This blue Cherenkov light is then detected by the electronic sensors of the detector. From its properties, one can then reconstruct the original neutrinos and derive their features.
---
THE DISCOVERY - A BREAKTHROUGH IN ASTROPHYSICS
On September 22nd, 2017, IceCube recorded a very highly energetic neutrino originating from a very far distance in the universe. An alert was sent to telescopes world-wide to investigate the same area of the universe, but with gamma rays.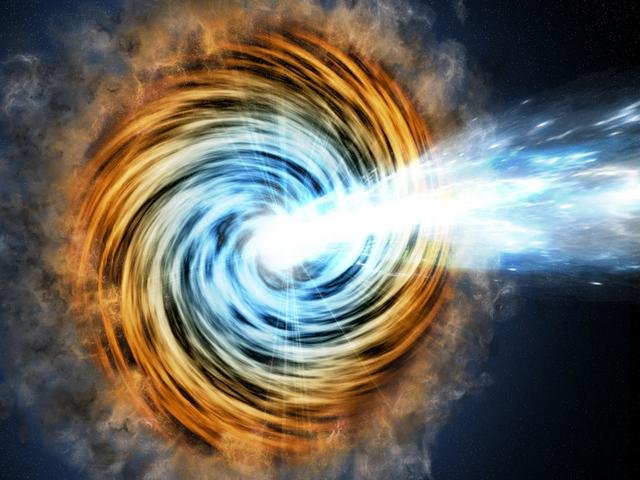 [image credits: M. Weiss (CfA)]
The apparent source was a blazar that carries the fancy name of TXS 0506+056 (we are so good with names :p).
A blazar consists in a giant elliptical galaxy with a rotating black hole in the middle. One important feature of such beasts is that jets of very highly-energetic particles are emitted from the poles of the blackhole.
Neutrinos being apparently emitted from there were hence recorded by IceCube. So far, nothing exciting but as said above, a neutrino alert was sent to many telescopes all around the world.
And here is the exciting news: several gamma ray observatories detected flares of gamma rays coming from the exact same location! This convergence of observations convinced the community that the blazar was the source of both the cosmic neutrinos and the gamma rays.
And by "convinced", I mean "proved" in physical terms. The significance is of about 6.5 sigma. This means we are reaching a confidence at the 99.99999999% level.
---
SUMMARY AND TAKE-HOME MESSAGE
Last Thursday, the IceCube collaboration has hence announced the first observation of a cosmic engine, the TXS 0506+056 blazar, capable to produce very energetic cosmic rays. This astrophysics object is indeed capable to produce and accelerate cosmic rays to incredible energies way above what man can build (by a factor of hundreds of millions).
The evidence is supported not only by neutrino observations with the IceCube detector located in Antarctica, but also with another neutrino telescope called ANTARES. Moreover, the observation has been confirmed with gamma rays, X-rays, visible light and radio-waves through about 20 telescopes including Fermi-Lat and MAGIC.
Why is this exciting? Well, this is simple: it is the first observation ever of an object capable to produce highly energetic cosmic rays. Before last Thursday, we had only suppositions about the sources of such cosmic rays and how they could get such huge energies.
Now, we have one confirmed example of a potential source of very-energetic cosmic rays.
---
STEEMSTEM
SteemSTEM is a community-driven project that now runs on Steem for almost 2 years. We seek to build a community of science lovers and to make Steem a better place for Science Technology Engineering and Mathematics (STEM). In particular, we are now actively working in developing a science communication platform on Steem.
More information can be found on the @steemstem blog, in our discord server and in our last project report.