NASA InSight: Engineers are still studying the problem with the HP3 probe
Researchers are still trying to understand why one of the InSight's main instruments is stuck just below the surface of Mars.
---
Heat probe (HP3). Photo taken on March 19, 2019. Local sunny time 15: 21: 01. Each photo from the IDC camera has a 45 x 45 degree field of view.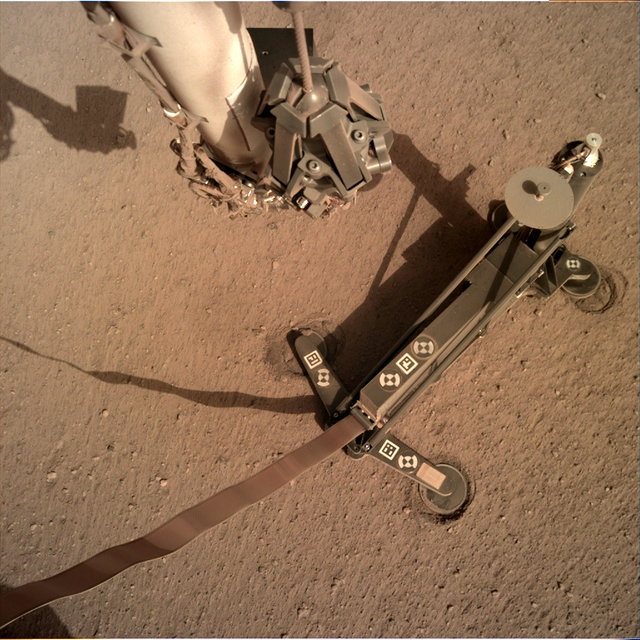 By NASA/JPL-Caltech link [Public domain]
---
The HP3 heat flow probe blocked in the interior of the planet at a depth of about 30 centimeters below the surface of Mars. The instrument should be located at a depth of 3 to 5 meters to be able to properly examine the interior of the red planet. Researchers are planning new attempts to solve this difficult situation, for example a new frequency of hammer striking. It may take up to several weeks to analyze the whole situation. It is possible that the probe has become stuck on a single stone or stuck in a layer of hard gravel, or if the probe's power cord is stuck in its casing and blocks the device. NASA's scientists planned to inject the HP3 probe into the Martian soil within a few months of landing the InSight mission.
---
An ICC camera photo from March 19, 2019. Local sunny time 17: 40: 17.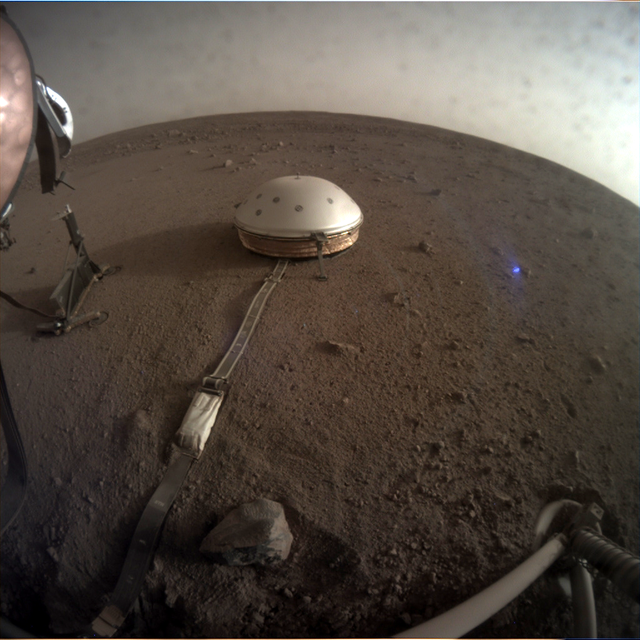 By NASA/JPL-Caltech link [Public domain]
---
A team of scientists is planning to conduct a digging test for 10 to 15 minutes. This allows the InSight seismometer to listen to hits in a hard layer or to an obstacle encountered, giving possible clues, what may block the probe. In the meantime, the camera on the InSight robot arm will check the design of the HP3 probe in the hope of catching the movement of its housing caused by the attempt to dig further. In April, a replica of the HP3 probe will be sent to the Jet Propulsion Laboratory of NASA in Pasadena, California. This will enable the JPL team to start earth testing solutions to this problem in consultation with the German Aerospace Center (DLR) engineers cooperating in the InSight project in Germany.
---
Photo from March 22, 2019. Local sunny time 09:38:02. Each image from the ICC camera has a field of view of 124 x 124 degrees.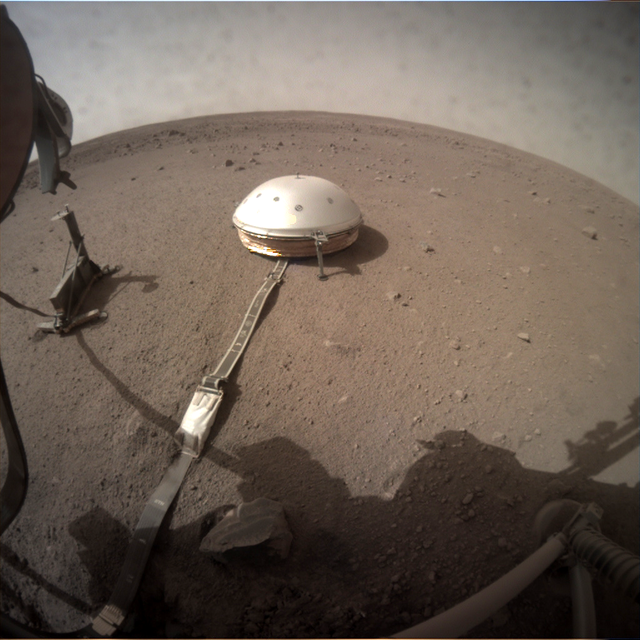 By NASA/JPL-Caltech link [Public domain]
---
The second main instrument of the InSight mission, the seismometer works well. This instrument is placed on the surface of Mars and has already been covered with a wind and thermal shield. The sensitivity level of this device is 100 times better than the best seismometers used on Earth! The only problem with the seismometer is that it has not yet detected the slightest earthquake. Complete lack of activity is not surprising. NASA's scientists expected low seismic activity on the Red Planet, but they hope to be able to register anything during the entire mission.
Greetings to lovers of Astronomy!
---
References:
Engineers Still Studying Problem with InSight Heat Flow Probe
InSight
---