Radioactive Pigs, Wild Pigs, Sick Pigs: The Trouble with Pigs Today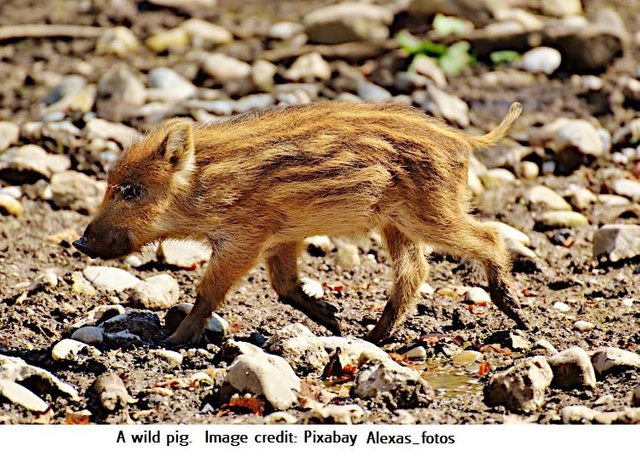 There's trouble with pigs these days. Radioactive pigs are turning up in Eastern Europe, and Japan. A virulent pig virus is spreading from continent to continent. And, across the globe feral swine invade farms, meadows and even urban environments. What is going on with pigs? How did things get to this state? And have humans in any way contributed to the problem? For each one of these problems, I'm afraid the answer is, "Yes."
---
---

---
---
Before we get started, let's establish some ground rules. What exactly do we mean when we use the terms wild boar, pig, feral swine, and boar? Live Science offers some guidance. The word 'boar' can refer to an undomesticated pig of any gender, or it can refer to a domesticated male pig that has not been castrated. 'Hog', according to Live Science, refers to a domesticated pig that weighs more than 120 pounds. And all of the above can be called swine.

Mitochondrial DNA analysis indicates that the modern pig--boar, swine, hog, all members of the Suidae family--descended from a common ancestor in Eastern Asia about 500,000 years ago. Other members of the Suidae family include warthogs and pygmy hogs.
Common Warthog (Phacochoerus africanus) Johannesburg, South Africa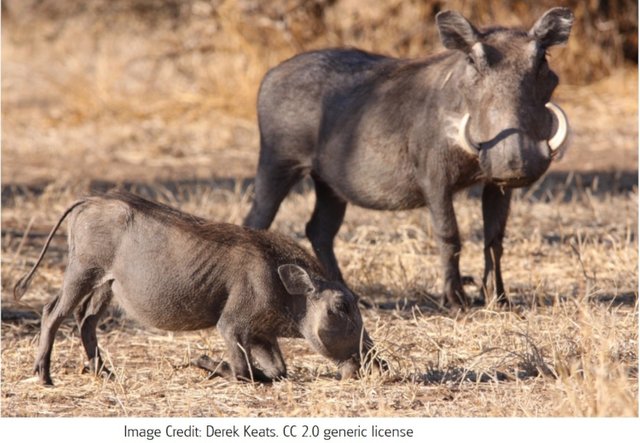 Image License Link
About 9,000 years ago, the wild boar was domesticated in at least two areas of the world, simultaneously (that's the theory). This occurred in China and in Eurasia. The boar is considered to be native to these areas.
The pig, according to the Rutgers University 4-H Animal Science Resource Blog, is one of only fourteen large animals on earth that have been domesticated. It is estimated that there are two billion domesticated pigs in the world. However, millions of pigs dying from African Swine Fever right now (in China especially--see this post by @mobbs) are cutting into this number.

What is it that makes an animal suitable for domestication? According to Rutgers, domesticated animals share four traits:
They're omnivorous, which means they don't need meat to sustain them. Meat would be a very expensive diet and inefficient use of resources.
They're social--not aggressive, like grizzlies, or crocodiles.
They reproduce quickly. In the case of a pig, the gestation period is 114 days and the litters can have ten or more piglets.
They have a hierarchical social structure. Whoever is at the top of the hierarchy is the leader. In domestication, humans place themselves at the top of that hierarchy.
---
---
---

---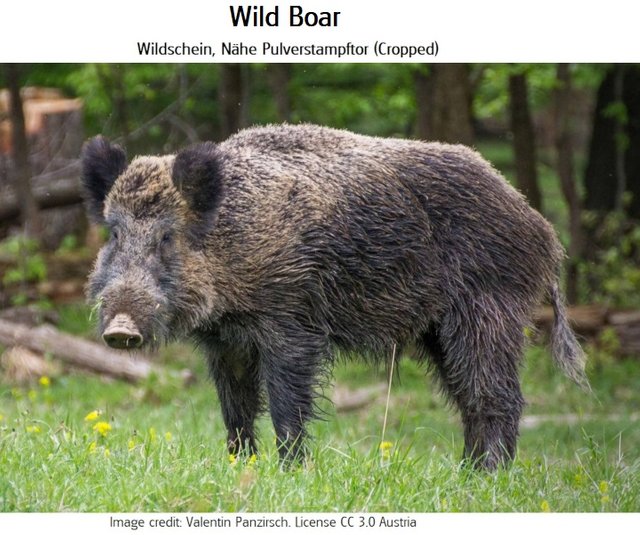 License link
---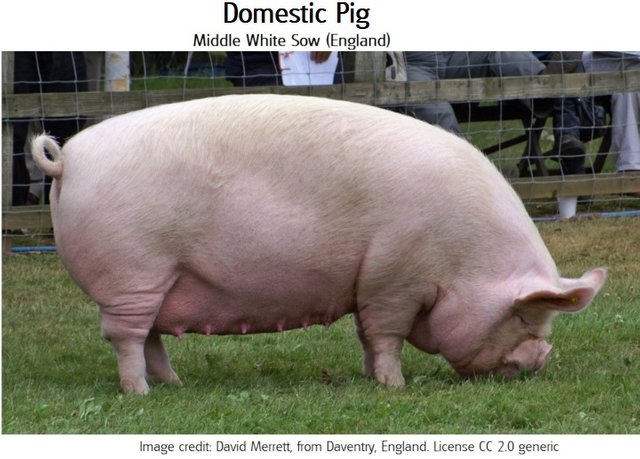 License link
---
The evolution of boar to pig was not accidental. It was managed by humans through centuries of selective breeding. On the genetic bridge to domestication are hybrid pigs. This hybrid bridge may be found also as domestic pigs revert to the wild. In the picture below, a family of hybrid pigs roams into territory occupied by cattle.
---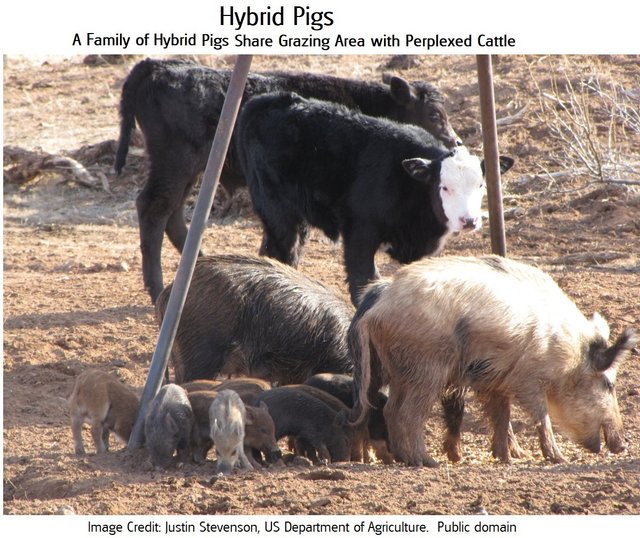 License link
---
---


---
The answer to this question depends on where the boars are found. It has something to do with climate change, with the grey wolf kill-off, with recreational hunting, with human incursion into boar territory, and it may even be related to the disasters at Chernobyl and Fukushima.
Climate Change
A 2015
report
from the University of Veterinary Medicine in Vienna links the expansion of wild boars to milder weather. One of the reasons given is a greater availability of crops for forage.
In the picture below, boars are shown grazing near residences in Berlin Germany. The photo is a still shot from a video that may be viewed by clicking on the link. Video/image credit: CC 4.0 license Leonhard Lenz.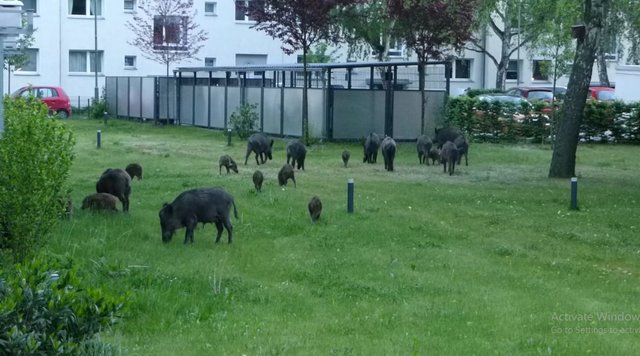 Picture License Link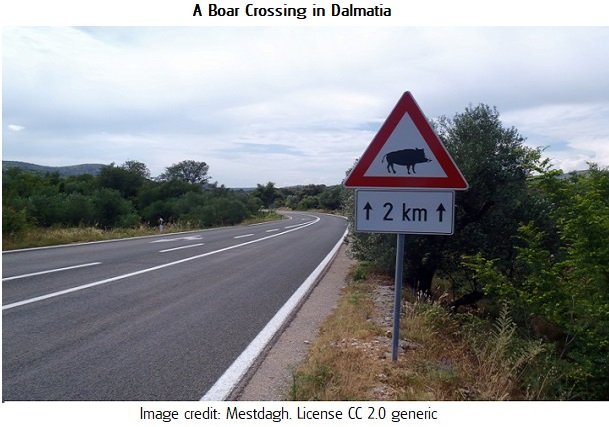 Picture link
---
Disappearance of the Grey Wolf
Largely through deliberate activity by humans, the natural predator of the boar, the grey wolf, no longer exists in affected areas. Except for humans, the boars do not have significant natural enemies in these areas and therefore may roam safely. In Japan, where the indigenous wolf has been eliminated, the South China Morning Post reports that boars threaten to overwhelm some communities.
Map of areas in which the grey wolf no longer exists.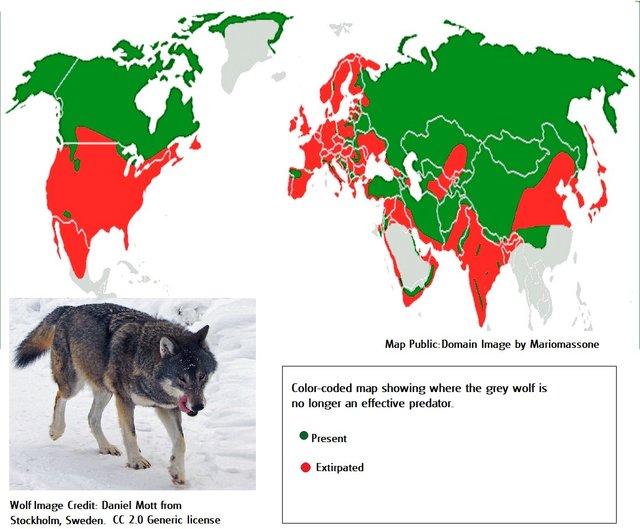 Wolf License Link
Map License License
---
Hunters Introduce Boar into New Areas
In many areas of the world responsibility for wild boar population growth may be placed on hunters. Hunters deliberately introduced the boar as game. In some cases (the U. S., for example) the boars mated with wild pigs. The pigs had been introduced centuries before. The resultant hybrid pig is
wreaking havoc
in countries across the world.
Humans Move Into Boar territory
This phenomenon is especially evident in
Hong Kong,
where people regularly run into wild boars on city streets. Apparently, boars and humans coexisted in Hong Kong traditionally, but their presence has become more obvious recently. Check out this
video
Authorities claim the issue is exacerbated when people feed the animals.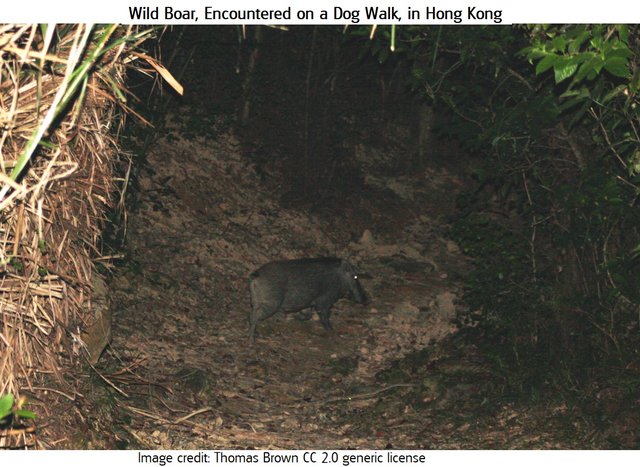 License link:
---
Chernobyl and Fukushima: Radioactive Pigs
As you might guess, these are a legacy of the Fukushima and Chernobyl catastrophes. As people moved out of the evacuated communities, boars moved in. They foraged on contaminated plants. In the case of boars,
foraging for mushrooms and truffles is a particular hazard.
These food sources absorb nutrients through the environment, not their roots, so they are highly efficient at absorbing atmospheric radioactive material.
A Domestic "Truffle" Pig Is Shown Foraging for Truffles in Gignac, France.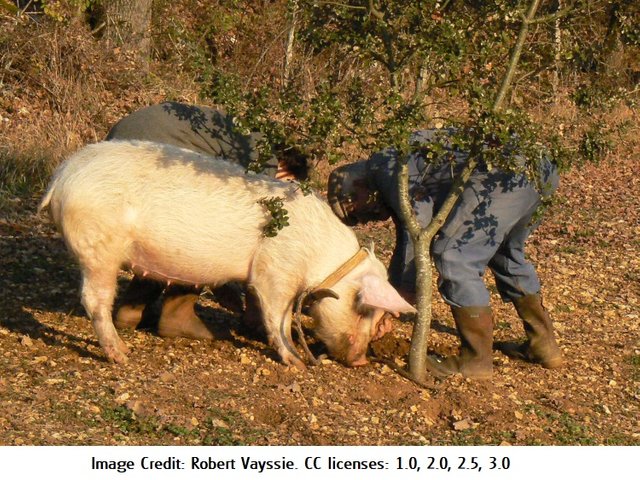 Image License Link
---
---
---

---
According to an official Victoria State government release, the feral pig is considered a major biosecurity threat in Australia. The animal was declared an established pest under the Catchment and Land Protection Act 1994.
Official Queensland government recommendations for pig control include shooting from helicopters, poison baiting and custom built electrified fences.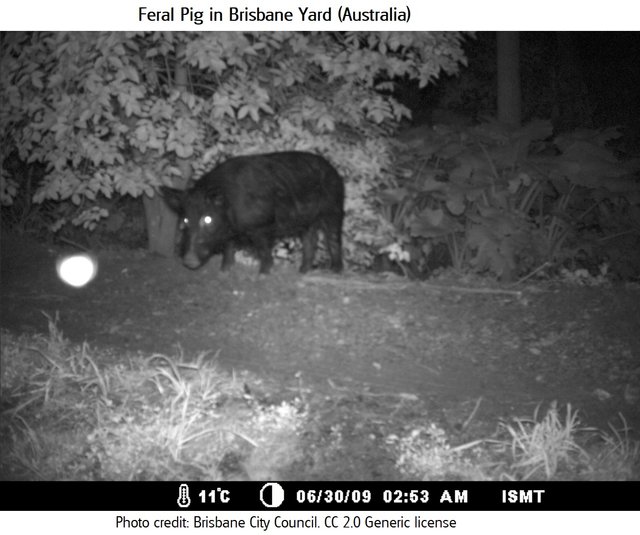 One of the reasons pigs are so successful in Australia is that the adult boar has no natural enemy--except for humans. Piglets are susceptible to dingo and large predatory birds, but adult boar are quite protective of their young.
As is true of most countries, pigs are not native to Australia. A 1953 study by the University of Melbourne suggests that the first pigs were introduced by European explorers (including Captain James Cook). Those pigs found Australia to be very congenial and proliferated in the wild.
---
---
---

---
The experience with wild boars south of the U.S. border is variable. Mexico has experienced an 'invasion' of the animals from Texas (where the Texas Parks and Wildlife agency estimates 1.5 million feral hogs roam). However, a 2015 article in Perspectives in Ecology and Conservation from Brazil, does not strike the note of alarm sounded in the U. S. or Australia, but does recognize a problem with boars as an invasive species. There is a suggestion in the article that wild swine might serve a positive purpose. It is hoped that local residents will hunt boars instead of other animals and therefore shield the native animals from extinction.
Hunting boars in Brazil is suggested as a measure to control boar population growth.
In 2018, another study out of Brazil offered helpful insight on discouraging boar 'invasions'. Without an active eradication program, wild boars disappeared from a formerly heavily affected area. The authors of the study conclude that landscape alteration drove the pigs away. The territory, Northern Pantanal, was declared a Protected Area some years ago, and was transformed from grazing land to mostly forest. The pigs, it turns out, follow cattle because of grazing opportunities.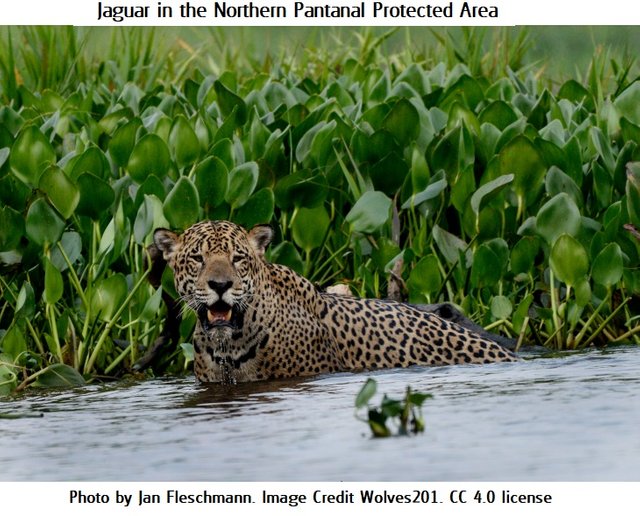 Image License Link
Overall, in South American countries, it seems that climate and the existence of natural predators (including jaguar and puma) has helped to limit boar population growth.
---
---
---

---
Wild boars are significant reservoirs of disease and pose a potential threat to animal and human health. A number of diseases have been associated with swine. Many of these diseases may be transmitted to other animals, and in some cases, to humans. Ticks are one mode of transmission.
Most recently a new threat has emerged in Brazil, where vampire bats (Desmodus rotundus) are common. Between 1% and 10% of these bats harbor the rabies virus. Images of the bats feeding on wild swine have been captured on camera.The danger of transmission to domestic animals is significant.
Vampire Bat (Desmodus rotundus)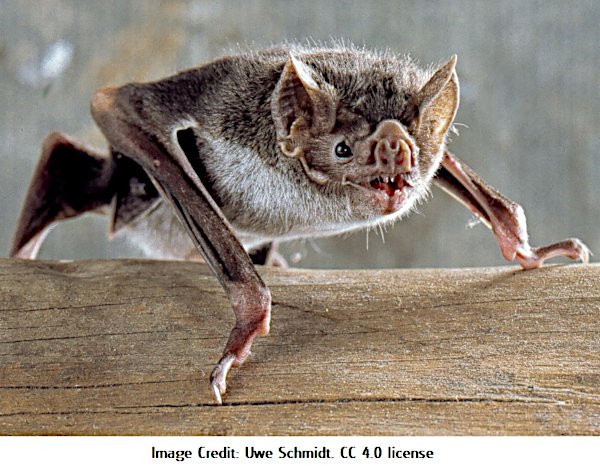 License link
Sick Pigs
Right now, African Swine Fever is killing pigs by the millions. So far, this virus has not crossed the
species barrier
and infected humans. However, research indicates it is
possible
this species leap may happen in the future.
This raises the broader issue of sick pigs, the way pigs are raised that leads to sickness, and how that sickness may affect humans.
An article in the September 2019 issue of Nature carries the headline: Alarm as Antimicrobial Resistance Surges Among Chickens, Pigs and Cattle. The antibiotics given to the animals in intensive breeding--factory farms--are the same ones given to humans. Because of the way these medicines are used in factory farms, they may no longer be effective.
There is a secondary, but no less important issue associated with factory farming. The waste produced from the animals (manure) is directed into lagoons, such as the one pictured below. In these lagoons, fecal bacteria and low levels of excreted antibiotics intermingle and resistance to the antibiotics grows--as described in this Food and Water Watch paper. Also, the waste leaches into groundwater and contaminates the surrounding community.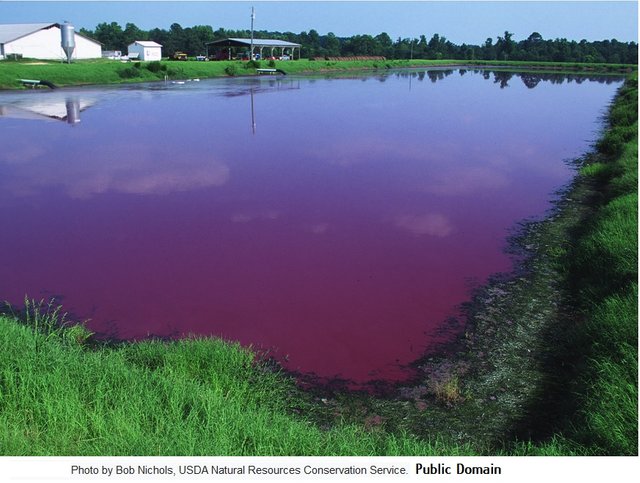 License link
---
---
---

---
After writing this blog, I would have to say: the trouble with pigs is People. From the very moment that people decided to domesticate pigs and live in close quarters with them, the exchange of diseases became likely. As people moved about the globe and introduced pigs into new areas--whether for hunting or food--the natural ecological balance was disturbed. As people eliminated natural predators that might have controlled pig populations, the balance was once again disturbed. As people moved toward intensive farming and changed breeding practices to increase yield, the natural balance was disturbed. Finally, as people built nuclear energy plants that failed and contaminated wide swaths of land, the natural balance was disturbed.
Pigs have served humankind well for centuries. But there has been limited human understanding of the pig and the natural environment pigs and humans share. Is there a pig-related catastrophe lurking in the future? Hard to tell. A mending of the ways is surely due in the pig/human relationship.


Thank you for spending your time with me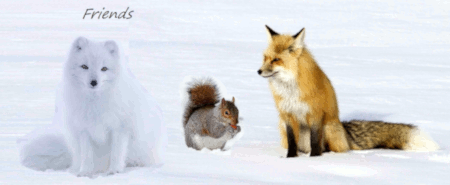 Steem on!

Picture Credits (not already noted)
Some accent pictures are from
Paint 3D

The rest of the accent pictures are adapted from
Pixabay
, as noted below:
Boar
Pig
Wild pig
Snake
Puma
People outline

Some sources used in writing this blog
---