Why do we age? The role of telomeres in aging
In my last post I tried to give you an overview of different aging theories that are either un-true or that just partially explain this phenomenon.  However, by the time I wanted to discuss some of the most realistic reasons for cellular aging, the post was already too long. To better understand our theories today we should consider from where they come from and how they evolved.
Until recently, the scientific community was convinced that single cells were immortal, and aging was due to "something" that occurred between cells. Nobody knew what that something was, but this belief came from a simple observation: single cell organisms apparently did not age while aging was much more prominent in multicellular organisms.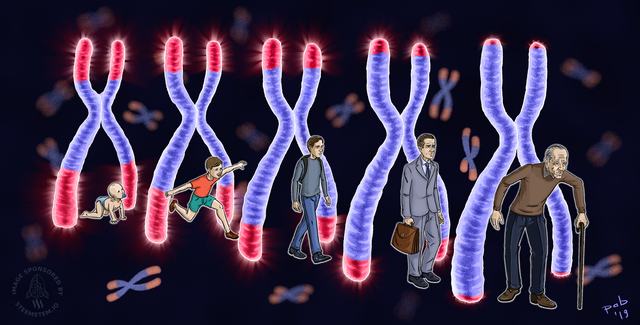 Image CC by 4.0 Courtesy of @pab.ink
Also, this belief was supported by flawed research. Dr. Carrel, a nobel prize winner in 1912, cultured chicken heart cells in a lab for 34 years. During this time he measured each cell division and allegedly confirmed that cells could divide indefinitely thus they could be considered "immortal". The flaw in the study was that they were feeding the cells with nutrient broth, that contained young heart cells. So, as long they were adding young cells, the culture continued to thrive.
We had to wait until the 1960s for this mistake to be revealed. Dr. Hayflick tried to repeat the study, but unlike his predecessor, he was more meticulous, and he made sure that no young cells were being added to the culture. As you imagine he saw completely different results and cells stopped dividing after a certain number of cycles.
These experiments by Hayflick were very important because they demonstrated that cells could divide only a finite amount of times before they become senescent (the Hayflick limit) and most importantly: he demonstrated that aging does not occur because of the passing of time, but it's related to cell division. For this reason, not all cells in our body age at the same rate. We have cells that do not divide and as a consequence they don't age, an example are cardiac muscle cells or neurons. Does it mean these cells are immortal? Far from it, because their well-being is determined by cells that do age.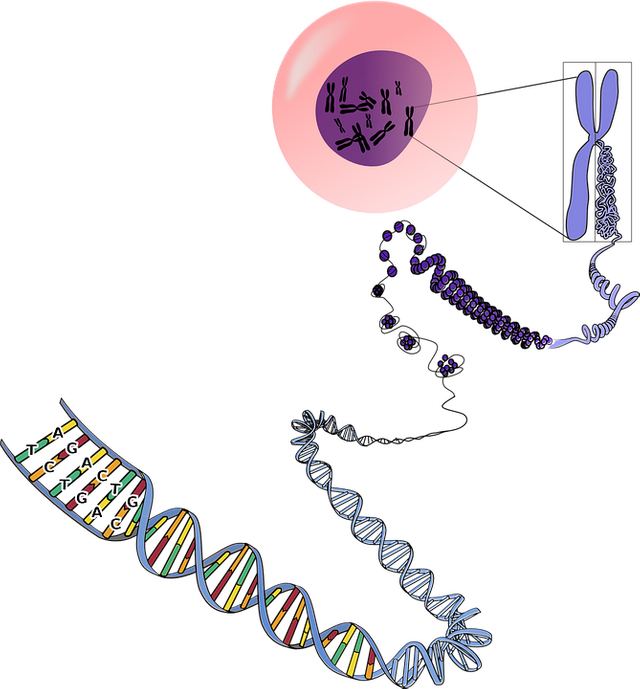 Now the question is: how can cell division be connected to cell aging?
It took a while to get the full picture. First, we needed to discover the telomeres. They were discovered by Hermann Muller in 1938 but it was Dr. McClintock a few years later that discovered their function, for that she received the nobel prize. Each telomere is basically a repeat of the same sequence TTAGGG over and over and over. In the past, we thought these sequences did not have any function and were part of what we call "junk DNA". Instead, today we know that despite the fact that these sequences comprise only a tiny fraction of the chromosomes, they protect the ends of the chromosomes, so their impact is profound.
Despite the discovery of telomeres in 1938, we had to wait until 1971 for a Russian scientist to have an "eureka moment" while taking the metro in Moscov. His name is Alexey Olovnikov and his intuition helped us better appreciate the true function of telomeres and their role in linking cell division and aging. He realized that basically there was an issue with the replication of chromosomes.
We all have an enzyme called DNA polymerase that replicates our DNA. The problem is that this enzyme needs to hold on to a small sequence of DNA and it can't replicate the sequence directly underneath. Because the DNA polymerase can only replicate in one direction, there is always a small sequence that is not being replicated. When does a cell need to replicate its DNA? During cell division. For this reason, the more a cell divides, the shorter its telomeres get. It is estimated that in humans telomeres are initially 15,000 base pairs long and can shorten to around 8,000 base pairs. Olovnikov linked telomeres shortening to the Hayflick limit.
There is only one issue: some cells can divide more times than other, so there must have been a mechanism for replicating and restore the telomeres. Later on we discovered another class of enzymes that does just that, they are called telomerases.
We are made up mostly of somatic cells. These cells do not express telomerases, this means that at ever division, their telomeres shorten until they become senescent. However, there are some cells like stem cells and cancer cells that can express telomerases, for this reason they are able to divide many more times than most cells. When stem cells divide, they mostly generate somatic cells and only a small fraction of them remain stem cells but they are able to reset their telomeres and generate more stem cells and somatic cells. Unfortunately, this process is far from perfect and over time also stem cells can experience shortening of telomeres. This is the reason why stem cells from old people don't work as well as stem cells from the young.
This is a fascinating topic, at least for me. In the next post I would like to discuss what happens when telomeres get shorter.
References:
https://www.ncbi.nlm.nih.gov/pubmed/6521502
https://www.sciencedirect.com/science/article/pii/0531556596000058