Cinnamon's story and therapeutical effects
Cinnamon is a spice that has been used for thousands of years. It comes from the bark of a tree (cinnamomum verum) that can grow up to 12 meters high, but you won't probably ever see one that tall because they are generally kept as bushes up to 3 meters high for practical reasons.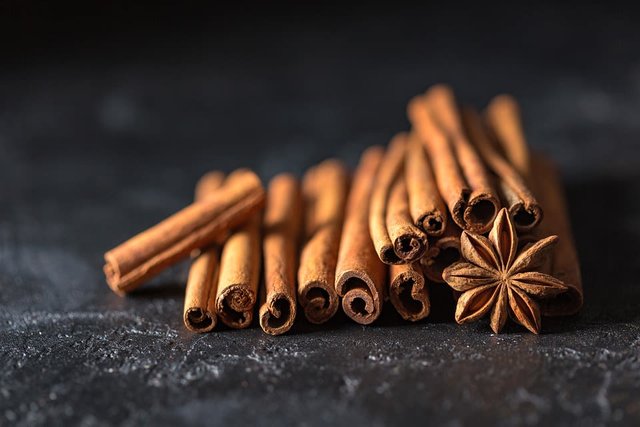 The name Cinnamon derives from the arabic/hebraic term amomon, which means fragrant plant, in Italy we call it "cannella" because it has a tubular shape, like a cannon. 
More than for its therapeutical uses, cinnamon was probably most known for being really expensive. For the romans, Cinnamon was more expensive than silver, and jokingly they use to say that cinnamon only grows in marshes protected by giant bats and that merchants were placing these monsters there to keep the price high. 
Jokes aside, trading Cinnamon was a serious business until few centuries ago. The Dutch for instance, were willing to resort to any means to keep the monopoly of cinnamon trade, from conquering the island of Ceylon, to bribing indian kings to destroy all the sources of cinnamon to keep their prices high.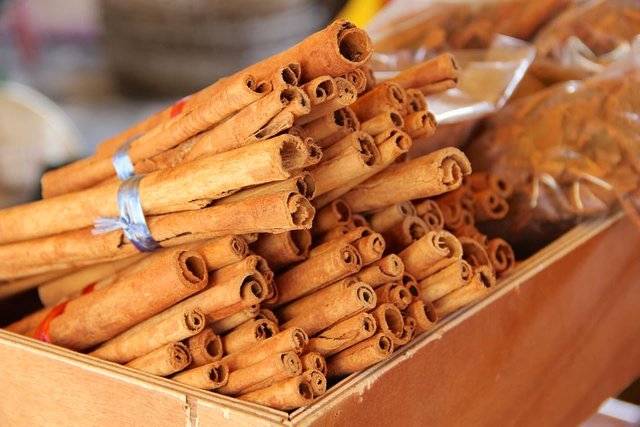 Let's see why people were willing to pay such high price for cinnamon and its therapeutic uses. 
The bark of Cinnamomum verum contains cinnamaldehyde while the leaves are rich in Eugenol, which has anesthetic proprieties. 
In the past, it was mainly used for food flavoring and as a digestive tonic. However, Cinnamon was recently found to be a potent fungicide. It was tested to treat oral candida in patients with HIV because their immune system is weak, and it was found to be quite effective in reducing the infection. Probably the most interesting molecule in the Cinnamon is cinnamaldehyde because it may possibly be a natural antidiabetic agent. 
There are more than 400 known plants to have glucose-lowering effects, however, Cinnamon is probably the only one that we know of that can have the dual benefit of hypoglycemic and hypolipidemic effects. 
Once metabolized, the cinnamaldehyde is converted to cinnamic acid in the liver. This molecule can increase the effects of insulin and also improve the ability of cells to metabolize fats. Studies conducted in diabetic rats revealed that administration of cinnamaldehyde had the same glucose-lowering effects of glibencamide, a commonly used drug, without having the same side-effects. Moreover, rats that received cinnamaldehyde also lost weight. 
That sounds great, so why aren't we using Cinnamon to treat diabetic people? Well, its effects have been only proven in diabetic rats, to my knowledge that are no human studies that prove the efficacy of Cinnamon as an antidiabetic. The only study in humans that I know of is the study that proves the fungicidal effects on HIV-infected patients. 
Cinnamon was also traditionally used to treat loss of apetite, upset stomach, as tea for common colds and to treat flatulence. 
Are there any side-effects to Cinnamon?
It was found that for some people it can cause skin allergy if used in massage oils also Cinnamon could interfere with the metabolism of different drugs. For example, it contains coumarin which interferes with warfarin (a common anticoagulant). So if you take this drug and you also use plenty of cinnamon please inform your doctor because it could mess up the doses and cause bleeding. Also, pregnant women may want to keep consumption of cinnamon low.
*This post has also been published in Narrative after 7 days:
https://www.narrative.org/post/cinnamon-s-story-and-therapeutical-effects
References:
- https://www.thespruceeats.com/history-of-cinnamon-1807584
- Herbal medicine by Steven Karch
- Nursing Herbal Medicine handbook
- https://www.sciencedirect.com/science/article/pii/S0944711306001772