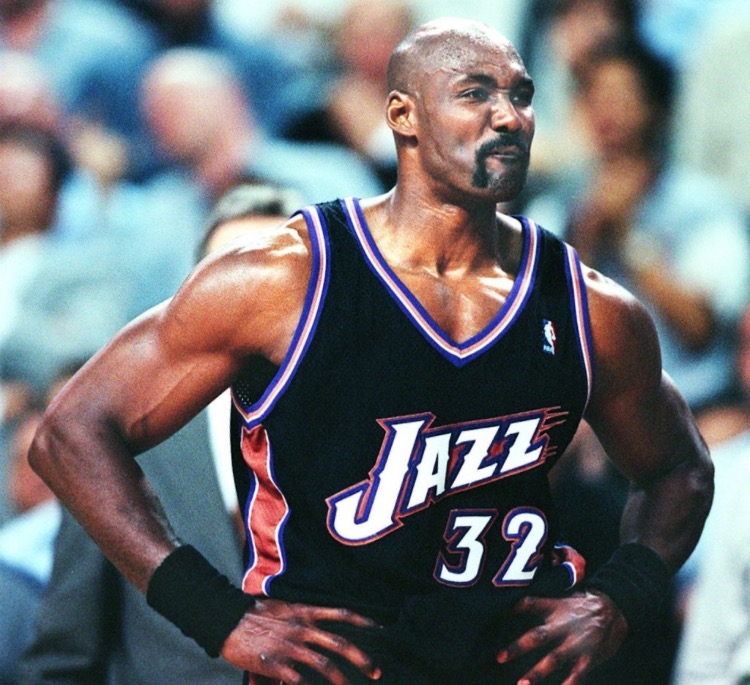 ---
SteemSports Presenter:
@mateonav53
---
SteemSports Editor:
@scottybuckets
---
Fans coined his nickname "The Mailman" because he always delivered. His detractors might say that name works because he always mailed it in during crucial moments. Either way you look at it, he had one of the most historically significant NBA careers propped up by a foundation of honest to God hard work and an Iron Man's will to show up every day.
---
Just like the guy who delivers your letters and packages in rain, sleet, or snow, Karl Malone always showed up for work. Before he incurred his first major injury at the final moments of his career with the Los Angeles Lakers, he only missed seven games in 18 years playing for the Utah Jazz. He made the All-NBA First Team an incredible 11 seasons in a row at the Power Forward slot and never missed the playoffs in 19 years on the court. His dominance propelled him to the top of the NBA's all-time scoring list, where he sits at second place under Kareem Abdul-Jabar with 36,928 career points scored. A big reason he made it there was how often he got to the free throw line and sank his shots (13,188 total free throw attempts and 9,787 makes).
---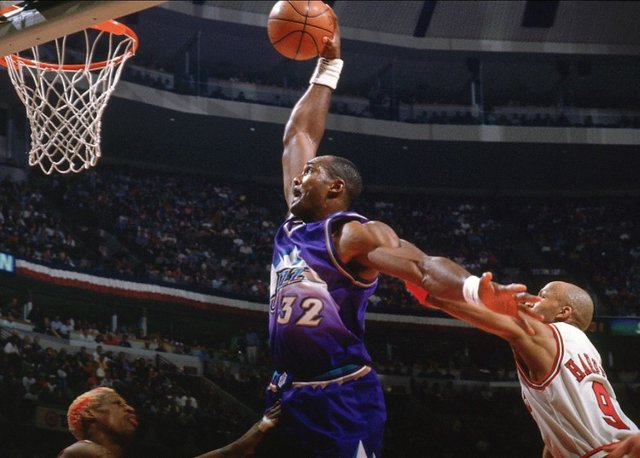 ---
He attended college at Louisiana Tech University, where he led the Bulldogs to their first NCAA Tournament appearance in school history. He averaged about 19 points and 9 rebounds in college on the way to picking up his fabled nickname. He got them to the Round of 32 in 1984 where they fell to Hakeem Olajuwon's and Clyde Drexler's #2 seed Houston squad nicknamed Phi Slama Jama. The next season, his team advanced a little further to the Sweet Sixteen where they were defeated by #1 seed Oklahoma Sooners.
---
Malone declared for the NBA draft in 1985 where he was selected by the Jazz with the 13th pick. He was actually so certain he'd be selected by Dallas at #8, that he rented an apartment down there before draft day! They ended up taking Detlef Schrempf. The Knicks took Patrick Ewing with the #1 overall pick, but you could argue Karl Malone was the best player out of the whole draft that also yielded Chris Mullen, Joe Dumars, and Charles Oakley. The mid-round selection felt like an insult to Karl, and it provided fuel to his motivational fire. That chip on his shoulder gave him an extra edge in his workouts and the game performances. He always played his best when he felt like he was being slept on.
---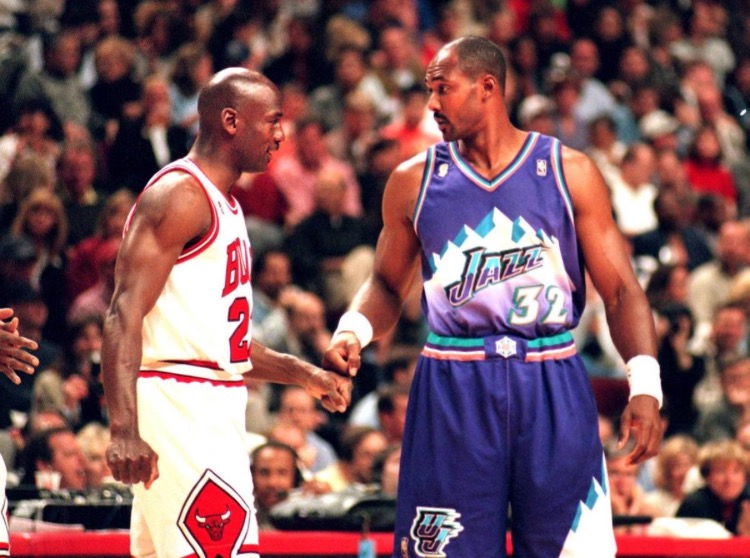 ---
Power forwards were typically defenders and rebounders in his time, but Karl's spectacular offense created a wave of scorers at that position like Tim Duncan and Kevin Garnett. His base of operations was the post, where he grew into a deadly shooter and feared passer. You would always have to watch out for that elbow whenever he grabbed a rebound or faced up a defender. He would hold the ball high above his head and swing it down and around to either side of his face to create space from his opponent. A lot of times he'd end up knocking them right in the nose, garnering a reputation some viewed as either "dirty" or just "tough". Take a look at his career highlights
here
---
His physical play definitely rained pain down on his enemies, but he was so muscular you don't realize how many hits he took in the process. Journalists remarked after games that he would take off his jersey and he'd be full of bleeding cuts and bruises. His ankles would swell up so hard they'd look like mini-tree trunks. One time he played with a torn tendon in his middle finger on his shooting hand, refusing to get surgery because that meant he'd miss time. Utah appreciated him for that rural tenacity to get up and not make excuses when the job needed to be done.
---
He had a tough time getting out of the West throughout his NBA career. Him and his partner in crime, John Stockton, lost in the Western Conference Finals three times in a row before they made it to the final round. Karl Malone was league MVP when they faced Michael Jordan and the Bulls in the 97 Finals. It was a competitive series but Chicago prevailed in 6 games for Michael's 5th championship. It was the first time that squad ever made it to the Finals, so when the 1998 season rolled around they were focused and determined to avenge their loss. They felt like they were the superior team to an aging Chicago Bulls roster, and that might've been true during the season. Karl always thrived as an underdog, but in 98 they were the favorites to win it. That pressure that comes with being favored affected Karl and he ended up getting his ball stolen by Michael on the last Utah possession in Game 6 which led to Michael's mythical NBA Finals game-winner and (then) last
shot
of his career.
---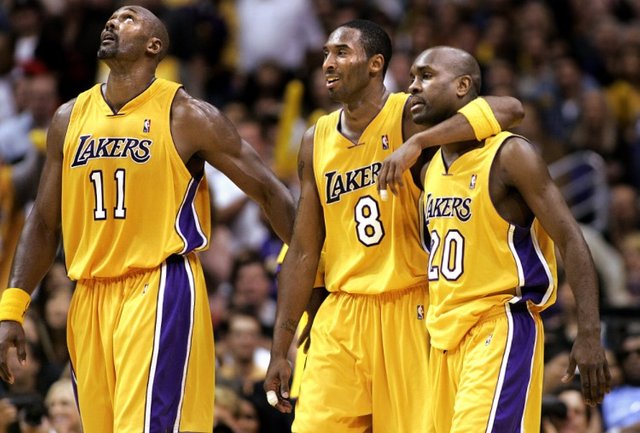 ---
He was hailed as the greatest Power Forward of all-time before he even retired, but nowadays its hard to argue him over Tim Duncan's five championships and equally impressive consistency. If we could get an NBA time machine and pit prime Karl Malone against prime Tim Duncan in a game of one-on-one I would probably take Karl just because of his uncanny physical strength. A lot more NBA players started taking the weight room more seriously after seeing Karl muscle the whole league around. If you put John Stockton and Karl Malone in a different era like the 70's or late 2000's I'm sure the greatest pick and roll combo of all time would've walked away with multiple championships. Honestly, they don't need that to validate their potency on the hardwood.
---
Thank you for following
@steemsports
and you can find me
@mateonav53
---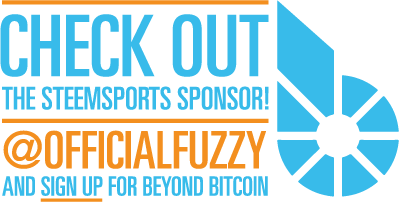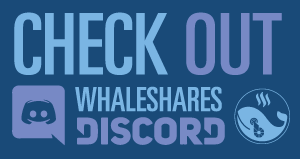 ---

---