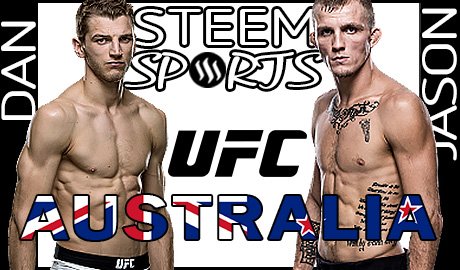 ---
Join us for another SteemSports community sports initiative, cast your votes, help distribute SP, and make a difference!
---
---
Votes must be in by November 26th - 3:30 PM PST/6:30 PM EST (November 27th 12:30 AM UTC)
---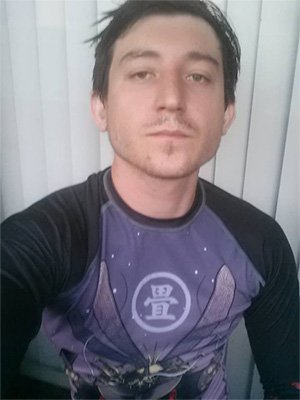 SteemSports Presenter: Brandon Kaplan @brandonk
Two prospects vie for a shot at the top 30 in their division. A featherweight showdown that may steal the night's action....enjoy the hostilities!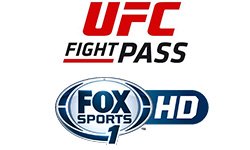 ---
Dan "The Hangman" Hooker vs Jason "The Kid" Knight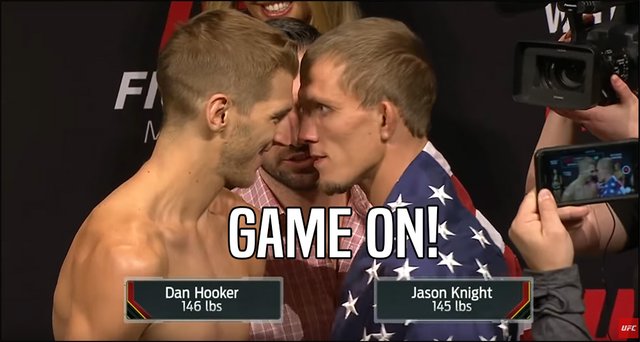 ---
Fighter Profile: Dan Hooker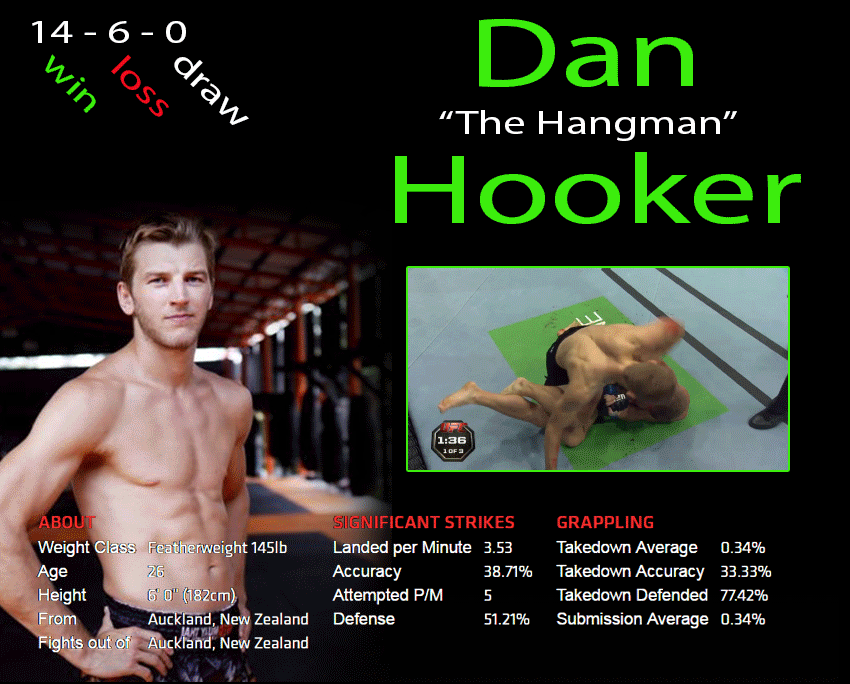 Daniel 'The Hangman' Hooker is a freestyle Muay Thai fighter representing the Tiger Muay Thai fight camp. He is quite the lanky featherweight at 6 foot with a reach of nearly 76 inches...but he packs a lot of pop for his slim frame. He throws kicks, punches, and elbows from all angles mostly specializing in landing powerful head kicks from short range and inside the pocket.
'Hangman' is tremendous at stopping takedowns and keeping fights on the feet, this was evidenced by his transitions and reversals against grappling magician Hatsu Hioki who ended up succumbing to blows in the 3rd round. Hooker has shown dangerous hellbows from top position, and his ability to maneuver out of danger against Yair Rodriguez show he is slowly piecing his full arsenal together. Hooker is a top prospect and will be representing for a lot of people in the crowd that night...with momentum on his side, we may see the best version of him yet!
---
Fighter Profile: Jason Knight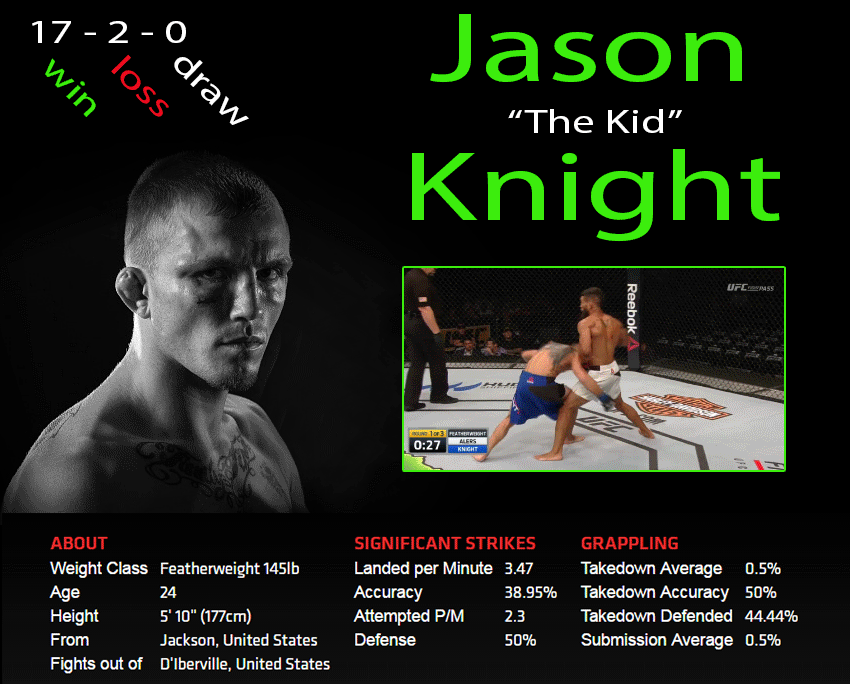 Jason 'The Kid' Knight is the Florida raised southern boy who is always down for a fun fight. He is making his third walk to the cage after an incredible fight of the night performance his last out against Jim Alers. The onslaught Knight brought with constant forward pressure and volume striking forced Alers to become a wrestler at most points in that fight..and Knight constantly sought submissions from his back and top position and forced the fight for 15 minutes.
'The Kid' takes well to his moniker and fights as scrappy as they come, he will not stop the forward march even if he finds himself eating a lot of shots for being taken down. Knight's fight style is that of a man with nothing to lose, and his trash talk in the cage compels opponents to fall into his brawlish demeanor. This kid is ready for violence...and in enemy territory, he will bring it with everything!
---
The Matchup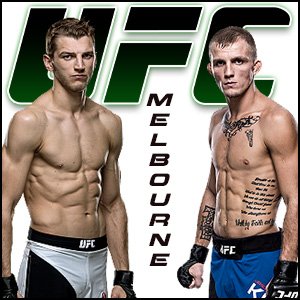 This fight is a close one and will come down to each man's attrition and fight iq. Dan Hooker comes into this fight a pretty hefty favorite as his experience, and overall finish potential is a much more present threat than anything Knight has shown in the cage. Knight has shown more susceptibility to wrestlers and being held down.. Whereas Hooker has shown to have problems starting slow and finding his rhythm too late in the fight.
This fight is one that puts two prospects in the fire, and with such a similar skill set to each other....this fight most likely sees the cards. Expect transitions, reversals, and changes of momentum all through this fight..this is matchmaking at it's finest!
---
Odds
| Dan (FAVORITE) | Jason |
| --- | --- |
| -170 | +160 |
| 1.59 | 2.60 |
| 10/17 | 8/5 |
References:
---
Predictions
Will Martin
Kamikaze Overdrive MMA
Interesting STUFF
John Phillips
Crazy head stomp
---

---
Support SteemSports Ultimate Vote Betting … together we all can win!
---
How to Play
Vote on the main post to enter the bet (main post rewards will also be added to the Stake Pool).

Cast your Vote Bet on ONLY ONE outcome for which you bet on for the win (Multiple comment votes will be automatically disqualified by the script, unvote and revote counts as multiple votes and will be disqualified).

After 24 hours, the post and related game comments payout to the pool; remember 25% voters rewards are deducted from the total post payout value first as per Steem curation rules. Voters are rewarded in standard fashion in proportion to their Steem Power holdings.
The Stake Pool:
The remaining 75% of the total payout is paid out in 50% Steem Power and 50% in liquid currencies, the latter now varies in payout ratio after the new fork. To make the process less complicated, we have decided to use all paid out SBD to buy Steem in the internal market to create a grand total Steem Stake Pool.

30% of the Stake Pool will be retained, of which 15% will go to the writer/sports presenter of the post, and the 15% balance towards editing, development and advertising.

70% of the Stake Pool will be held until the event/game outcome is determined.

Once the winning outcome is determined, we will execute a proprietary developed script that will divide and pay out the Steem rewards equally, using the Power Up method, to Mass Distribute SP to all participants that voted on the main post as the entrance fee as well as voted on the correct comment representing the winning outcome.

Only participants with a Reputation of 35 or more will qualify to earn SP rewards, but non-qualifiers can still vote and comment in support of the redistribution initiative.

Entry cut-off time is the earlier of the post payout or the start of the event.
---
Disclaimer and Image/Source Credits:
Images used in this post are either paid for and modified, Creative Commons (CC) or image credits supplied.

Note the views and predictions of the presenters are their own personal views and do not reflect the views and opinions of @steemsports. @steemsports does not offer betting advice.

Errors and Omissions Excepted (E&OE). SteemSports is currently beta, currently no liability will be assumed for errors.

@steemsports reserves the right to amend future payout percentages based on the operation needs of the account.

@steemsports is not a traditional betting platform and no fiat currency is used as rewards or in casting bets; as such does not fall under any gaming and gambling jurisdictions; but even so, users are urged to first consult with the laws and age restrictions of their countries.

@steemsports in the unlikely event that when the Stake Pool is divided up between the winners and the nomenclature resolution goes below the third decimal place (example: 0.0001), then Steem decimal restrictions won't allow a payout and the pool will carry over to the next game.

Please vote responsibly :).
---
Copyright © Ricardo Goncalves 2016
---
Campaign Partners
---
@complexring - campaign supporting witness and advisory role
---
@nextgencrypto - campaign supporting witness
---
---
@riverhead - campaign supporting witness
---
@blocktrades - campaign supporting witness
---
---
@joseph - campaign supporting witness
---
---
---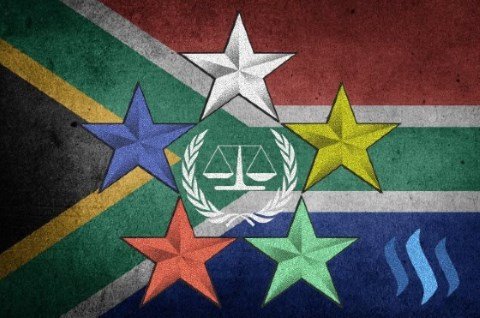 ---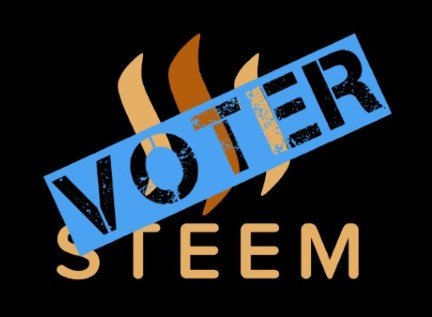 Autovote @steemsports posts with steemvoter.com and help us grow the SP Distribution Stake Pool!
---
Manual bets on comments must still be placed to pick winners!
---

---
Contact me, thecryptodrive to have your logos displayed in the footer of our posts in exchange for advertising @steemsports to your communities and initiatives, or for other worthy support.
---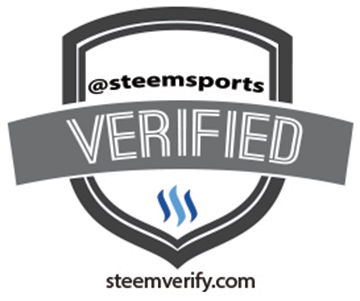 ---
Remember to UPVOTE, FOLLOW REPOST and SHARE on Facebook, Twitter, LinkedIn and others, in support of the @steemsports initiative!
---
VOTE BET BELOW!!! VOTE MAIN POST AND ONE OUTCOME ONLY!
---