SketchTravel in the Southwest - Arches
Arches National Park – #2 of 4 posts
---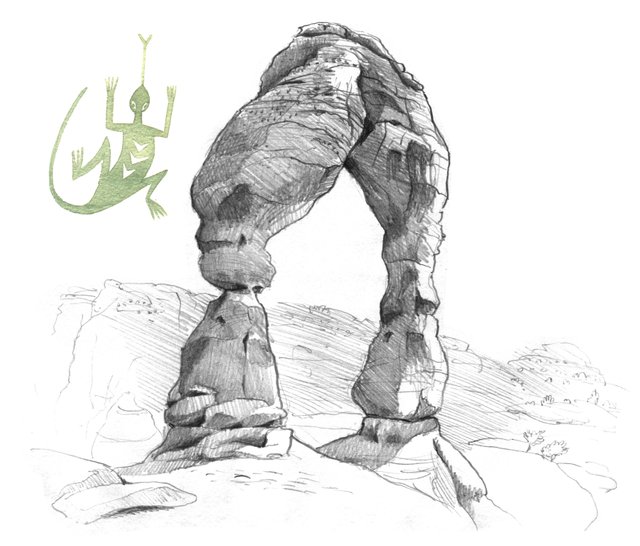 From my journal…
Moab – mountain bicycle capital of the world. The sky was white at 6:00am. I made tea and looked around at the place where I was staying – a small garden, the shed for bicycles, a cat by my door hoping to get fed. The morning sun rose at 7:30am over the east hills. A crow caws from one of the big cottonwood trees in the yard. Another cat is trying to catch a hummingbird. I made a quick sketch of the red rocks on the hilltops before leaving for another day of exploring.
Delicate Arch is the most recognized arch by far, and is honored on the Utah license plate. The hike to it cuts across desert sagebrush as it gently climbs up and around the hills that form the windswept basin which contains the arch. Near the top, the trail hugs the cliff on the right with a steep drop off on the left. It preoccupies your attention until you round the curve and come upon the view of Delicate Arch, seemingly coming out of nowhere, or at least somewhat unexpected. It stands proudly in a huge smooth bowl of stone, making you wonder how it is still there in all its majesty when everything around it has fallen away from erosion. It is such a perfect setting, you could almost imagine there is a caretaker keeping it all tidy and swept clean.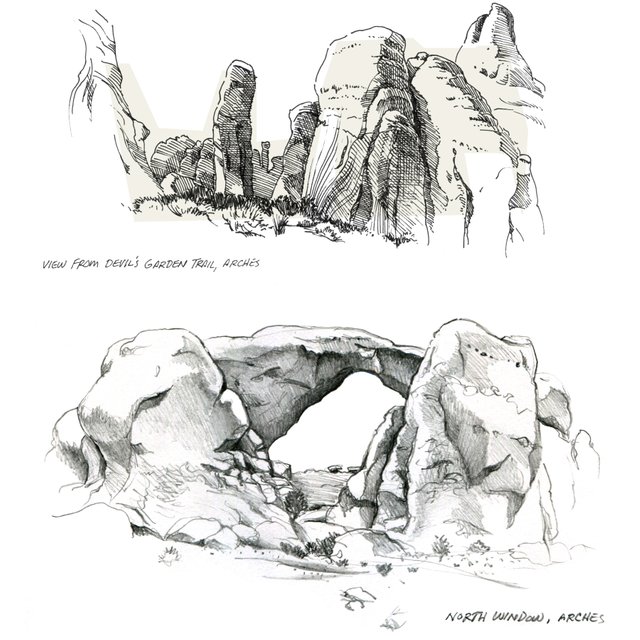 North Window Arch
---
This is one of two fantastic arches found on the Windows Trail. Turning off of the main Arches Entrance road at Balanced rock, I drove the short distance to the trail. The trail wanders through wide open country that allows you to experience these amazing arches from close and farther away as you take a relaxed walk around the area. Many interesting rock formations in addition to the arches.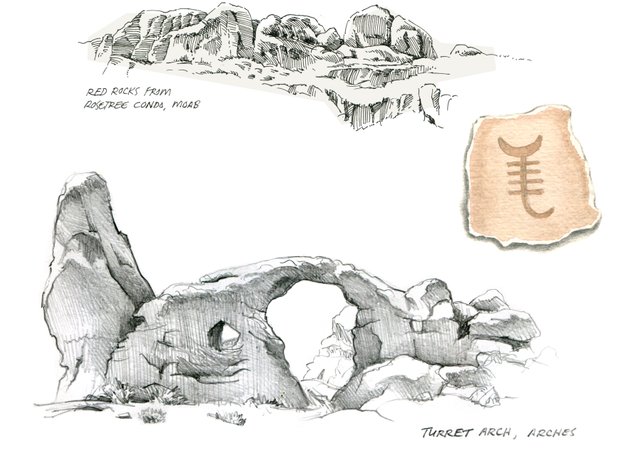 Turret Arch
---
The other arch on the Windows Trail is Turret Arch with its tall outcropping of sandstone acting like the protective tower of a fortress. This is pretty much the view from the trailhead (parking lot. You can't tell from this sketch, but these fantastic rocks are so large and accessible. They seem to just offer themselves to you, inviting closer inspection. The pottery shard was sketched in a museum and painted in with color later.
Please look for my other posts of sketch travels in the Southwest here as well.
© All Rights Reserved @mrsomebody

Steemians, thanks for reading this post. Please follow me at @mrsomebody and comment below.
---
My southwest posts:
#1 – Moab, Arches National Park
#2 – Arches, Arches National Park
#3 – Cliff Dwellings of the Southwest
#4 – Canyonlands