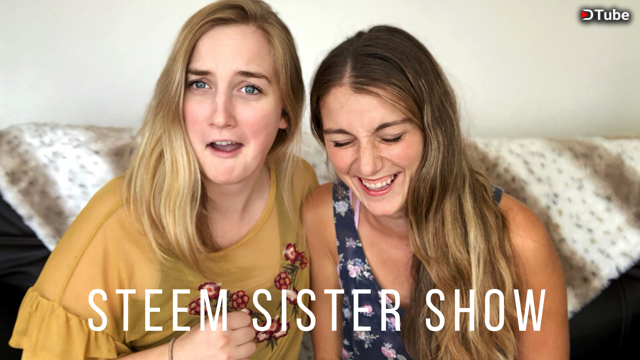 ---
Welcome to the 40th episode of the Steem Sister Show!
Your hosts are @coruscate and @maryjaney. We are two sisters using the Steem blockchain to chat about our life experiences and provide a little entertainment value to the Steemit Community.
Topic of this Episode – Canadian Habits


Random topic, eh? Actually, for those who don't know - Mary and I are dual citizens between the United States and Canada and our entire extended family is Canadian. It's been a while since either of us have spent a decent amount of time up north - and so we were curious to see what Canadian habits we would notice while we were there.
You guys were ALL over this idea! I couldn't believe how many fun listener questions we got for this episode!
Shout-Out To Our New Toronto Friends


We did some serious name dropping of the following Toronto locals in this episode - @dan-atstarlite, @jaybird, @originalmrspice, @lifesacircus. I hope you guys get a kick out of this episode.
Ps... Sorry in advance for throwing Toronto a little shade. ;)
Here are the questions covered in this episode:
@d00k13 – Why do Canadians say sorry even when it is no one's fault?
@daveonarrival – Is Tim Hortons actually part of Canadian's DNA, or is it just habit to go there?
After spending 5 days in Toronto, did you notice yourself picking up any Canadian habits?
@aussieninja – Are there any words or sayings that you thought the whole world used – that you later found out was just Canadian?
@anasuleidy – What is an original and strange tradition Canadians have? Can you demonstrate on camera?
Sorry Mary...


Sometimes we are laughing so hard that getting a cute picture together just isn't in the cards...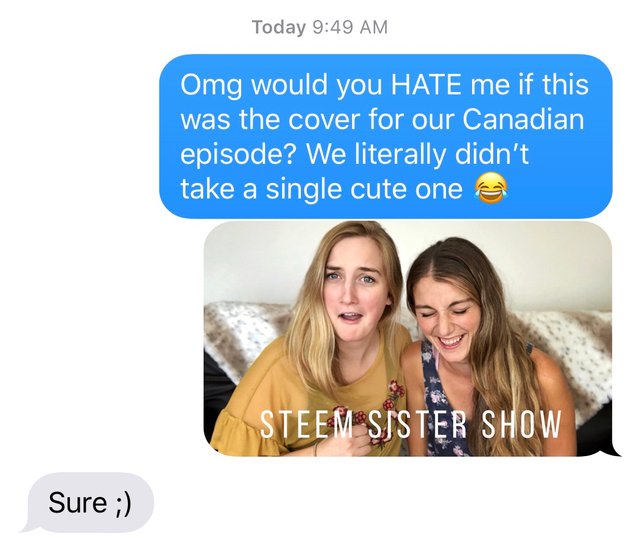 What is the Steem Sister Show All About?
We aim to bring more "non-crypto" related content to the Steem Blockchain. Although there is nothing wrong with this kind of content (@corsucate even posts on crypto related material sometimes) – we want to help create a better onboarding experience for new users. We talk a lot about attracting new users to the platform – but if the trending page is filled with crypto posts and flagging wars, they are likely to lose interest quickly.
We hope that by creating content that is more similar to what they are used to seeing on other social media sites – they will feel more excited about being here and creating content of their own!
How Does It Work?
We pick a different topic every episode, and then throw totally random questions about that topic in a hat and go back and forth. We always have a mix of our own questions and some audience questions. Our rule is that we cannot tell each other our answers before filming! So you guys are getting our raw, unfiltered reactions here.
Every episode we announce the next week's topic so people can submit questions.
Want to win some Steem??


If we chose to answer your question in the next show… we will send you 2 Steem! Now that's some easy money.
Next Week's Topic : Sustainability
As true Pacific Northwest girls - living an eco-friendly and sustainable life is just part of the culture. We are excited to chat about all the different ways that we have implemented more sustainable practices in our life to reduce our carbon footprint.
If you would like the possibility of winning 2 Steem - please submit your questions! Anything on the topic of Sustainability is fair game. Listener questions always end up being the best ones - so thank you in advance to everyone who submits one!
That's a Wrap!
We hope you guys enjoyed this episode all about Canadian Habits. I hope we didn't butcher the proper use of the word "eh" too badly.
With Love,
The Steem Sisters
@corsucate and @maryjaney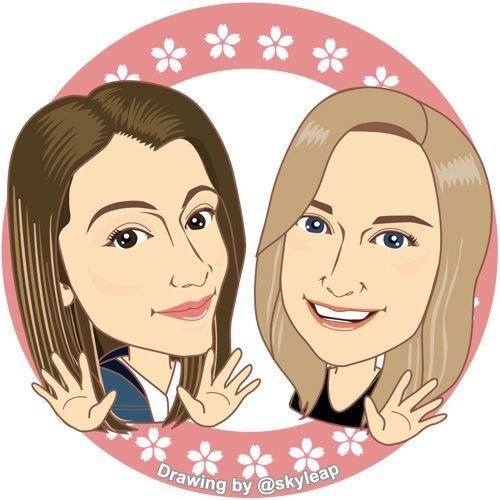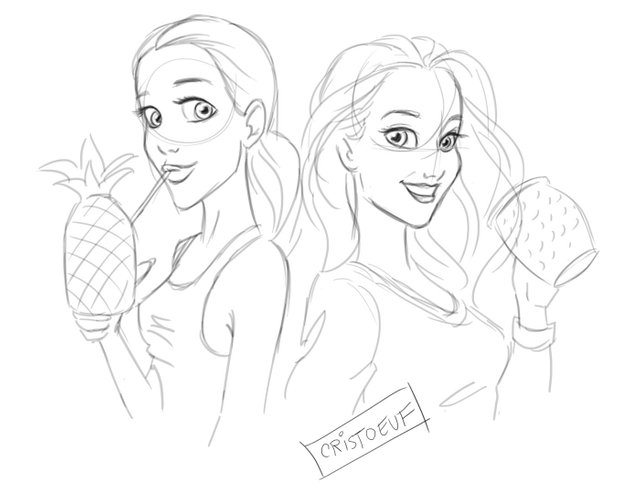 ---
Here is a YouTube link for anyone who needs it.
---
More of my Steemy Adventures
---
---
▶️ DTube
▶️ IPFS