Want to know what this series is about? Click Here
---

Welcome to another edition of the Steem Project of the Week!
Today I will talk about an old project here in Steem, but it is very useful for everyone who uses the platform, or at least owns some STEEMs or SBDs. This project is called Vessel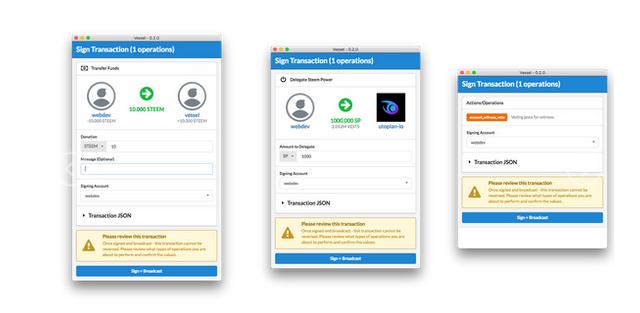 About the project
Vessel fill a very important role in any blockchain: Being a "cold" wallet.
It completely eliminates the need to access a blockchain front-end (steemit.com, busy.org, etc) to execute transactions in your account.
The best thing about Vessel is that it does not just have the fund transfer function, but it allows for many other interactions with Steem's blockchain.
With Vessel you can:
Transfer your funds, without your private keys leaving the wallet
Create another password to access Vessel, increasing security
An overview of your account showing what your account balance is
Registering and managing more than one account
Send STEEM and SBD directly to an exchange, reducing the risk of typing the wrong account name
Set the memo field to be automatically populated when transferring to exchanges
Power up / power down management
Set a proxy for witness vote
Create operations through URI schemes (basically create links to specific interactions, such as links to delegation, and is better explained here
Create new accounts in the blockchain at the minimum cost of 0.2 STEEM
Interact directly with blockchain through JSON operations
Manage your permissions to use your keys
Vessel is a complete toolbox for the blockchain.
Also, Vessel is open-source, and is available at Github
To download the latest available version of Vessel (0.2.7) just go to github, and download the file vessel-setup-0.2.7.exe.
After installing and running Vessel, you will see this screen: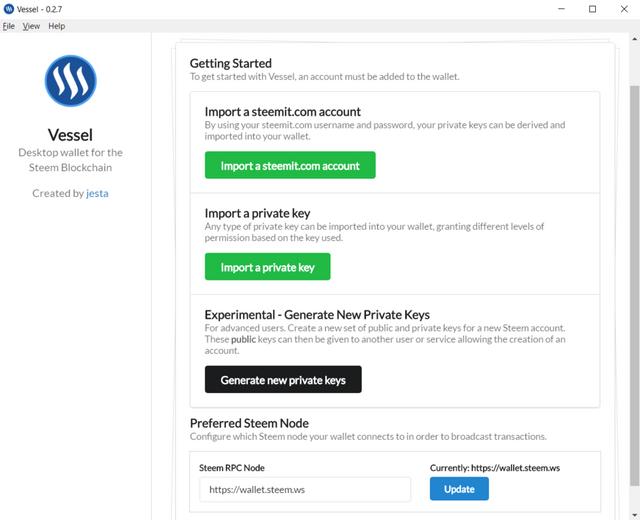 Where you can use your STEEM access, but I recommend using the second option (Import Private Key) because you can define what permission the vessel will have in your account, depending on which key you use (posting, active, owner) .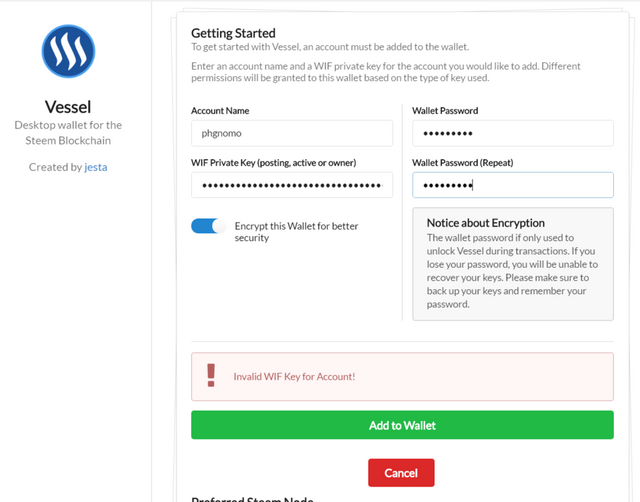 If you see a message that is disconnected from the network, simply choose a different access node.
If you use one of your private keys, you can also ignore the message that the password is not a WIF key.
There you go, and now you can easily see, for example, to whom you are delegating SP.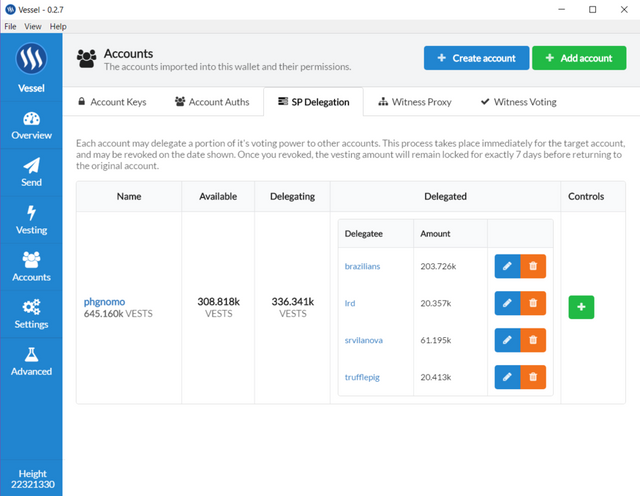 Using Vessel is pretty intuitive, and with just the basic knowledge of how Steem works, you quickly understand how to use it.
Project Builders / Developers
Vessel was created by witness number 1 witness @jesta, and has practically 1 year of existence, as can be seen in the project announcement post.
In addition to being witness No 1, @jesta is already an old developer here, and is the creator of the deceased chainbb, and steemdb.
In addition to the @jesta, it can be seen on the steem projects page that other developers already old around here at steem has contributed to the development of Vessel, such as @ludorum, @netuoso, and @zinovi.
My project review
As I said before, an "offline" wallet is an essential tool for any blockchain, and Vessel fulfills this role well, and the ability to make transfers to your account without having to type your private keys on a third-party site is a very positive point for safety.
There are several sites already created where you can check your account statistics, but due to the amount of information that is processed by these sites, they often present a certain slowness. Using Vessel makes the process a lot easier and faster.
Another very positive point of Vessel is the possibility of creating accounts for your friends, at a very low cost, without them having to grow old waiting for the goodwill of steemit inc. to process the creation of new accounts.
I highly recommend using Vessel for both security and ease of performing some processes in your account without the need to open a blockchain front end.
---
Have you used Vessel? So leave your opinion down there.
Next week's project will be:
Steem-Alerts, created by @ zcgolf16
---
Want to follow my journey in the world of trade? Acess Trading Passo a Passo
---
Links that are worth a click
CoinTracking - Cryptos Portfolio Manager
Mannabase - Basic Income Token
freebitco.io - Best faucet I've found so far
Earn.com - Receive Bitcoins to answer emails
Viuly.io - Decentralized Video Platform - Receive 50 VIU when registering