ArtVenture Contest: Alice / Resident Evil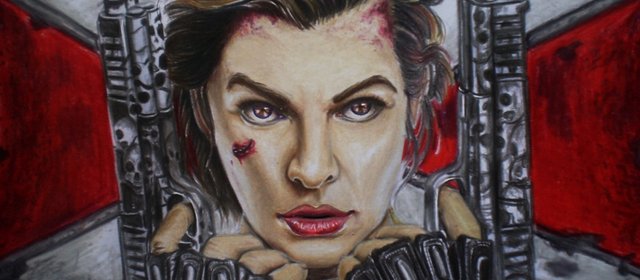 Greetings to all, happy start of the week. <3 <3 <3
Approximately I had almost a year without touching my Prismacolor until yesterday that I decided to dust them off and use them, it was thanks to the @stef1 and @art-venture contest where this time the theme of the contest is: "Action character".

I debated among many action characters that I like but in the end I decided to go for something more to my preferences and reminded Alice of the Resident Evil movies Played by Milla Jovovich. Well, I really had 2 options, I was between Selene from Underworld or Alice but when I saw images on the Internet I finally decided on Alice because Selene has a lot of black and unfortunately that color came to an end :). Although later I realized that Alice also had black lol.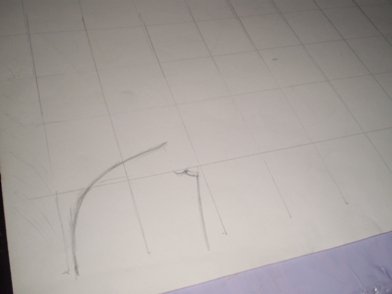 I made the sketch on a recycled sheet but this time in a different way I had never tried it with those stripes, but I think it worked, although it took me longer than usual.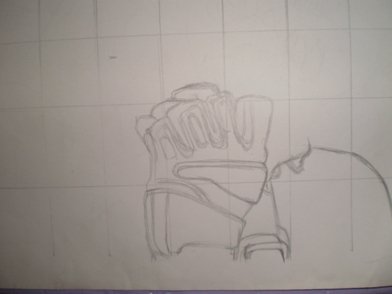 Usually I would start a sketches by making circles or spots stripes or by the face first, but with the help of these boxes I did it from the bottom up, maybe not to get lost and have as an anchor.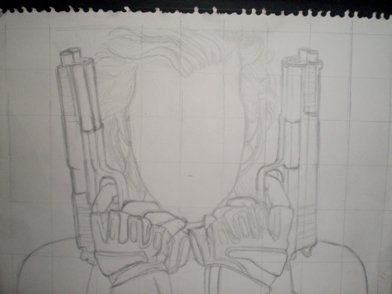 When I had all the sketch ready, I highlighted it a bit and passed it to the sheet where I was going to paint Alice, so that the sketch might be cleaner.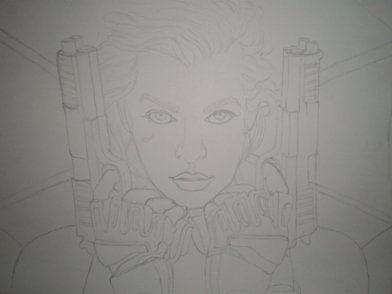 I must say that I am missing skin colors, I had to do many tests to find ones that resembled her skin tone. I started by the face I decided to start by the shadows but with care not to make mistakes.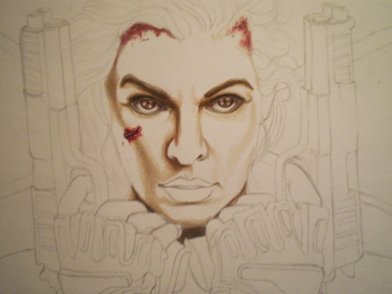 The face was what took me the longest and I admit that I was very afraid when I was painting since there are no layers, I can not return and if I was wrong I would lose everything that I had taken, which was many hours of work.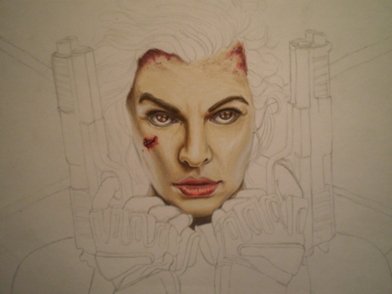 The skin was already taking shape and little by little it looked more like Alice [according to me :)..].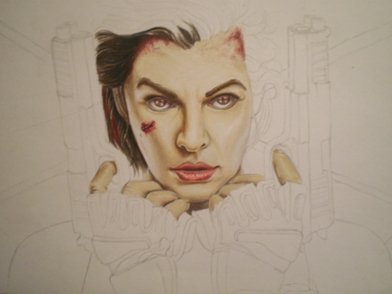 The clothes are fun to make, I had a challenge with the gloves, first the color that I did not have and the ones I had were tiny [very annoying to draw] so making those little seams with small pencils is horrible lol.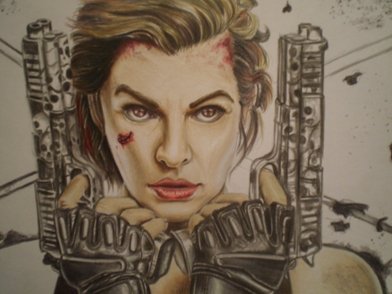 The hair on the other hand was not so difficult to perform. The weapons had designs of skulls that I did not make in the sketch, I only made them to the pulse, without doing them exactly the same because they were tiny hehehehe.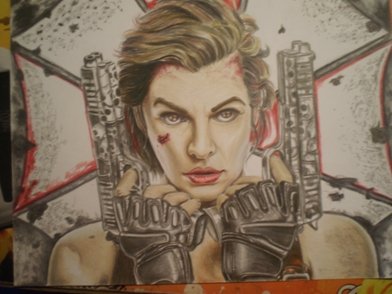 The background is that of the symbol of Umbrella a bit dirty or stained was the last thing I did.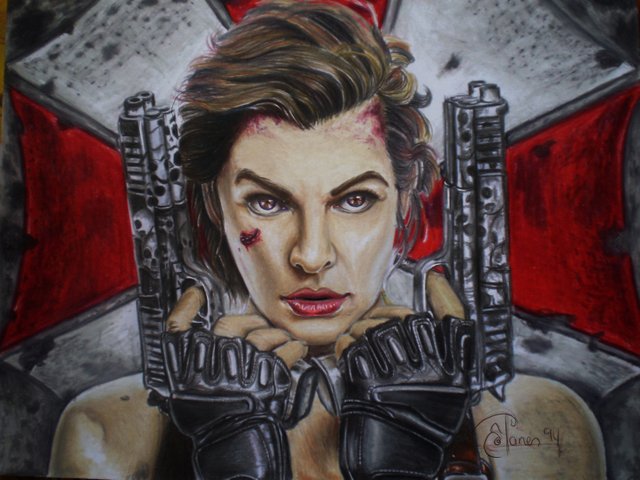 ---
Time of realization.
Making this drawing took me more than 17 hours. I started painting at 9:00 pm and finished it today, there was no time to sleep. I had already forgotten how pain is the fingers for drawing so many hours in a row XD.

---
Used materials
1 recycled sheet.
1 opaline sheet.
Prismacolor Premier.
---
This has been my entire realization process for the action character, I hope you liked it, have a nice night.
Big hug and greetings!
---
Posted from my blog with SteemPress : https://myart4you.000webhostapp.com/2019/07/artventure-contest-alice-resident-evil
---