A Taste of Local Vinegar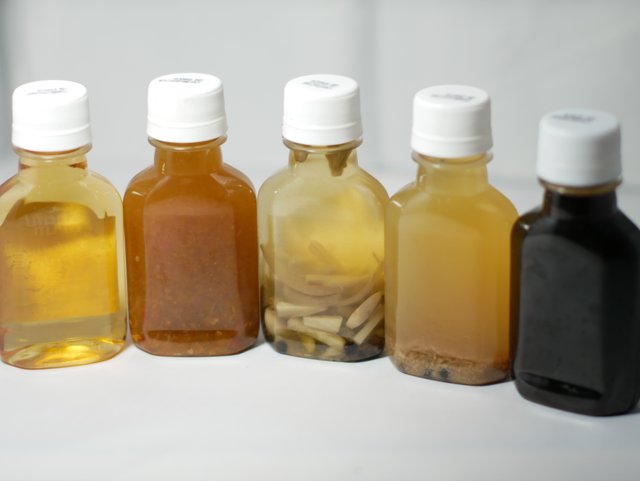 Vinegar is a condiment, an ingredient for cooking, food preservation and has natural medicinal uses. Every country or region has their own version and is used by everyone. Here in the Philippines there are a lot of varieties and ingredients to match a specific type of food. I happen to stumble on some few samples of a popular vinegar brand in our country. I never realized they have made their own version adapting the local concoctions.
A Taste of Local Vinegar

A trip to the supermarket could lead you to find some interesting stuff. This is the case when I stumbled upon a sampler pack of various types of vinegar available on the market. There are a few variants that I know and normally with the regular vinegar I just put in chili, garlic, soy sauce, onions and a little sugar. Well every home has its own version. What can I say Filipinos loves vinegar especially on seafood and grilled dishes.
What I was not aware of there is a specific blend that would match a particular dish. This sampler is from a popular local brand called Datu Puti. The word Datu means chief in our local tribes and the word Puti means the color white. The history behind the brand was taken from surname of the mother of Hernan Reyes who introduced the product. The surname Datu combined with Puti which is the color white as is the color of the palm vinegar. Although they also used an image of a chief as a logo as the word Datu is associated with stamped it's name on every household.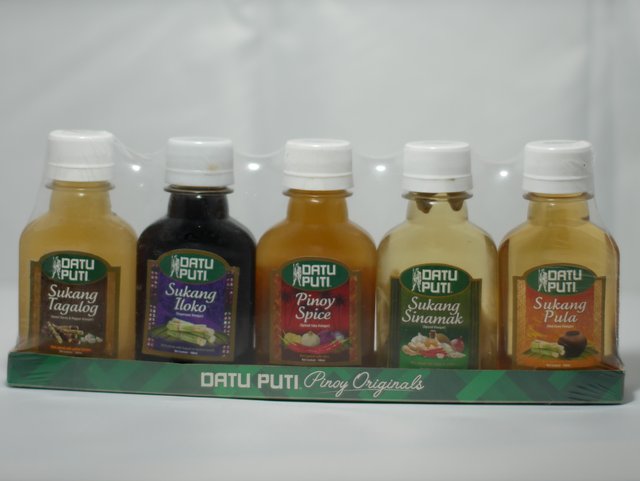 The brand name is popular across the nation and is also exported abroad. They also have a wide array of products which includes soy sauce, oyster sauce, fish sauce and much more.Vinegar is also one of the ingredients of our very popular dish Adobo.
Feel free to check one of my recipes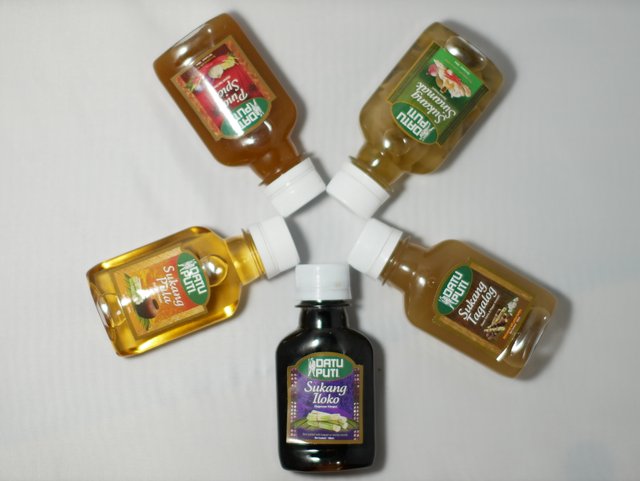 SUKANG PULA
As indicated it is best used with fried fish. Made from red sugar cane it has been fermented to achieve the classic taste of the sugar cane. Upon opening and smelling the flavor it does have a strong similarity to cider vinegar.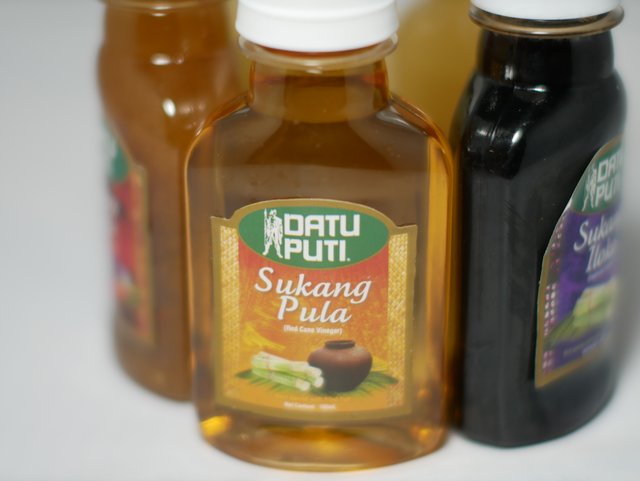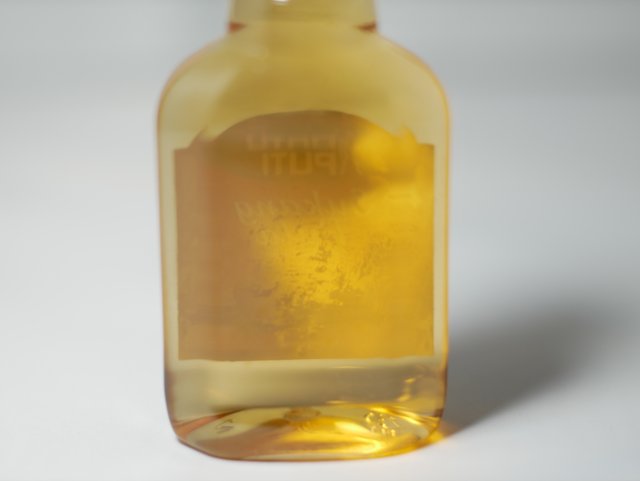 PINOY SPICE
With the name Pinoy suggests Philippine spice and taste that is preferred by Filipinos. There are no local blend for this type of vinegar and I assume the Pinoy Spice is their own variant. As suggested it is best used with okoy which is a dish made from shrimp and vegetables which is deep fried like a crunchy fritter. The vinegar is made from coconut palm sap mixed with crushed red chilis, onion, garlic, ginger and sugar.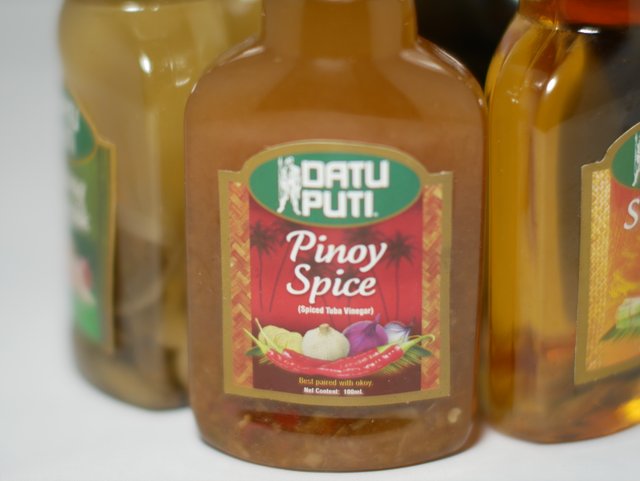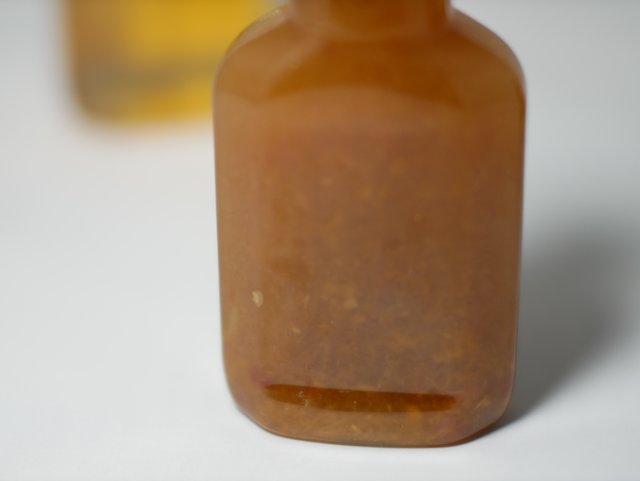 SUKANG SINAMAK
This type of blend is Ilonggo inspired which from a region in our country. Made from sugar cane mixed with whole red and green chili, garlic cloves, salt, ginger and black pepper corns. A best companion for any grilled food. In fact this one is my favorite and tried it on my grilled pork belly yesterday. I say it was perfection.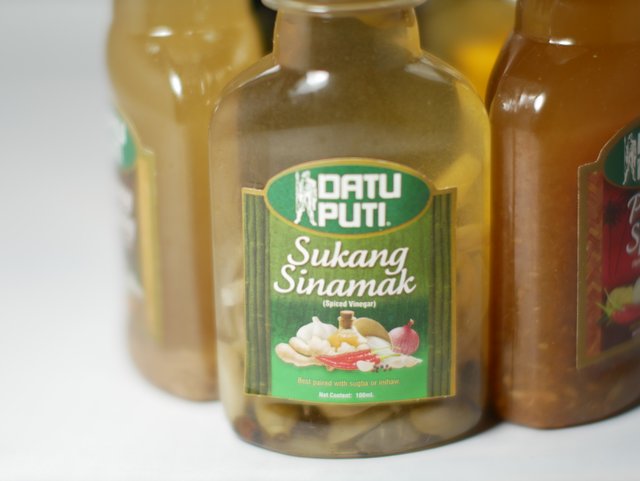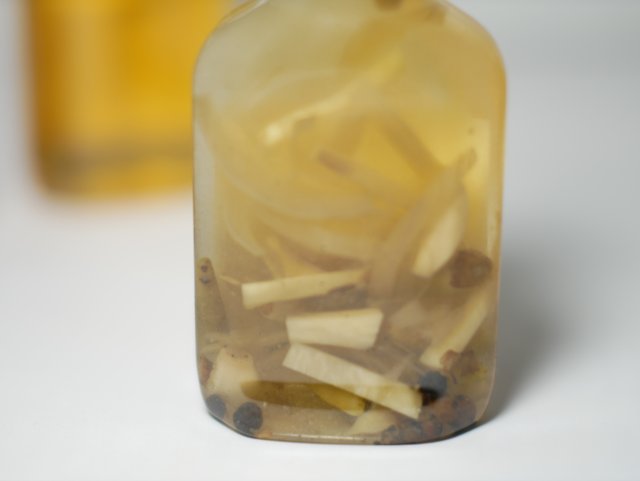 SUKANG TAGALOG
Made from sweet sugar cane and among the rest this one has a sweet blend. Mixed with garlic and peppercorns it is also perfect for grilled pork belly. I feel it would also be best used with fried lumpia which is a local spring roll with vegetables.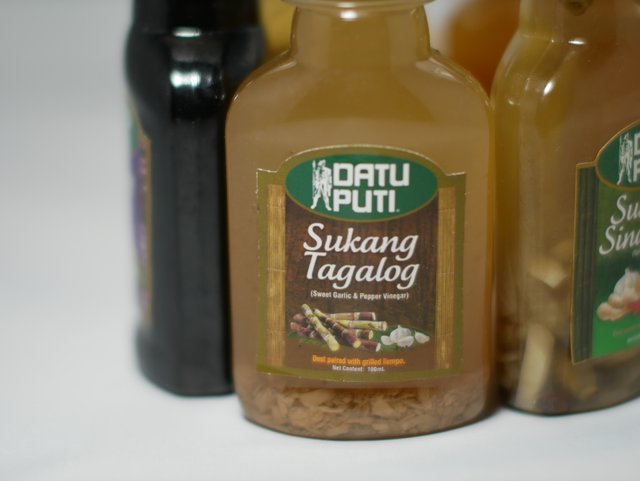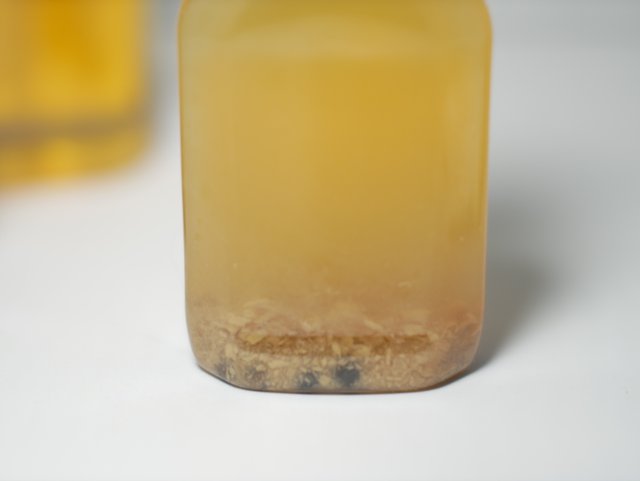 SUKANG ILOKO
A version of vinegar from the Ilocos region in our country. Made from ripe sugar cane with sweet and sour hints which is perfect for lechon kawali or bagnet. Bagnet and lechon kawali is deep fried pork which is a very popular dish and I assure every meat lover would enjoy. The black color of the vinegar was the first one that caught my curiosity as it is the first time I would taste black vinegar.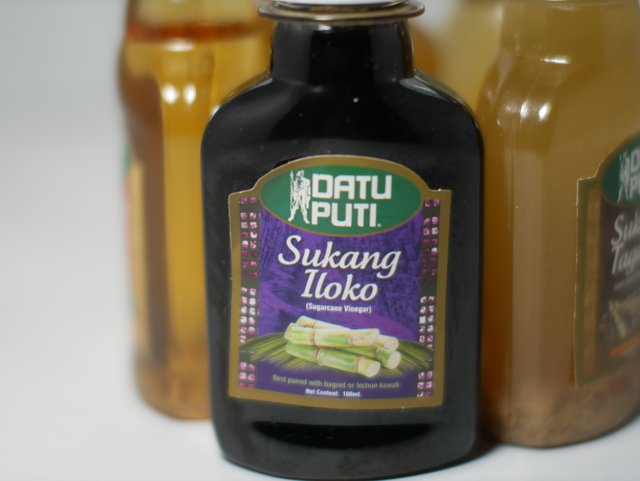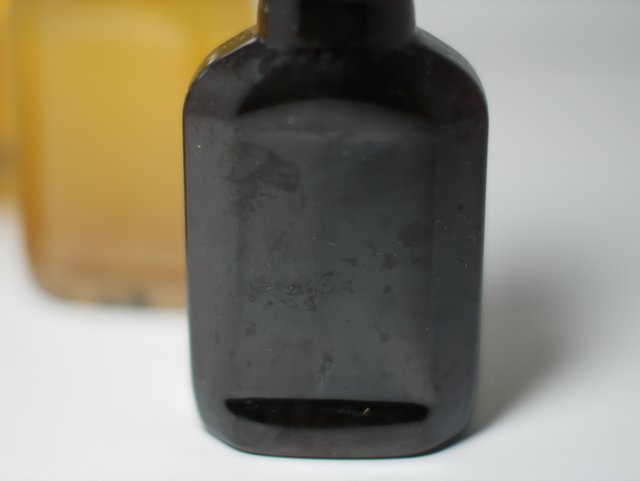 These are just some of the popular vinegar blends in our country. Once I have sampled them all with a particular dish. I might think of purchasing a bigger bottle or maybe yet look for a local authentic version in which I would still need to look for. With the available ingredients that we have here I might as well create my own version. Sounds fun and I suggest you give it a try and mix your own concoction. You might be even surprised with what you might come up with.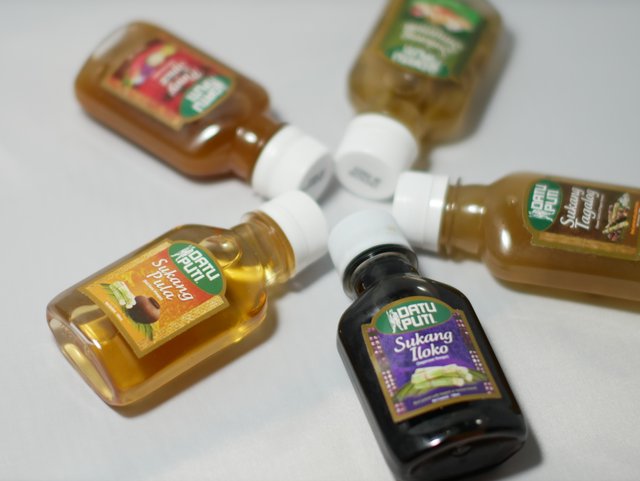 What would our world be like without vinegar? A condiment that we love using, very useful in our cooking and food preservation especially pickling.
Thanks for joining me today and I hope you enjoyed a small portion of our culture.
Do leave some comments and let me know what you think.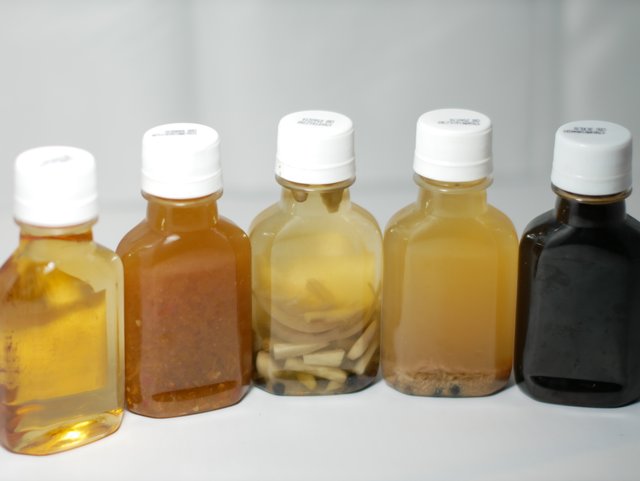 Resource

Follow @surpassinggoogle to witness an extraordinary person in this platform and vote for @steemgigs as witness
Discovering exceptional content in the community follow @curie and vote as witness
To have a glimpse of awesome content from the Philippines check out @bayanihan
All photos are original and taken with
Lumix GX85 Sigma 50mm 1.4 and 12-32 mm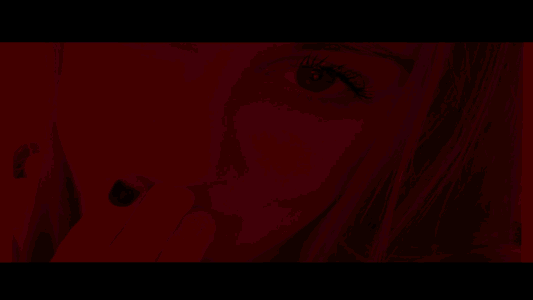 ---
Posted from my blog with SteemPress : http://watersnake101.vornix.blog/2018/07/03/a-taste-of-local-vinegar/
---