I live on the edge of the Otways, a tract of beautiful eucalypts and tree ferns in Southern Victoria covering some 254,980 acres. On one edge of it, the beach lures many - the Great Ocean Road winds along the coast with her sister the forest kissing the shore.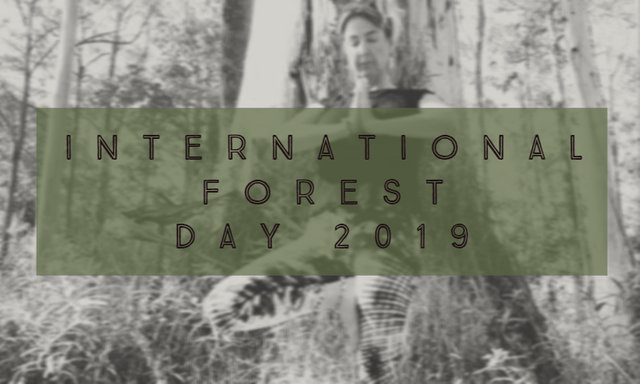 Whilst nature is always a big part of my life, as you can see with me contemplatively hanging out with the trees in tree post above, on International Forest Day this year I'm contemplating five facts:
Deforestation is still a massive concern and Australia in particular is a deforestation hotspot alongside Borneo and the Amazon. In Australia, clearing is largely for agricultural expansion.
Land clearing has a huge impact on animal species.
Forests are critical in the fight against global warming.
Forests have a huge impact on our mental health.
Reforestation is necessary and possible.
Deforestation, Colonisation & Wildlife
Our local community put a shout out in a newsletter a month back for anyone who knew of 'scar' trees in the area. These are trees around 150 years old that would have been used by the first people of this area, the Wadurrawarung, for canoes, ritual, ceremony and weapons. The Austin family, when they settled the land, intended to make a New England of sorts, planting oaks and releasing foxes and rabbits, and many old trees were cut down. It wasn't just the trees that went - it was an entire heritage of the Wadurrawarung. We gave them a call last week to let them know about one on the edge of our little forest, one we suspect was used for smoking fish and so on. We empathise with what they've lost, their people's ghosts around these trees, and whilst we understand it is a different time, reject whole heartedly the devastation wrought on the landscape by the colonists that wreaked around here.
The farmers and loggers have made a huge impact on the landscape around here in the name of agriculture. I always wonder what this forest looked like before they came. Still, there's life in the forest - whilst the huge stumps are ghosts of the trees that once were, there's still birds and other animals in the forest that make it bustle with life. I mused upon this in post last year where I considered man's impact on the landscape:
The stumps [are] covered in lichen on wet pathways, are scarred like woman beaten, black eyed and shy. But still, there's life there - tiny funghi, ants, lichen. Sometimes even trees grow within trees, tiny saplings finding footing in the rotting wood where dirt has gathered like a cradle to nurture the new generation that grows from the old and fallen giants. The hearts are still there though, exposed - the unwanted stumps, the ones with iron pegs and footholds carved. The men that sliced away at acres and acres of forest are dead and gone now, ghosts, whilst the trees are more than, still. There's a kind of victory in that, I suppose. There always seems left, than less - you just have to wait for enough time to pass to see renewal.
Whilst we might mourn the passing of the old giants and the wildness that once was (Imagine! we say, what these hills might have looked like covered in forests!) there is still a sense that the forests will stay, because we treasure them so. The logging trucks still rattle beast like along highways and great swathes of plantations look apocalyptic in the daytime and eerie in the moonlight, white bones exposes to lunar sympathy, but still, there's much protected, and much treasured. There's a management now, rather than ruthless devastation without foresight. In parts of Victoria I see old photos where all the timber has left the hillsides bare because it was needed in the coal mines, but now those places are wild again, huge trees defiant of man, treeferns trembling in the wind, old gravestones covered in lichen so that man's name is covered once again, his children scattered. - Forest Dreaming - I am More Than the Timber You Desire by @riverflows
Some even say that the Otways panther roams these parts. I know, because my husband and brother-in-law swear they've seen it:
It was a dark and stormy night, and the men were lost. They rattled their old van down the beaten track along the side of the sand dunes, where the wild sea roared against the shifting barrier between the water and the valley beyond. The moon rose toward the east, a watcher over men and beasts. They had taken the long way to the camp where the woman and children waited, unable to cross because the old bridge was closed to traffic and impassable. It was then they saw it, its black fur sleek in the moonlight and its haunches muscular and distinctly feline, before it slithered into the teatrees and became the night once more. Both men looked at each other and immediately knew what the other was thinking: they had just seen the black panther of the Otways - Black Panther Dreaming & Otways Black Cats by @riverflows
Mythical (or not) black panthers aside, it's the wildlife in the forest that's incredibly important. Despite living in the pale green part of this aerial map of the Otways, which form the dark green of course, just on the edge of it (within five minutes of driving we can enter the forest), we still see all the birds and many of the animals - koalas, kangaroos, possums, beautiful gang gangs. I always wanted to live in the Otways forest and have all the wildlife right there, immediately outside my doorstep, with a view of the ocean as well. Ah, we can all want the moon on a stick sometimes!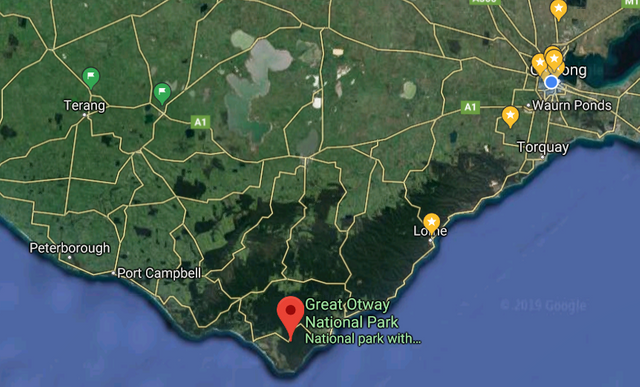 Personal Responsiblity for Re-forestation
We bought our place around ten years ago. We decided not to have a bushblock, but to buy our 5 acres a little more away from the tinder. It can be quite dangerous - when the fires come, people and animals alike meet on the beach as burning gum leaves rain upon them. That, and building regulations that are meant to save us in bushfires, but make it far too expensive to build. Besides, to live on a bush block can mean you're just a little too far from civilization and we needed to work in town. Ah, all this sounds like excuses really - the bottom line is that we couldn't afford it, and when this property came up my man saw it's potential. Babe, he said - let's just plant a forest.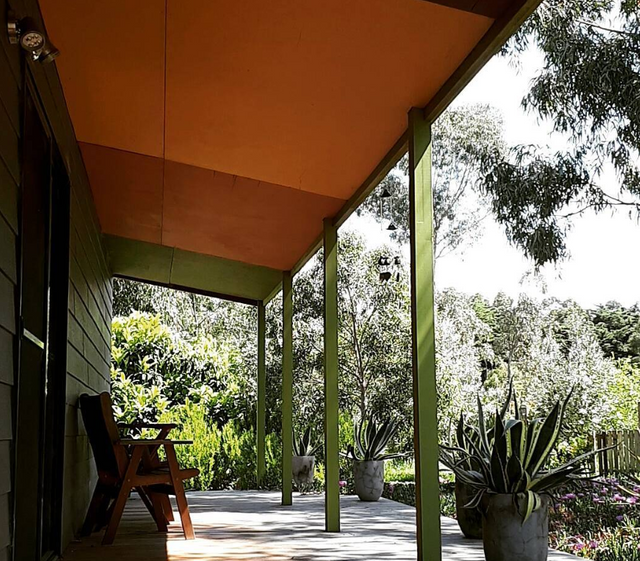 Our house was smack bang in the middle of a big rural empty block, bar four small gum trees and two large ones. In the land next to ours, owned by a water company, there was a plantation which is fed by excess water with trees about four foot high. Now, the trees are huge, visible from our front windows. All the trees we have planted too have grown tall, with more to plant this year. It means that from every window, we have the illusion of living in a forest. Sometimes I forget to see that, but when I focus on this, it blows my mind. If everyone planted like this, we'd extend the border of the Otways in all directions. This year, we're planting another twenty or so trees. We'd love to afford to pay someone to put a plantation in for us but that's a way off, unless someone has a few thousand bucks they can spot me for this purpose. Hint hint nudge nudge, rich folk of Steem!
The trees we do have in our garden, and on it's periphery, are now are havens for birds. They shake and rustle with them like a woman shaking her flamenco skirts. It's often cacophonic, especially in the mornings, but I forgive them their noise. It makes me think we've done something super important here, planting for birds. We're also negotiating with council and the local community groups to plant out some council land right next to us that serves no real purpose except for empty space. The last time they planted trees there was in the '90's, and in fact, we're still removing the plastic tree guards from them that no one bothered to do!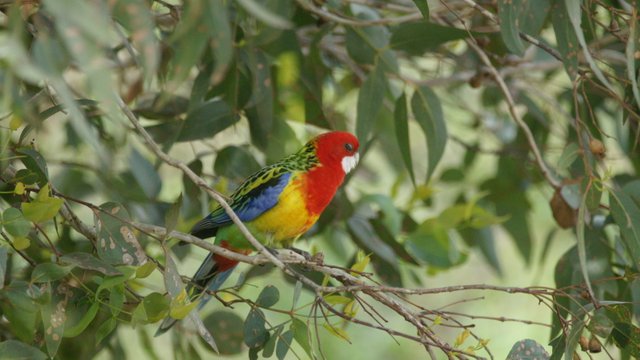 Flashes of all colours with rosellas.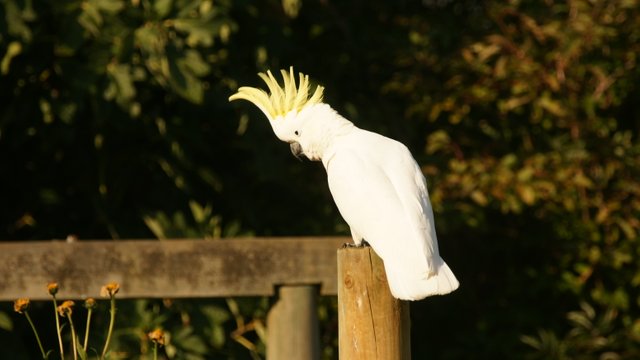 A cockatoo checking out what it can thieve from our garden.
---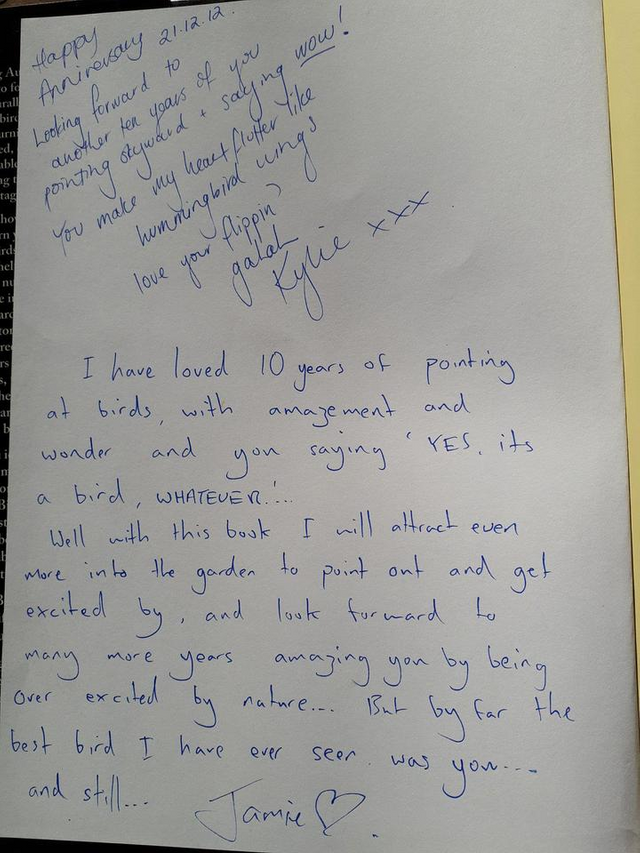 Birdscaping - planting trees and plants for birds - has been a big part of our life on this property and though the cockatoos can be a pain as they can take all your plums in five minutes, the other birds have been a real pleasure.
We walked along the track beside our property last week and remembered when we first walked alongside our property, seeing the white weatherboards stark against a blue sky and yellow paddock. Now, the house disappears - painted grey, it seems to blend into the olive trees, the gums and the eucalypts. We seems to have got our bush block after all - we just had to plant it. It's visible from every window - trees, sky, birds. It makes my heart sing. Sure, old growth forests are awesome, but one day, the forest around our place will be old growth, surely?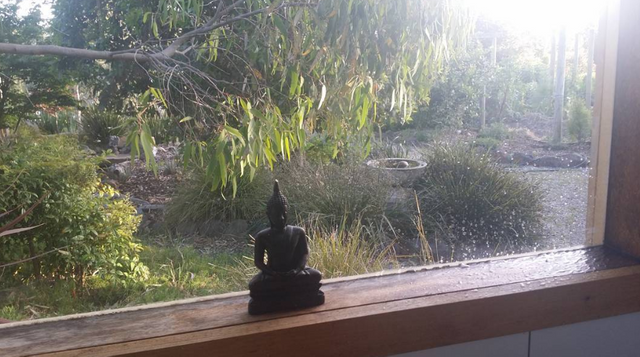 A mini forest, right outside our window.
Trees for Mental Health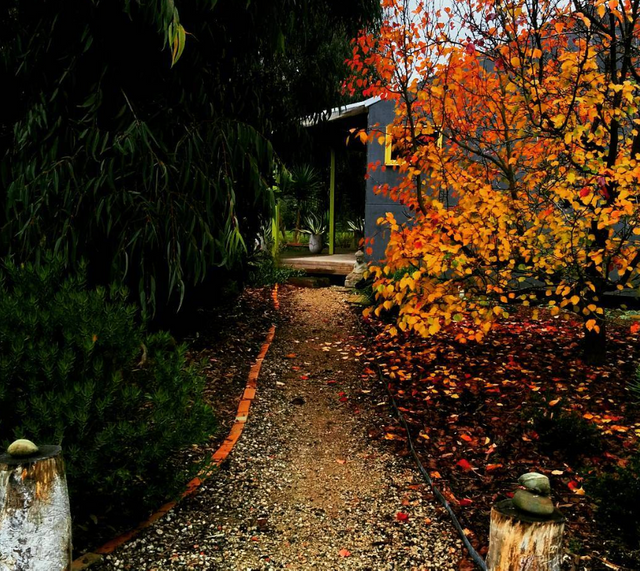 How can one not get poetic when nature does this stuff?
Sometimes, we think it'd be easier to live in a city, closer to amenities and work. But we agree it's ease-ier to live around trees and work with nature. It grounds us in many ways - roots us to the earth with a sense of belonging and home, settles our anxiety and stress, and reminds us about who we are - part of the earth. The forest becomes a metaphor for our lives as we watch it cycle through the seasons, reminding us that all things must die and that life begins anew. And it fills us with mystical joy too - the way the light diffracts in a certain way in the Autumn, catching dewdrops and spider webs, the long shadows cast by tall gums as the sun sets, frost on the edge of gum leaves.
I wonder if in 150 years time, people will look at the forests that we planted, and whether it'll ease their souls.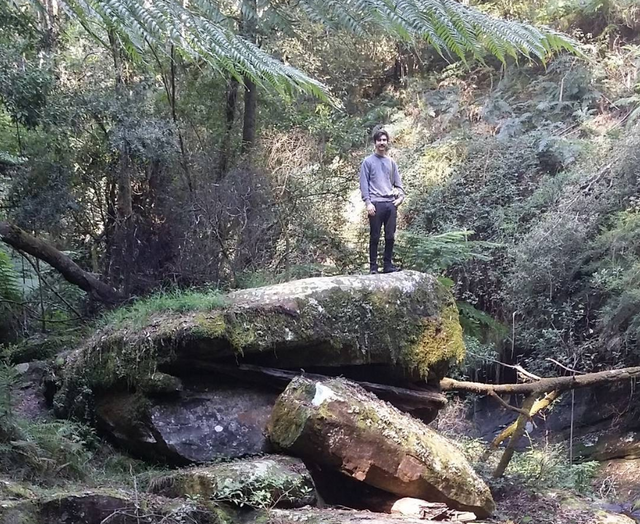 Planting for our kids: My boy, in the Otways, smiling.
---
This post is in response to @eco-alex's steem challenge for International Forest Day on the 21st of March. You can join in here. Let's fill our posts with forests and remind everyone what a beautiful world we live in, how much pleasure they can bring, and how important they are to us.
Do you live in a forest?
Do you plant trees for future forests?
Will you join us in celebrating International Forest Day?
---
---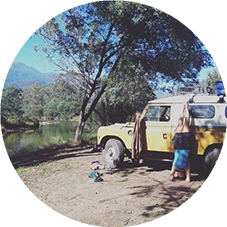 @naturalmedicine II Discord Invite II #naturalmedicine