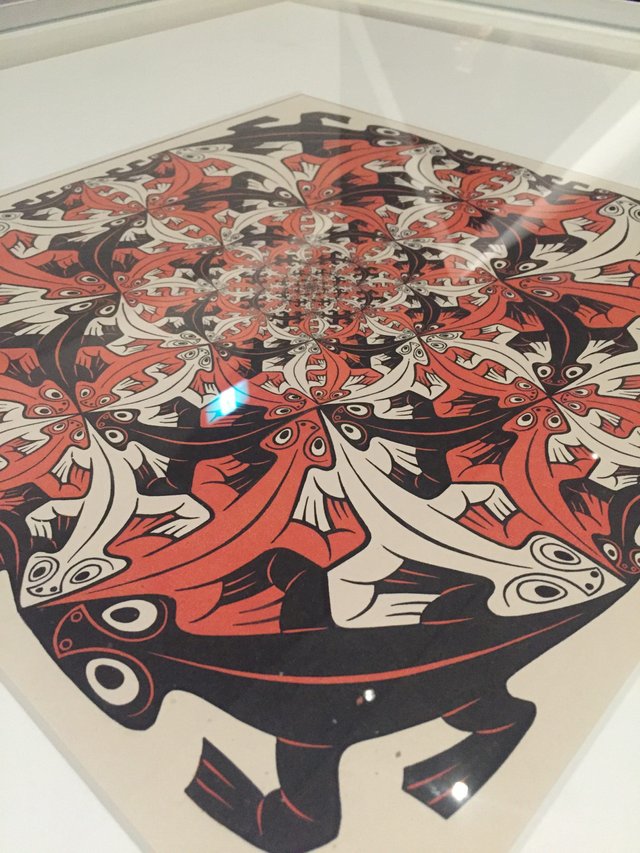 Meditation on the Escher X nendo: Between Two Worlds exhibit, NGV, Melbourne
When I first saw that the National Gallery of Victoria was going to be exhibiting the work of renowned artist M.C. Escher, I was filled with anticipation. Every space cadet knows the trippy, psychedelic work of this Dutch genius. Combined with the design elegance of nendo Studio (Japan), this exhibit blew my mind — which is exactly what I expect from art!
---
I cannot help mocking all our unwavering certainties.


M.C. Escher

This piece started as something different; but as I was writing it I realised something was wrong about it... as if my experience was somehow incomplete. We went as a family on the Saturday: my partner (the true art lover), my daughter (a budding artist in her own right), and myself (the blogging hack). Looking at my photos and reflecting on my feelings about the works, I knew I wanted to return to the exhibit (hopefully at a time when there were no crowds). And three things came into play at that moment: I had two unplanned days off work, my partner was going away for those same days, and I had access to a free night in a Melbourne hotel nearby. Here was my chance to visit again, and truly drop into the space.
The space itself was designed by Oki Sato and the nendo team to invite guests to experience Escher's work, not just view it. I couldn't quite put my finger on it during my first visit, due to the sheer number of people present: I couldn't properly be in the space, because there simply was no space. Returning the second time (a less crowded Tuesday morning), I could truly allow myself to become part of the space, and allow myself to engage with Escher's work (and nendo's designs). But I was bringing something into the space also: my own embodied understanding of yīnyáng and a filter for difference-as-polarity.
---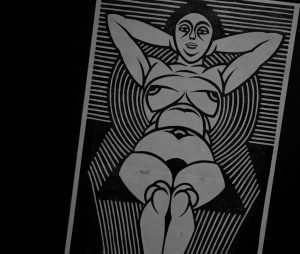 Seated Female Nude, 1920-21, woodcut
It began simply: solid black lines and images on white paper courtesy of Escher's early prints using woodcuts. I was surprised at the sheer breadth of Escher's work. I never realised he was predominantly a printmaker, working with woodcuts or lithographs. The simplicity had a cartoon-like geometry to it. Even though it was black/white, the shapes gave the work a kind of 'colour-of-depth'. There was a realism to his early works, an admiration of beauty in whatever he beheld in that moment, whether it was a person, a man-made object, or the naturalness of an exotic landscape.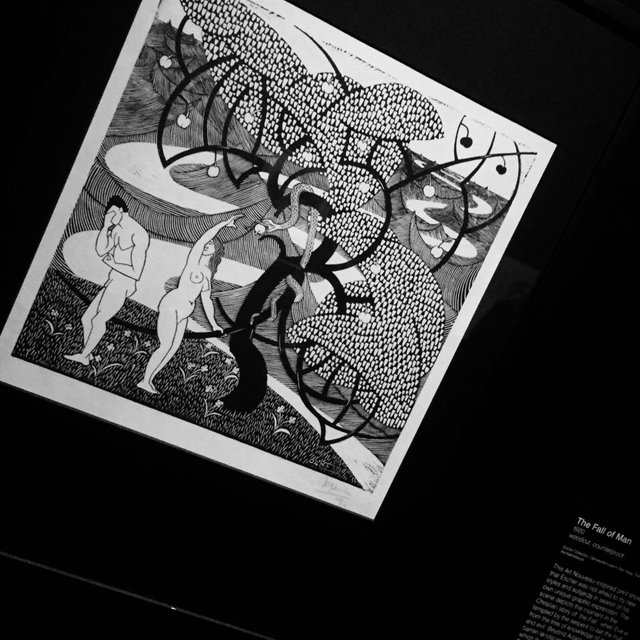 The Fall Of Man, 1920, woodcut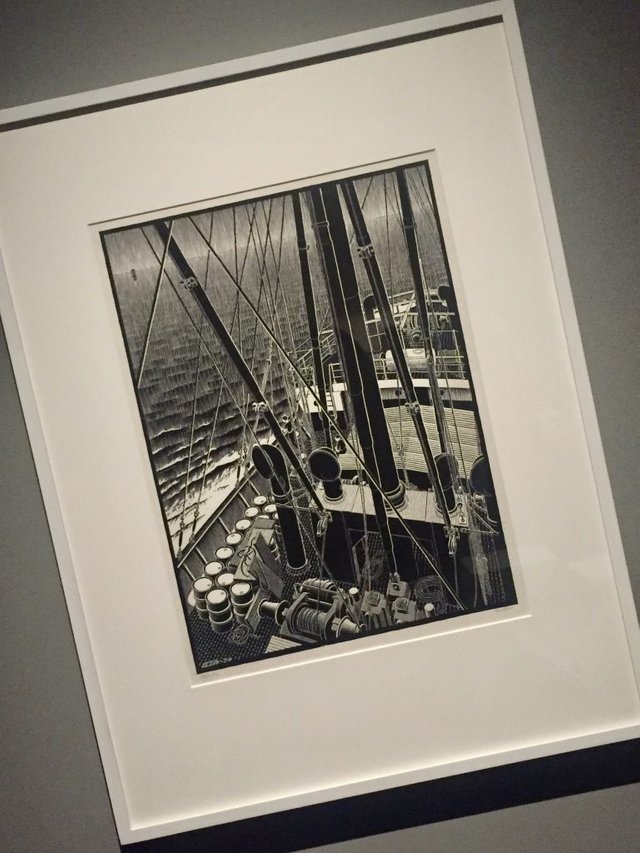 Freighter, 1936, woodcut
Escher's attention to detail shines through in his landscapes, especially those done as lithograph. These could have been sketched in pencil, so I'm in awe of what he was producing. Inspired by his travels through Italy in the 1930's I could begin to see how he enjoyed contrasting civilisation against nature. His cities are blocky, rectangular images set against the curving lines and chaotic swirls of nature. Farmland — where humanity subjugates the natural world — shares this distinction: the straight lines of boundaries between fields. Here is evidence of how different the natural world is perceived in the West: humanity is something that stands apart from nature, and is separate from it.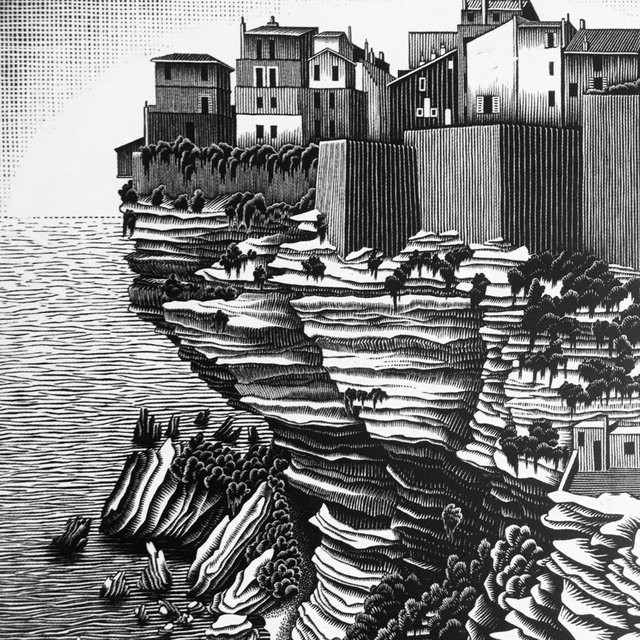 Bonifacio, Corsica, 1928, woodcut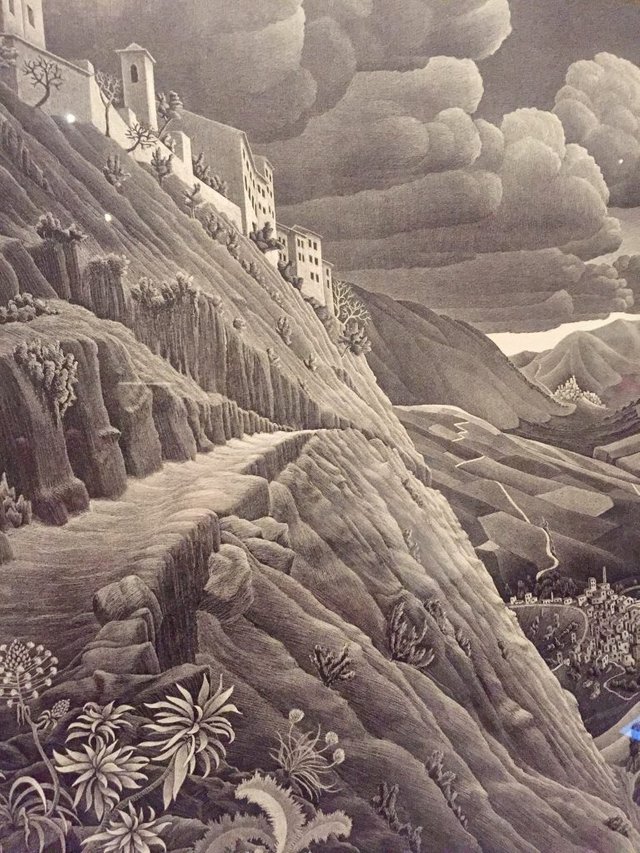 Castrovalva, Abruzzi, 1930, lithograph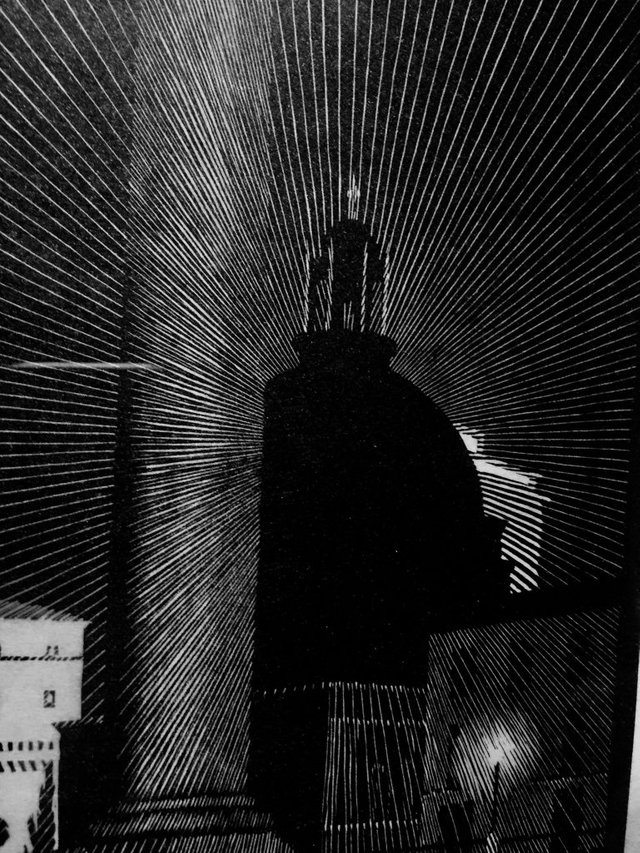 Nocturnal Rome: Trajan's Column, 1934, woodcut
I've always found monochrome art to be evocative. The Taoist perspective would suggest it is because black/white represent the two fundamental poles which create the spectrum of infinite phenomena (萬物 wànwù, the "10,000 things") and infinite changes (易 Yì). At its fundamental level, everything can be expressed as a balance between light and dark, space and solid, potential and manifestation. Without necessarily knowing anything about Taoist philosophy, was he merely noticing these things in nature? Taoists always claimed this knowledge came from simple observation of the world we live in.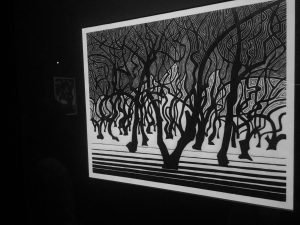 Wood near Menton, 1921, woodcut
Light is a curious thing. Escher seemed to be able to capture it with such simple grace that it escapes our imaginative minds and leaps out into our gaze. There is a geometry to it, a spatiality that few can capture, even using modern photographic tools. It fills a space... and yet it fills it with emptiness. One could wonder whether solid objects were merely gaps in the emptiness being filled by fullness.
---
Escher's later work was his experimentation with how light could bend, drawing what he saw in reflections — be they in glass, the surface of water, mirrors, or any reflective surface. His mastering of perspective was outstanding, and gave a surreal, and yet hyper-real, vision of the curved nature of light and space.
Watching the crowds around me taking photos of the artwork, I noticed their reflections on the glass: people taking photos, superimposed over a picture of Escher drawing the reflection of himself drawing himself in the reflection of a glass ball. I wondered whether he would find that amusing. I certainly did.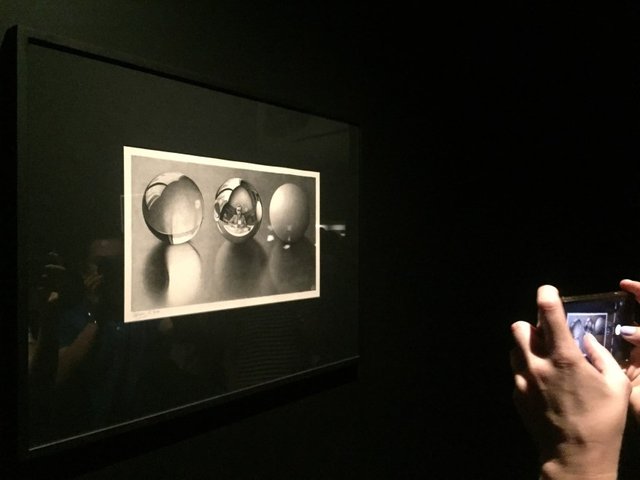 Three Spheres II, 1946, lithograph ... reflections within reflections within reflections ...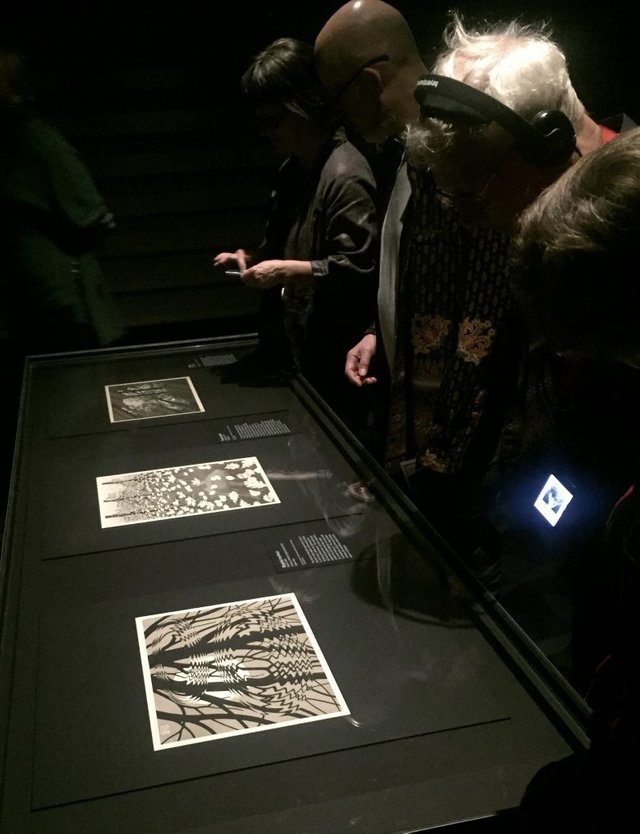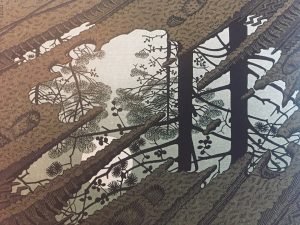 Puddle, 1952, woodcut
In another work, a city skyline is reflected in a puddle in the middle of a muddy lane. It looked like a portal into another world. Lewis Carroll used the 'Looking-Glass' as the doorway into a crazy, topsy-turvy world for Alice to explore. Sometimes when I'm looking out at the human world, I feel like I'm looking into a bizarro mirror universe that is upside-down and inside-out. I wonder whether Escher, observing what was happening in Europe in the 1930's, also felt this way... was he inviting us to look at the world as a reflection of something else?
What is uncertainty, and why are so many people afraid of it?
I look at the chaos of the natural world, and I feel part of something far bigger than any human can conceive. Human endeavours — civilisation and society itself — are attempts at bringing order to chaos. For some stubborn reason, we seem to be intent on straightening every line, tightening every screw, and filling every gap. We feel a need to know everything, and to perfect what is flawed. And yet, flawlessness is so fucking bland and beige.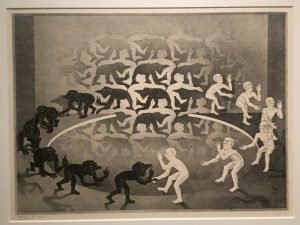 Encounter, 1944, lithograph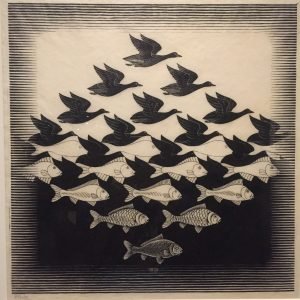 Sky and Water I, 1938, woodcut
Darkness transforms into light, and back again. Is it a fish or a bird? Is it an optimist or a pessimist? At the liminal spaces, it depends on where we focus our gaze as to what we end up seeing. It's not just the light that bends, but the possibility of waves becoming particles or vice versa. It's how we engage with whatever we choose to engage with.
This is how reflection works: how do we know which version is real? What if we are the reflection, and what we gaze at in the mirror is the real world?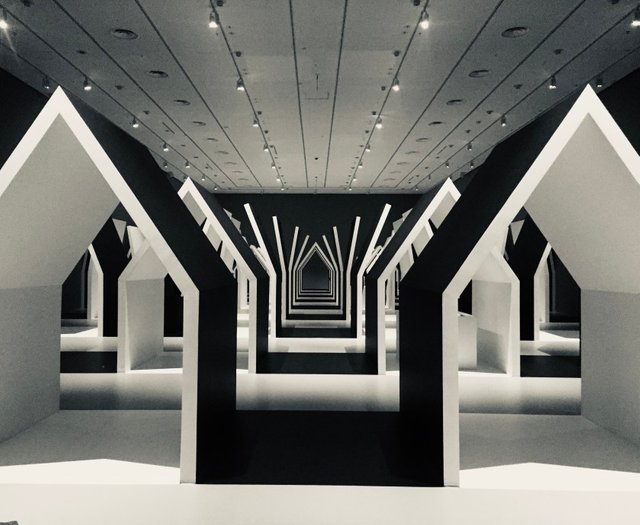 Where does solid end, and hollow begin? Scientists tell us that matter is made up of molecules, which are made up of atoms, which are made up of protons, and neutrons, and electrons... and yet most of what makes up an atom is the empty space between these things... and that the space between them is larger than the space between the planets...
What makes us so certain that we cannot move through a wall, or that we cannot penetrate the Mind of God with nothing other than our thoughts? Why are feelings, immaterial and seemingly non-existent, so influential in our lives? And what of consciousness itself?
I wonder what drives people who always seek certainty: the ones who fight against change and progress, the ones who shut down imagination and conversations, and argue against the visions, feelings, and experiences of dreamers, poets, and artists.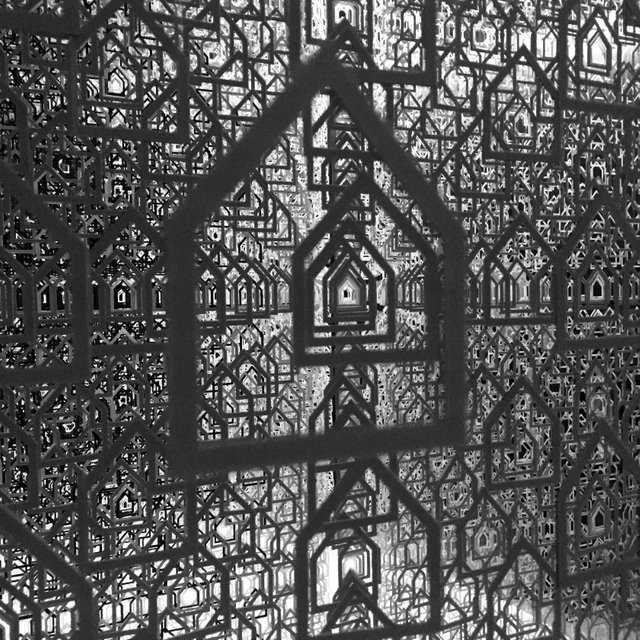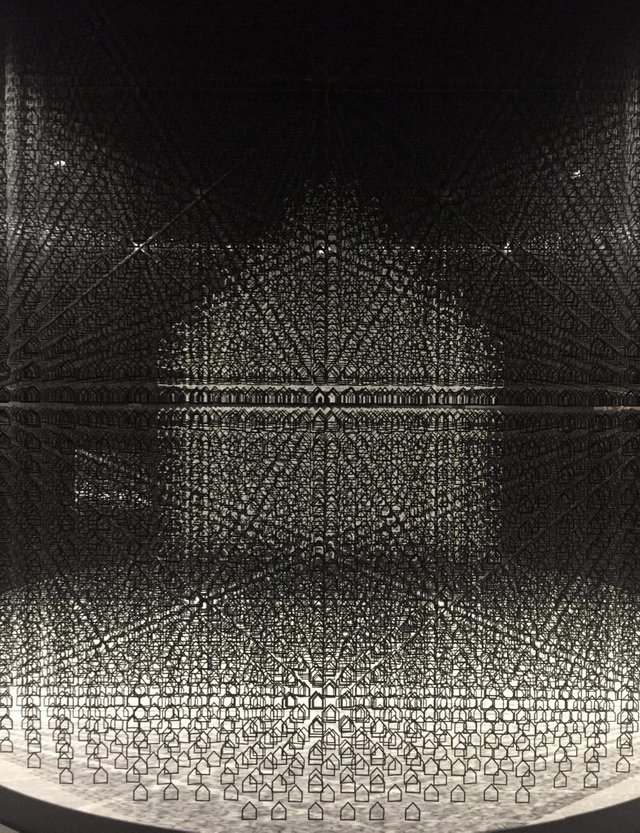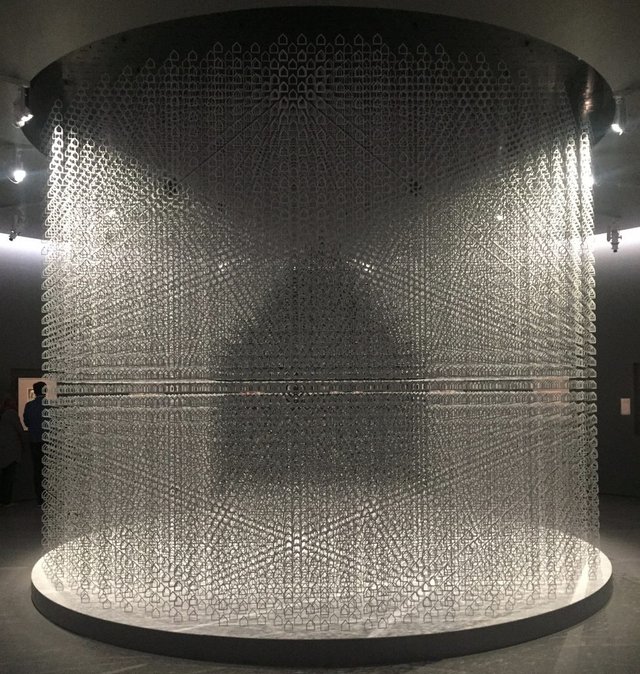 ---
I found myself meditating on these questions as I gazed at paradoxical images of staircases which always ascended, and waterfalls that flowed upwards. My sense of awe and wonder was charged and titillated, and my embodied self buzzed with possibility.
Looking here and there, and seeing something different, even though what was there was the same... and knowing that others around me were probably experiencing something similar, and yet most likely so, so different.
What Escher did with his command of the regular division of the plane in his tessellated works was find the depth of space. The Cartesian perspective may have had its place in the world of Hegel and Kant; however the world of the late-18th / early 19th Century is not the world we know and live in today.
We don't just see things in front of us. All of our senses are activated in the embodied self, and so we have an experience of our world just as much through the tactile as we do through sight, sound, etc. Illusions and fantasies play an important role here, as our experience of an event may be different to the actual event itself. As I write this, I am describing the events as they occurred, and yet the story I create around those events is in a sense fictional. Someone who walked beside me as we walked through the space may tell a very different story of what they saw, perceived, and experienced.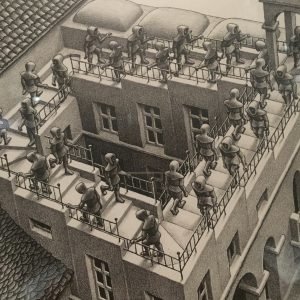 Ascending and Descending, 1960, lithograph
Escher's later works challenge us to engage with them as we see fit. They are paradoxical, because existence is paradoxical. How can we live in a world of such abject terror, with all the horrors of war, hate, and loathing... and yet still see beauty and feel love, compassion, and kindness?
How can one experience such pain and loss as the death of a parent or the divorcing of a relationship, and yet also experience joy and laughter in the midst of it all?
Because these phenomena are not simply 'opposites'. Light and shadow, Heaven and Earth, Yáng and Yīn.... whatever name we ascribe to this universal interplay, it is essentially the same. It is always happening, all around us, whether we look for it or acknowledge it. The real fun is in those liminal spaces, the edges between the limits where uncertainties dwell. It's the intervals between the notes, the pauses between inhalation and exhalation, and that split-second moment before body-shuddering orgasm where all of it is present, all of it is laid bare in our consciousness and the impossible is suddenly very, very possible.
There aren't many people I would call a true, 100% legit visionary. Escher is definitely one of them. He is a mystic for our age, using his unique talent to challenge our very perception of the natural and human world. His reflections are themselves reflections, and like the trickster, he inverts what is normal for his own cunning aims.
Bless you, Mr Escher. You've brought joy to this heart.
😊🙏🏽☯️
---
---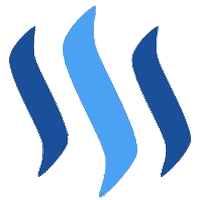 CREATE YOUR OWN @REVIEWME PROFILE TO START EARNING CREDIBILITY STARS FROM THE COMMUNITY!
CREATING YOUR PROFILE IS EASY! JUST FOLLOW THE STEPS HERE ☜(ˆ▿ˆc)








---
Posted from my blog PANDORA'S LOST GIFT with SteemPress : http://metametheus.net/uncertain-limits-inversions-reflections-perspectives/
---