The Goal of SteemPoll
My vision for SteemPoll is to make it an application that anyone can use to gather information from the crowd, thereby leveraging the Wisdom-of-the-Crowd to their advantage. SteemPoll can be used to help people make better and faster decisions, including about what projects they should pursue.
But SteemPoll is also intended to do much more than simply gather feedback from the crowd. It is being designed to also enable people to take that feedback and channel it into the development of a project or product. My goal is to make SteemPoll a tool that people can use to take any project from concept, to development, to fundraising, all the way through to execution. This post is intended to update you on the new features which are being added, the future features being considered, and to enable you to participate in the development by voting in the embedded SteemPoll below.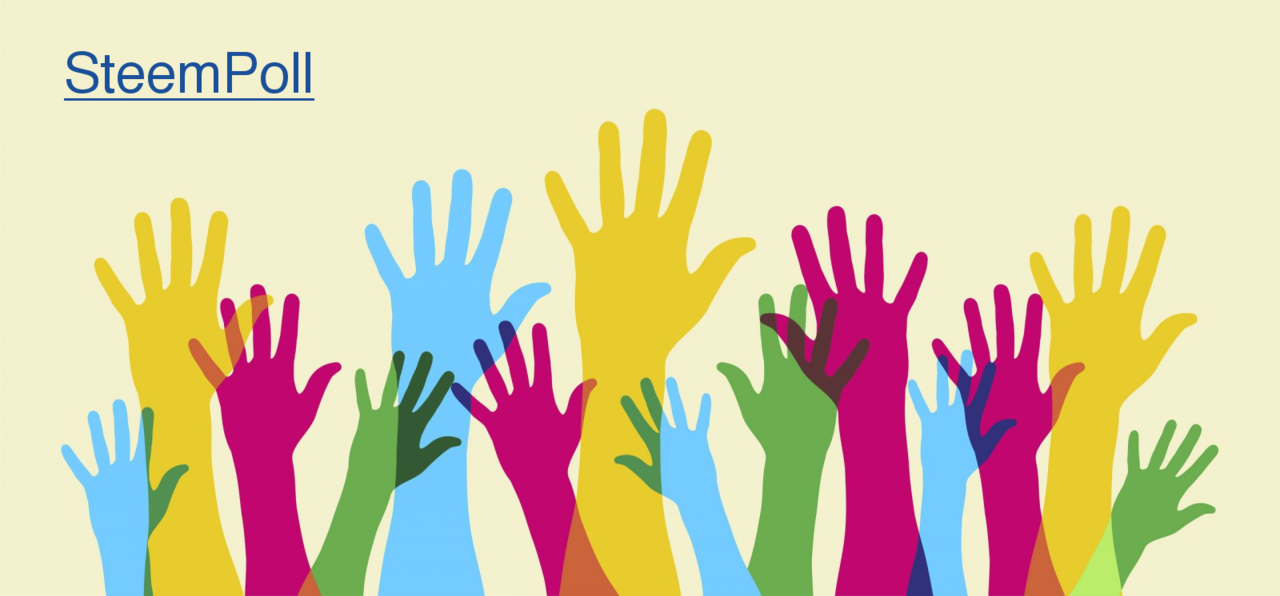 What's new?
This update is all about making SteemPolls easier to use while providing both poll takers and poll makers with more information so that they can more accurately gauge the response of the crowd.
Effortless Feedback with Embedded Polls
Obviously having to direct people to navigate to a separate site or use the comments in order to participate in a poll introduces unnecessary friction into the process of gathering information from your audience. That's why now you can embed the polls directly into your posts! Now you can give your audience a way to give feedback that is absolutely effortless.
Poll Stats
Polls now display more granular information about the responses including: number of votes per option, the total stake that voted on an option, and the average reputation of the users who voted on an option.
Poll Discussions
Poll options will now display a discussion icon on the right side of the poll where you will be able to see what other users are saying. This will help those taking polls learn more about each option before voting and will help those creating the polls gain a better insight into the minds of those responding.
Additional Features
Totally Free to use: creation fee of .01 SBD removed.

Poll options automatically commented - now after embedding poll script into your post, poll options will automatically be published as separate comments where each option can be discussed and voted on.

Filters - we now have #steempoll, #growth-idea, #growth-proposals, #growth-projects tags separately allow you to filter out different poll types and learn more about them.

Embed Ribbon - polls that have been embedded are marked by a ribbon on their thumbnail image so that you can quickly recognize, know which ones are correctly formatted. In the future, all entries without an embedded poll will not be displayed.

Poll Templates - Creating new polls is now more simple than ever. There are multiple poll types to choose from, each one with specific instructions to follow.

Fund Tracking - Improved UI for tracking how much funding a project has received.
To access beta version visit: http://beta.steempoll.net, v1 will be available at http://steempoll.net, later we will move these improvements to main page.
Feature Roadmap
To give you an idea of the potential utility of using a SteemPoll, I have included below a poll containing the top features I am considering developing next. Vote on your favorite to help me learn which I should focus on! And feel free to comment on the options directly in the poll if you have any feedback.
SteemPoll improvements #1
Further improvement of SteemPoll v2, poll options are embedded below as comments
Edit Found small bug and fixed it, but only 2 options got published due to bug. Other 2 option will add manually :) Please give a beta version try and report bugs/issues, thanks!
Here all four options:
Add the ability to raise and track funds directly through SteemPoll leveraging Steem's escrow (multi-signature) features, establish fundraising deadlines, and returning of funds to donors in the event the minimum is not reached
Further development of discussion feature
Improve poll statistics
Project update page: a dedicated page with the latest updates and news about a given project for users/investors